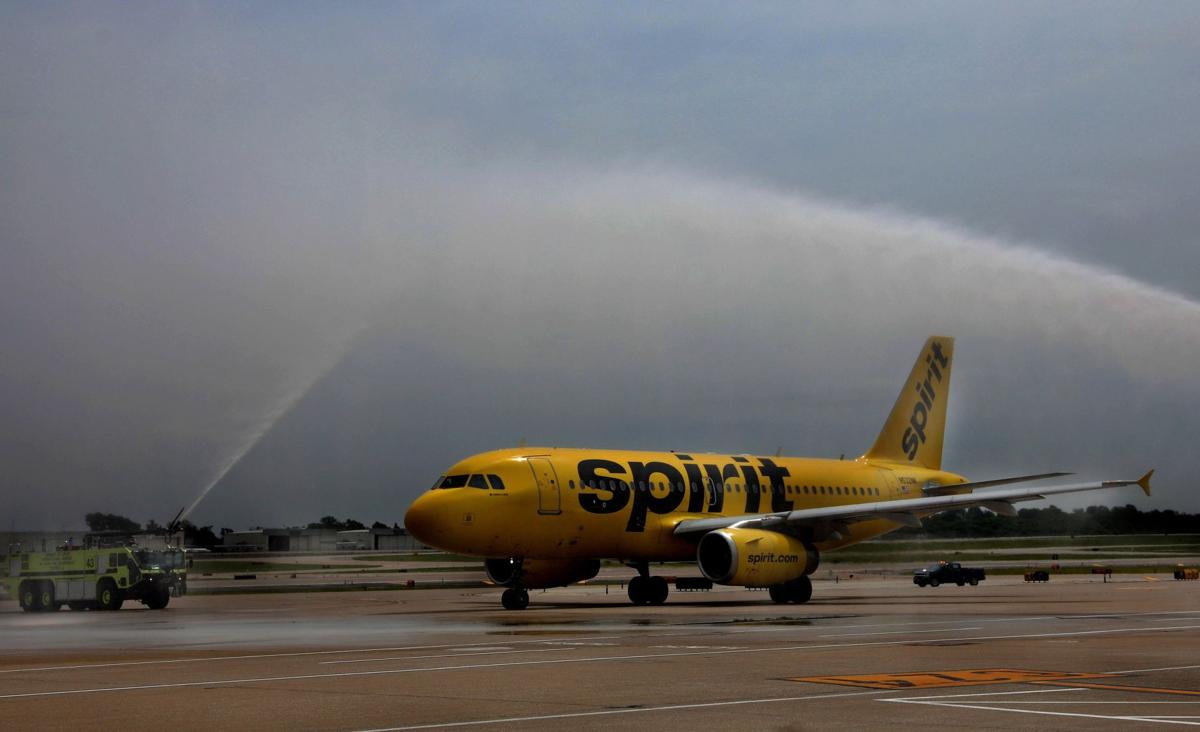 ST. LOUIS COUNTY — The first Spirit Airlines flight out of St. Louis Lambert International Airport departed for Los Angeles a few minutes after its 10:55 a.m. scheduled time on Thursday.
Spirit will be running nonstop flights from St. Louis to nine destinations. Service started Thursday to Los Angeles, Las Vegas and Fort Lauderdale and Orlando, Florida. Flights to Pensacola, Florida, will start June 10.
Flights to the four other destinations will begin later this year: Phoenix, plus Fort Myers and Tampa, Florida, starting Nov. 17; and Cancun, Mexico, beginning Dec. 22.
"This is one of the strongest publicly owned assets in the region," Mayor Tishaura O. Jones said on Thursday. "This has been a really rough year for everybody in our airport. This is definitely one of the many signals we'll see as we go into recovery."
The airline hopes to expand to even more destinations next year, said Lania Rittenhouse, Spirit vice president of guest experience and brand.
"Our goal is to make a significant investment and be there long term," she said. "We want to grow with the community. We want to grow with the airport. We want to provide amazing destinations for your community members to travel to."
Spirit is currently assigned one gate, C30, the last in Terminal 1. But Rittenhouse said Spirit is selling more tickets than it expected, and the airline hopes to add gates. Flights leaving Lambert are between 85% and 97% full, which is high for a new location, she said.
Spirit pitches itself as a budget airline — its stock exchange ticker is SAVE — and spokesman Erik Hofmeyer said low prices could attract new travelers.
"We are a demand-generating airline. People see $30, $50 tickets and want to go travel," he said.
That may also bring down prices of competing airlines in Lambert, something Hofmeyer calls the "Spirit effect."
Still, Kynadi Hyde, a 19-year-old Florissant resident departing Lambert on Thursday for a Los Angeles fashion internship, warned of hidden costs.
"The bag fees really caught me up," she said.
Hyde had to pay a $55 fee for her carry-on bag, and another $55 when she discovered her bag was 6 pounds overweight, she said — doubling the cost of her original $111 ticket.
Spirit's first arrival to St. Louis came in an hour before its first departure. An Airbus A319 from Fort Lauderdale, Florida, was piloted by St. Louis native Larry Daniels, who was picked specifically for the flight. The veteran pilot, who has flown since 1983 and has been with Spirit since 1998, was never able to fly into his hometown with the airline before Thursday.
"A lot of things had to be aligned in the right way so I could do this," he said, wearing a Cardinals mask. "My boss had to pull some strings to make it happen."
Passengers were not told that their flight was special, so some departing passengers were shocked when they were greeted with roaring applause from Lambert's new Spirit employees, and others.
Spirit handed out branded sunglasses, hand sanitizer, water bottles and cookies to passengers on the arriving and departing flights.
Photos: Spirit begins service out of Lambert, announces new non-stop flights to Phoenix, Cancun, others
Spirit celebrates first STL departure with water cannon salute
Spirit celebrates first STL departure with water cannon salute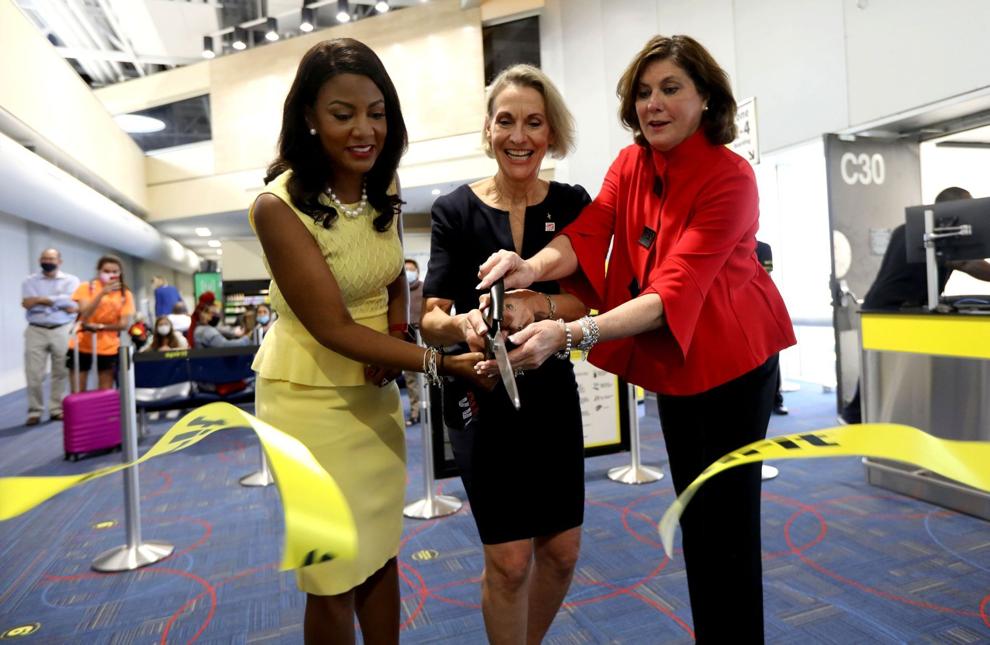 Spirit celebrates first STL departure with water cannon salute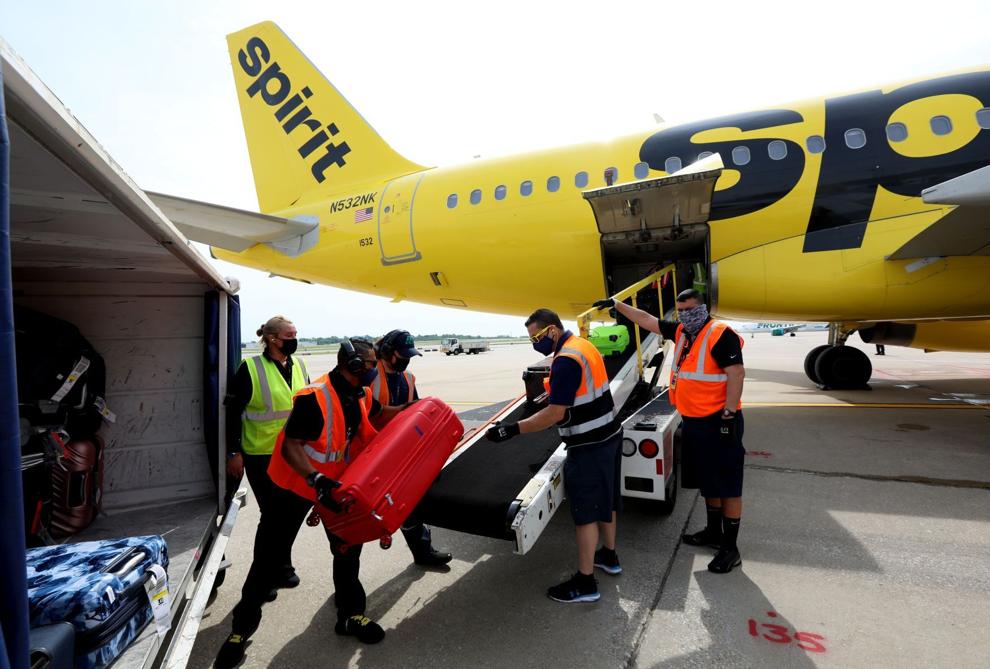 Spirit celebrates first STL departure with water cannon salute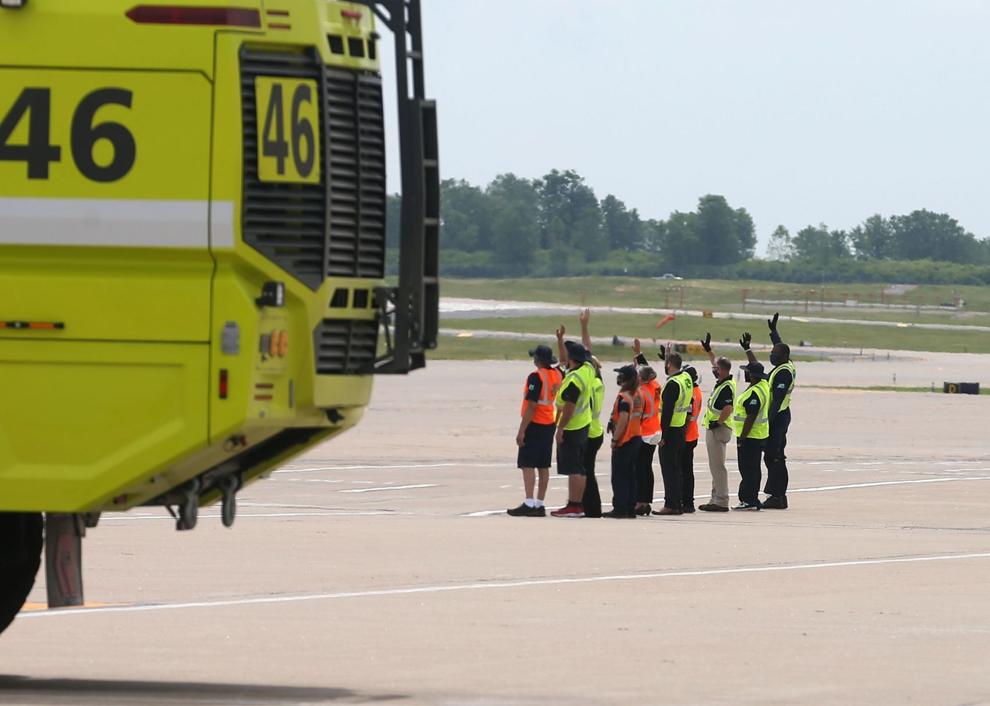 Mayor Jones receives model plane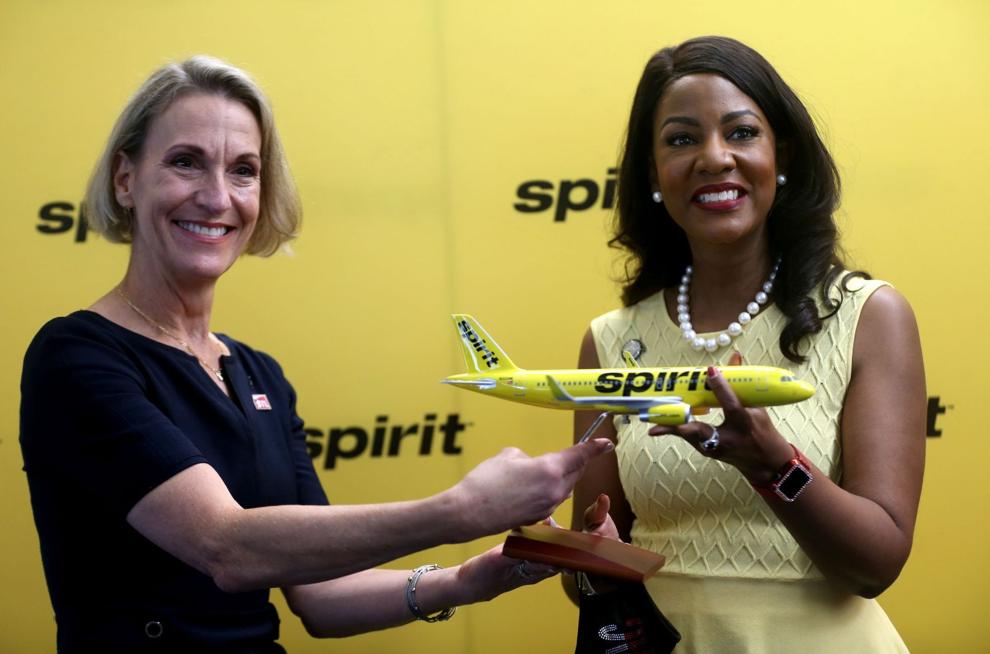 Crowd cheers as first Spirit arilines flight lands in St. Louis
Crowd cheers as first Spirit arilines flight lands in St. Louis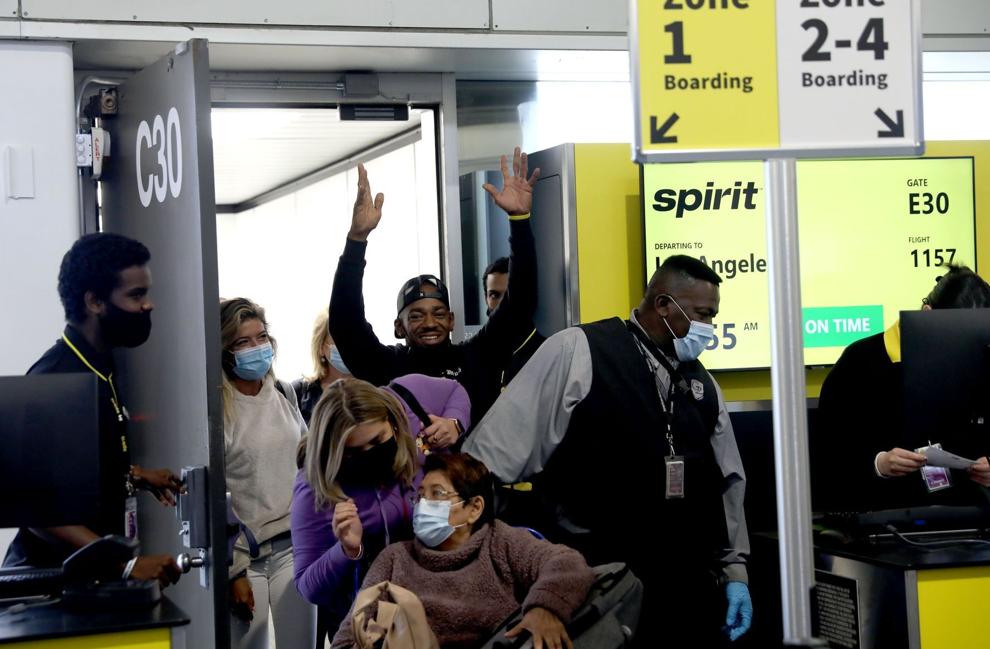 Spirit celebrates first STL departure with water cannon salute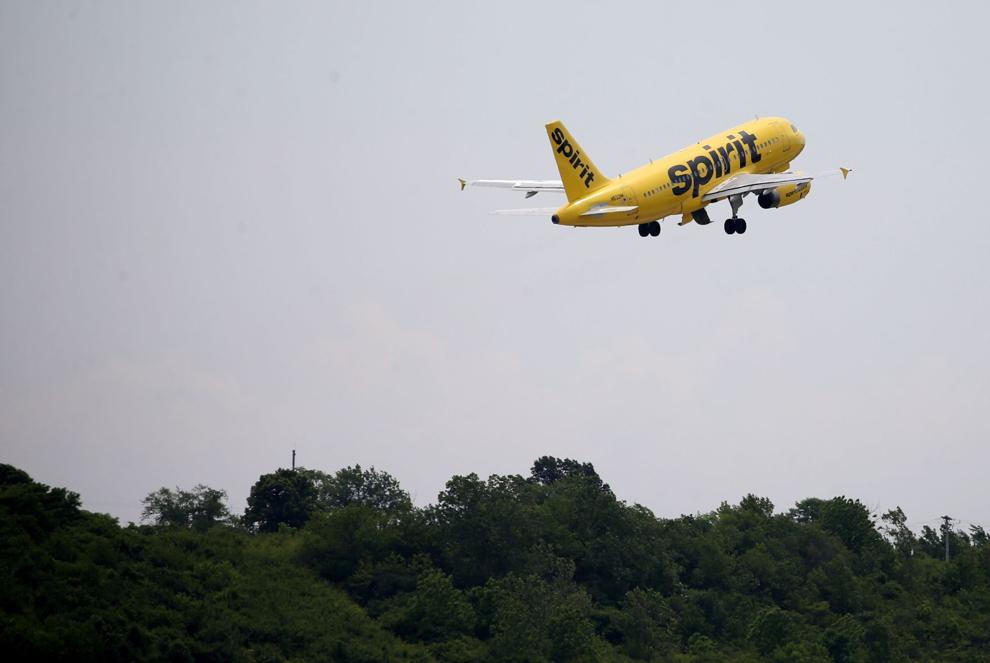 Spirit celebrates first STL departure with water cannon salute

Spirit celebrates first STL departure with water cannon salute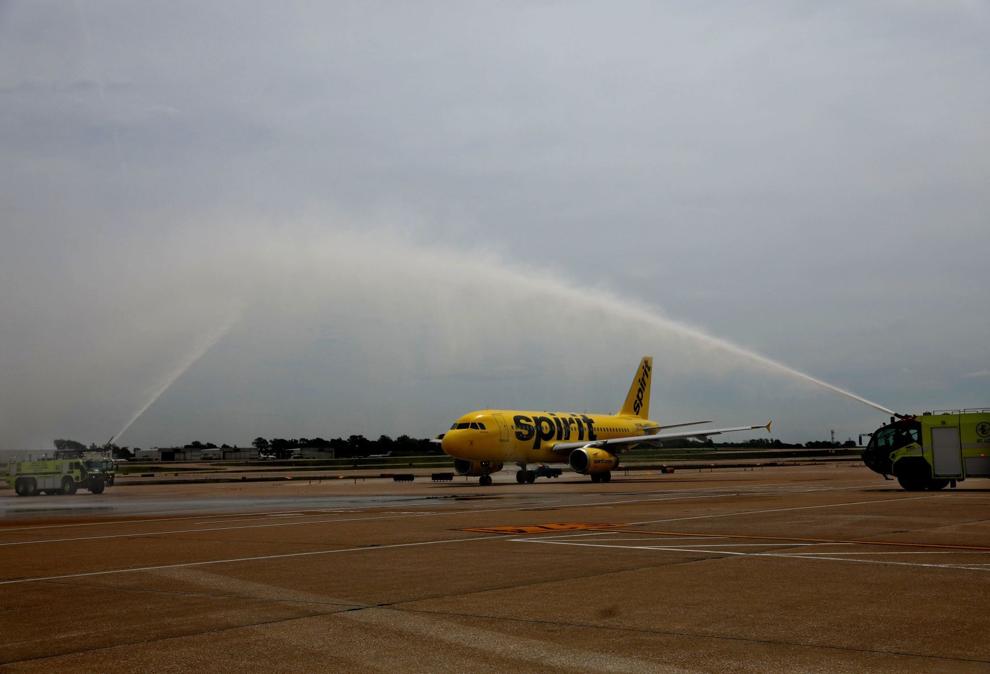 St. Louis has Spirit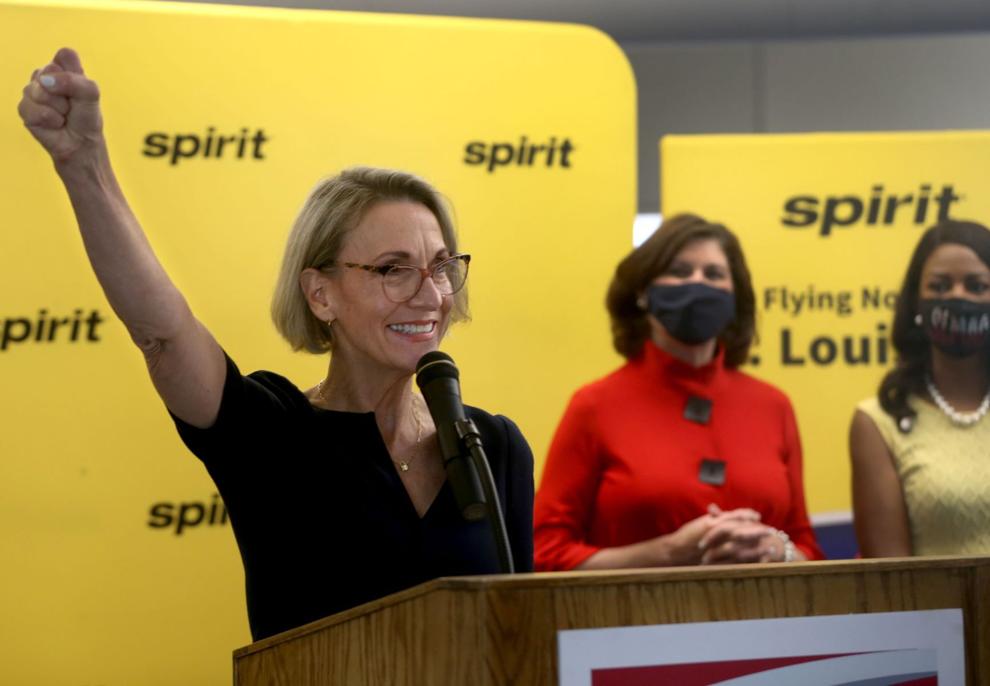 Sunglasses and cookie