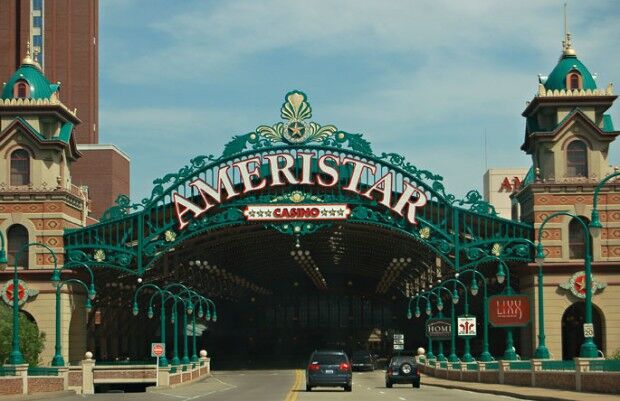 Maybe there's validity to gaming experts' opinions that lower gasoline prices and rising consumer confidence are helping regional casino markets.
Something is boosting the St. Louis market, where five of the six casinos took in more revenue last month than they did in January 2014.
Pinnacle Entertainment's Ameristar Casino, in St. Charles, led the way with a 14 percent revenue gain year over year. Even Penn National Gaming's Argosy Alton, which more often than not posts monthly revenue declines, showed a nearly 5 percent January gain. The only casino to show a decline was the Casino Queen, in East St. Louis, where revenue dipped by 6.5 percent.
Overall, the area's gaming market had a 6.7 percent gain in January, according to figures from state gaming regulators.
A better January
| Casino | January change | Revenue (in millions) |
| --- | --- | --- |
| Ameristar | 15 percent | $22.1 |
| Argosy Alton | 4.9 percent | $4.7 |
| Casino Queen | -6.5 percent | $8.1 |
| Hollywood | 4.0 percent | $17.9 |
| Lumière Place | 2.0 percent | $10.5 |
| River City | 14.0 percent | $17.8 |
| Market total | 6.7 percent | $81.1 |
Relatively cheap gas might be behind the rise in casino business. In a story published Jan. 31, two analysts told Howard Stutz, the gaming reporter for the Las Vegas Review-Journal, that falling gas prices and rising consumer confidence could mean a rebound for regional gaming markets. Most such markets, including St. Louis, have been in a protracted slump.
"Several data points have developed which could point to the beginning of a recovery," Morgan Stanley gaming analyst Thomas Allen told investors, the Review-Journal reported.
Allen added that regional casino operators have seen signs of improved consumer spending and encouraging sentiment among customers.
Macquarie Securities gaming analyst Chad Beynon wrote in December that regional markets were poised for a comeback, the newspaper reported.
Until rebounding this week, gas prices in much of the nation had plunged for months, falling below $2 per gallon in many places, including the St. Louis area.
Bolstering the view that lower gas prices are helping casinos are the double-digit revenue gains posted by state-licensed gambling halls in rural Missouri. Many of their customers must drive long distances. Leading the way was Creve Coeur-based Isle of Capri's Cape Girardeau casino, where January revenue was up 17 percent from a year ago.