A team of botanists from the Missouri Botanical Garden recently began a two-year partnership with Gareev Botanical Garden in Kyrgyzstan to conserve wild fruit trees, including relatives of modern apricots, pears, almonds, apples, and plums that grow in the endangered walnut forests of the Tian Shan Mountains of Central Asia.
These forests have lost 90 percent of their area in the past 50 years through cattle grazing and over-harvesting according to the Missouri Botanical Garden, and they have been deemed a priority for conservation by the World Wildlife Fund. Conserving them is not only of critical importance to the Kyrgyzstani people who rely on them, but could be hugely valuable for U.S. fruit crops, according to Missouri Botanical Garden employees in St. Louis.
"Just being in that forest is quite amazing," said Andrew Wyatt, Missouri Botanical Garden's senior vice president of horticulture and living collections. "Almost everything is edible — it's like being in a natural wild orchard."
Gareev Botanical Garden, established in 1938, is the largest botanical garden in Central Asia and the only one in Kyrgyzstan. Funded by the Switzerland-based Franklinia Foundation, which supports global tree conservation efforts, this partnership will sponsor several trips this year and next for staff from the Missouri Botanical Garden to travel the nearly 7,000 miles to Kyrgyzstan. The trips will involve both fieldwork — finding, tagging, and collecting samples from the trees — and capacity-building at Gareev to allow them to continue this work after the partnership ends.
Boon to agricultural research
Since many of the fruits in the Kyrgyzstan region are the direct ancestors of the fruits we eat today, they could provide a treasure trove of useful characteristics for improving fruit agriculture, Wyatt said. For example, all of the red delicious apples grown in the U.S. are so genetically similar that a single disease could wipe out all of them across the country, he said. Disease resistance traits in the wild apples could help improve the hardiness of fruit species.
Herbert Aldwinkle, professor of Plant Pathology and Plant-Microbe Biology at Cornell University, explained that increased pest resistance from these wild fruit genes could be a public health boon as well as a cost-saver.
"The apples you buy in the supermarket … have been sprayed several times with pesticides," Aldwinkle said. "Even organic apples have been sprayed with pesticides. These are all approved by the (U.S. Department of Agriculture) and the (Food and Drug Administration), but nevertheless they have an environmental effect," in addition to costing farmers money.
Wild fruit genes could help U.S. crops better adapt to changing climates since the fruit trees in the Tian Shan region can be found over a "wide climatic range," according to Aldwinkle, "from an area that would be more like northern Arizona to an area that would be more like Minnesota."
Besides practical concerns, wild fruit genes could be incorporated into crops to create other desirable properties like new tastes, textures, and colors. Aldwinkle also noted that there could be many more uses for this genetic resource that have not been imagined yet. "If we can preserve the forest, we can preserve that library of genes for posterity," he said.
Conservation challenges
Nomadic villagers near the walnut forests depend on them for many facets of their daily life. "This is a really unique ecosystem" because the wild relatives of many common agricultural crops all occur here together, said Alanna Slack, living collections development coordinator at the Missouri Botanical Garden. "It makes it very valuable to the local population because they eat the fruit themselves, they sell them, they make products from them, their cows graze there, they collect firewood from it."
Slack explained that, though most of the areas are technically protected by law, the Kyrgyzstani forestries don't have the resources to enforce the protections.
Chuck Cannon, Director of the Center for Tree Science at the Morton Arboretum in Lisle, Ill., said that it wasn't as simple as putting a fence around the protected area, as many of the forests are small and fragmented, and that involving the community in grassroots efforts to protect the forests are often the most effective in countries with limited resources.
However, according to Cannon, involvement from international agents such as the Missouri Botanical Garden can also put pressure on politicians to publicly support such conservation efforts. Zukhra Iakupbaeva, the Botanic Garden Revival Program Manager at the Archa Initiative who served as the translator for the trips, says the Kyrgyz government has so far been supportive of the collaboration.
Slack and Wyatt met with the vice prime minister and the president of the Kyrgyz Academy of Sciences during their March trip, and the project was covered widely by the media in Kyrgyzstan.
Political hurdles are still a consideration, however. China's Belt and Road Initiative, a massive infrastructure project launched in 2013 aimed at connecting Eurasia along the old silk road routes, could contribute to further deforestation. "The quickest route to the western part of China is through Kyrgyzstan," said Cannon. "There's going to be tremendous pressure to develop roadways and pipelines and railways."
Travels through Kyrgyzstan
The first trip in March lasted 15 days and focused on planning and logistics for future trips. A 30-day trip in April and May was devoted to GPS mapping of the different species of trees throughout the forests.
Traveling through rural Kyrgyzstan from forest to forest was far from straightforward. "What we would typically think of as a road doesn't really exist," said Jennifer Smock, Supervisor of the Kemper Center for Home Gardening at the Missouri Botanical Garden. Iakupbaeva said that Wyatt was a "hero" for driving through Kyrgyzstani mountain passes 300 meters above sea level, which are dangerous even for those familiar with the terrain.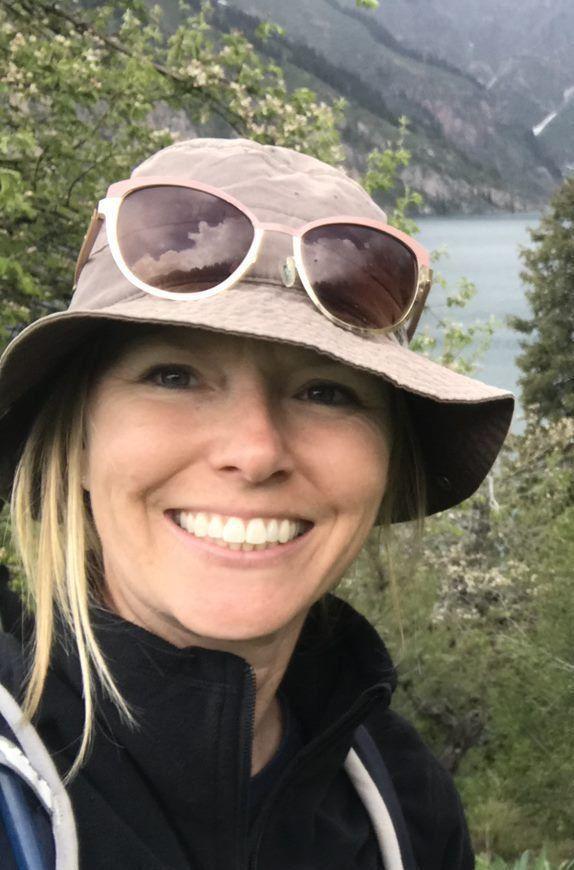 When their vehicles would take them no further, the team rode horses or hiked. The team hiked a total of 145 miles on their April-May trip. "Even for Kyrgyzstani hikers, it's a lot," said Iakupbaeva, "not to say for American botanists."
"People think, 'Well, you're just going to go out in the forest and shove these apples in a basket,'" said Wyatt. On the contrary, he explained that "every tree that you go to, you're writing two pages of notes, you're taking photographs, you're taking a DNA specimen ... we're taking a GPS point, we're taking soil, we're taking the habitat surroundings."
Another challenge of the trip was overcoming the language barrier on a highly technical subject, said Iakupbaeva. Russian is spoken in the cities of Kyrgyzstan while Kyrgyz is spoken in the rural areas. However, Wyatt and the other scientists soon realized a way they could communicate, since "as botanists and horticulturists… there's always the language of Latin," which is used to identify plant species regardless of language.
During their trip, the Kyrgyzstani and American botanists stayed in people's homes. Smock appreciated being immersed in the local culture, saying the people were "wonderful and accommodating" and praising the food.
The team will make another trip to Kyrgyzstan next month, when the trees will have fruit on them, and then take two more trips next spring and fall.