Add molasses puffs to the list of foods — Provel, toasted ravioli and gooey butter cake — that St. Louisans love and other folks don't quite get.
"We can't give it away in the rest of the country," said Christina Abel, one of Chocolate Chocolate Chocolate's owners.
Abel and her brothers, Christopher and Dan Jr., run the confectionery with their parents, Rosalie and Dan Abel Sr. The Abel parents started the company in 1981 in a small storefront with a candy kitchen in the back. The triple-chocolate name is a nod to each of their children.
For its first three decades, their business mainly focused on local sales. In 2009, it bought the trademark for Mavrakos Candy Co., a St. Louis confectionery established in 1913 by Greek immigrants John and Madeline Mavrakos, which had been sold in 1984 to Fannie May's parent company. Chocolate Chocolate Chocolate revived Mavrakos' bonbons, coconut crescents and cherry cordials, using the original recipes.
By 2012, the Abels had outgrown their 3,500-square-foot Ellisville shop. They moved to a facility nearly 10 times as big, at 5025 Pattison Avenue on the Hill, and started offering factory tours.
"The investment meant we needed to open up more channels of distribution," said Dan Abel Jr.
Branching out
A national trade show in 2014 helped them get a feel for what it would take to make inroads in the U.S. chocolate market.
They discovered St. Louis' central location is reflected in our moderate tastes, molasses puffs notwithstanding.
"When we started selling regionally, what we learned was the West Coast liked darker, less sweet chocolates," said Dan Abel Jr. "On the East Coast, it's lighter, more sweet. Our palate as a consumer is right in the middle."
The Abels decided to hedge their bets with chocolate bars.
Because their company is smaller than stalwarts like Hershey or Mars, they can bring new flavors to market more quickly. Chocolate bars are stackable and take up less space on grocer's shelves, so they're more appealing than, say, marshmallow nutwhips or pecan tootles.
"And it's a reasonable indulgence for consumers," said Dan Abel Jr.
The chocolate bar line helped spur double-digit growth, he said. Sales outside of St. Louis now comprise 80% of the company's business.
When a nearby property opened up in 2017, the Abels decided to gamble on another expansion.
"We knew we needed it for tomorrow, not for today," said Dan Abel Jr. "It took a year to buy and finalize … this whole thing, it's like it was destined."
The "whole thing" is a reference to the purchase last month of Bissinger's Handcrafted Chocolatier, a St. Louis confectioner that predated Chocolate Chocolate Chocolate by more than 50 years.
Bissinger's was started by Karl Bissinger in 1927 using European recipes that his father brought to the United States. In January, the Abels found out it was being shopped around.
Owner Tim Fogerty wanted to focus on his other business, 23 Blocks Hospitality Group. Bissinger's had changed hands several times since Karl Bissinger left it to his employees when he died in 1946, but its recipes — for items such as bear claws, crème mints and, yes, its own version of molasses puffs — have endured.
"We would never have been able to acquire Bissinger's if we hadn't expanded," said Dan Abel Jr.
The manufacturing equipment at Bissinger's former facility on North Broadway was auctioned, but Chocolate Chocolate Chocolate kept some equipment and most of its staff.
The Abels now employ about 50 people, who work on the Hill and at their three retail shops. Three other Chocolate Chocolate Chocolate shops are franchised operations.
Bissinger's will operate as a separate entity, using its traditional recipes and labels. The company has a different customer base than Chocolate Chocolate Chocolate, said Christina Abel. Bissinger's is more likely to use dark chocolate, with "healthful" flavor profiles such as cocoa nibs, cherries and acai berries.
"At Chocolate Chocolate Chocolate, our flavor focus is fun," she said. "We have a happy birthday bar with sprinkles on top."
They have recently added cookie bar cookie and cannoli truffle to their line of chocolate bars.
"Having a business is like running on a treadmill," said Dan Abel Jr. "You have to keep moving, keep innovating."
Vintage brands
Innovation vs. tradition has long been a dilemma for chocolate shops in an increasingly competitive market. Customers' tastes change, even while they crave comfort foods. It's not easy to find the sweet spot.
While Bissinger's and Mavrakos have been revived by Chocolate Chocolate Chocolate, other decades-old family stores have shut their doors.
Kipp's Candies, which Robert Kipta opened on South Broadway in 1934, quietly closed about five years ago. It had stayed in the family for four generations, with storefronts in south St. Louis County and Waterloo, selling more than 100 types of solid chocolate figures, plus a spectrum of hashes and puffs.
Robert Stoll opened Stoll Confections that same year in the Shaw neighborhood. His son, Harold Stoll, sold it in 1977, and it changed hands again in the 1990s. By 2003, Stoll chocolates were no longer being sold.
Merb's Candies, founded in 1921 by Emma Merb, has managed to create a niche for itself outside of chocolate.
It sells plenty of chocolate-covered marshmallows, pecan bark and turtles from its original kitchen on South Grand Avenue and its stores in South County and Winchester. But its signature item since 1974 has been the Bionic Apple, an oversize caramel-coated Granny Smith rolled in pecans.
Two other local confectioners — one old, one newer — have also carved out identities using business plans that take almost opposite tacts.
Innovation is the antithesis of the operation at Crown Candy Kitchen, a St. Louis institution in Old North for more than a century.
"If it's not broken, don't fix it," said Sherri Karandzieff of Crown Candy's philosophy. "People come down here knowing what they're getting. It's good candy. It's not fancy."
Harry Karandzieff, an immigrant from Macedonia, opened Crown Candy in 1913 as a diner, ice cream shop and candy counter.
Brothers Andy and Tom Karandzieff are the third-generation owners, with Andy handling day-to-day operations with the help of his wife, Sherri. The couple live above the shop, just like Andy's grandfather did.
Crown's other specialties have drawn national media attention, with its BLT featured on "Adam Richman's Best Sandwich in America" and its malt-drinking challenge on "Man vs. Food."
Heavenly hash, a chocolate nugget of marshmallows and pecans, is their signature candy, Sherri Karandzieff said. Her husband is responsible for hand dipping all the molded chocolate — witches, Santas, even monkeys.
"And beginning in January, we're making bunnies. There are 10,000 bunnies for Easter. That's truly our family tradition," Sherri Karandzieff said.
"Sometimes I feel like I'm 105," joked Andy Karandzieff, 55, of the physical demands of the chocolate-making business.
"We don't have those Lucille Ball machines," said Pelletier, referencing the overzealous chocolate conveyor belt that befuddled Lucy and Ethel on "I Love Lucy."
Each treat is made one at a time. Truffles are dipped by hand. Barks are spread with a spatula.
But the size of Kakao's operation also allows for agility, Pelletier said. The company, which he started in 2008 after a career in the corporate world, has its headquarters in Maplewood with a second storefront in Clayton.
"Because we do things in small batches, we can be very creative," he said. "We always have at least two or three things in the shop we've never had before."
Like tomato-basil truffles inspired by a trip to the farmers market. Or a Pad Thai peanut brittle made with fish sauce.
Kakao embraces the idea that chocolate is an experience, not a snack. Since the beginning, Pelletier has offered tasting parties — "a great way to experience chocolate in a way that would be different from buying it in a box and taking it home."
Sea-salt caramels are Kakao's runaway bestseller, he said. But — on occasion — he does whip up a batch of molasses puffs.
Kakao Chocolate & Confections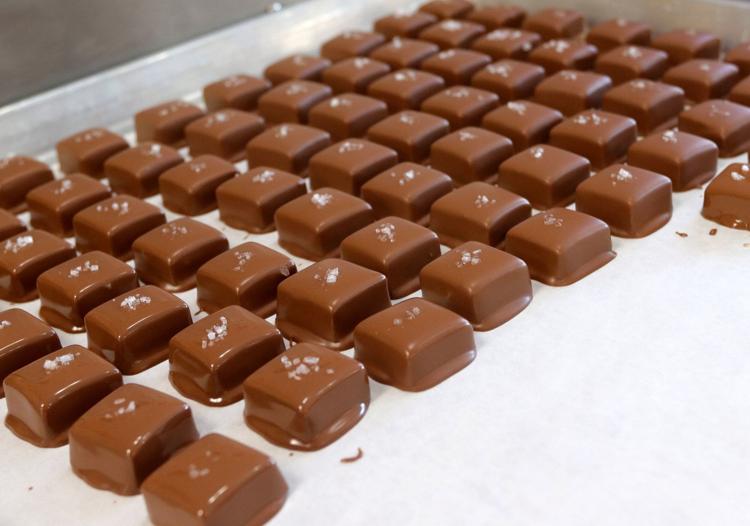 Kakao Chocolate & Confections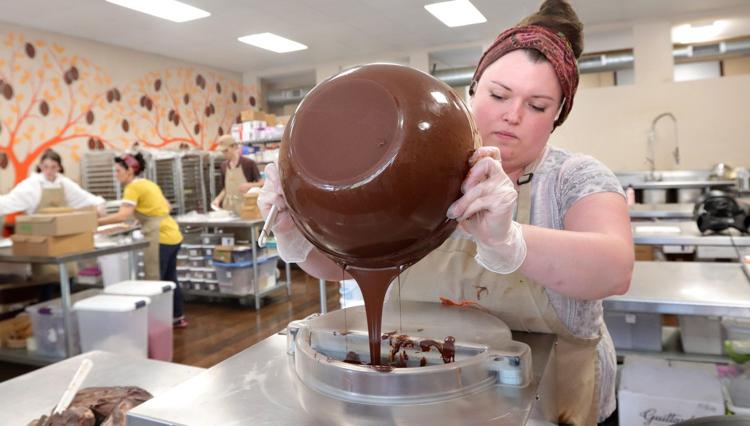 Kakao Chocolate & Confections
Kakao Chocolate & Confections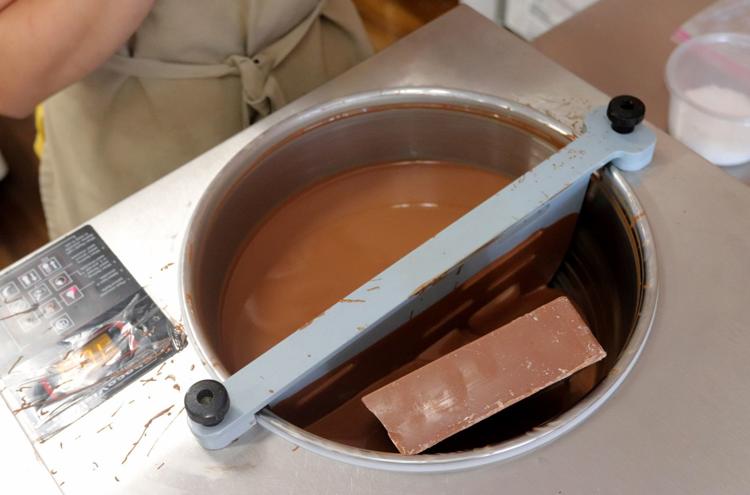 Kakao Chocolate & Confections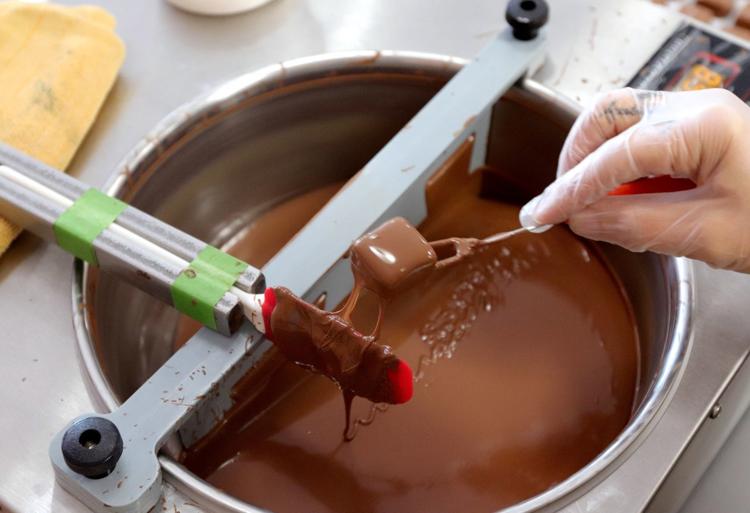 Kakao Chocolate & Confections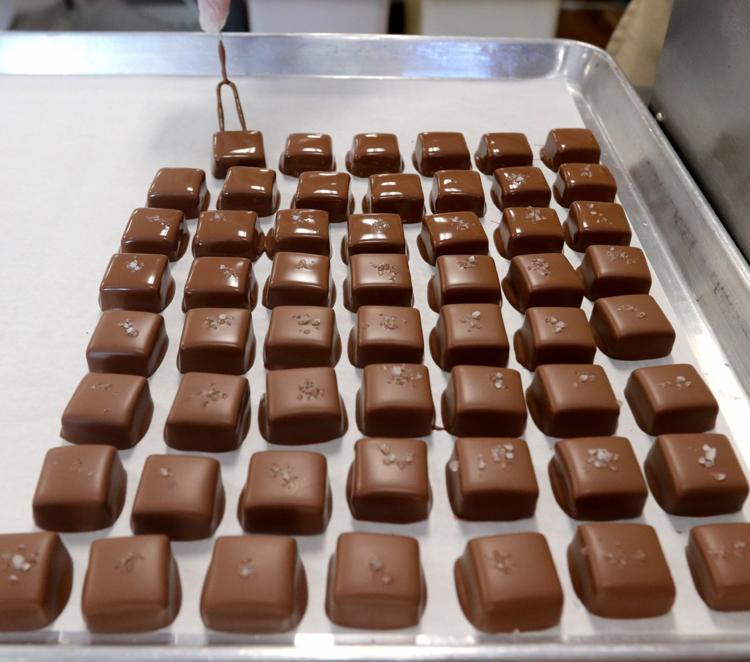 Kakao Chocolate & Confections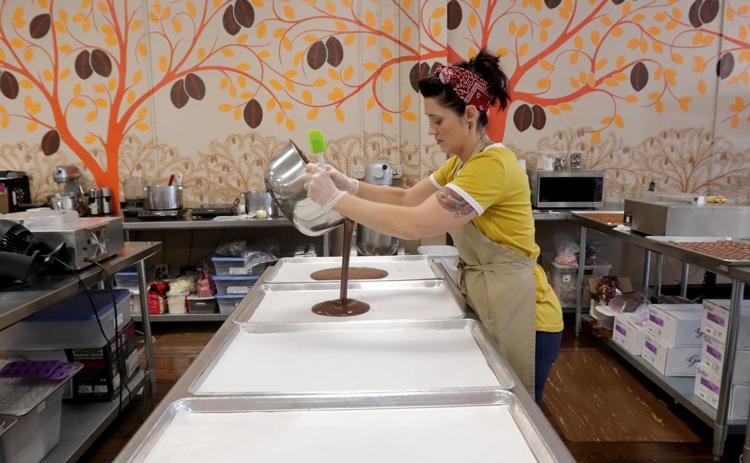 Kakao Chocolate & Confections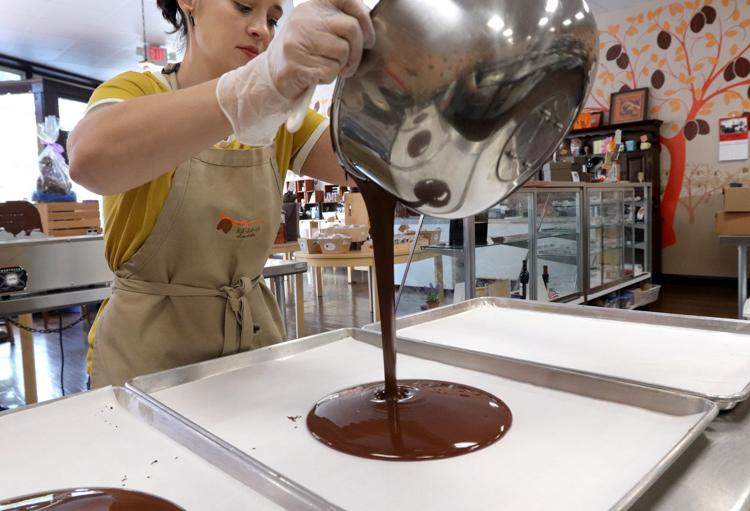 Kakao Chocolate & Confections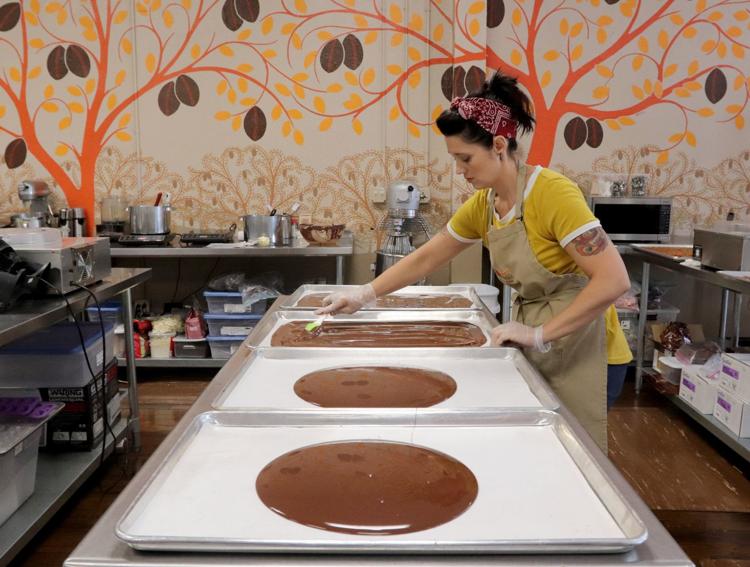 Kakao Chocolate & Confections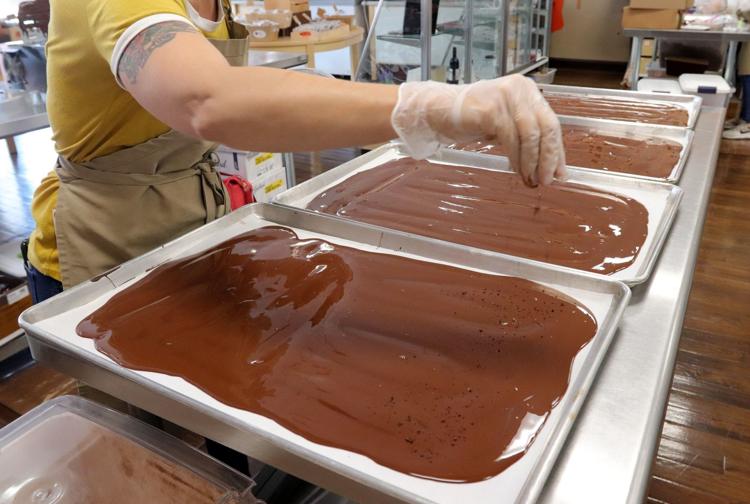 Kakao Chocolate & Confections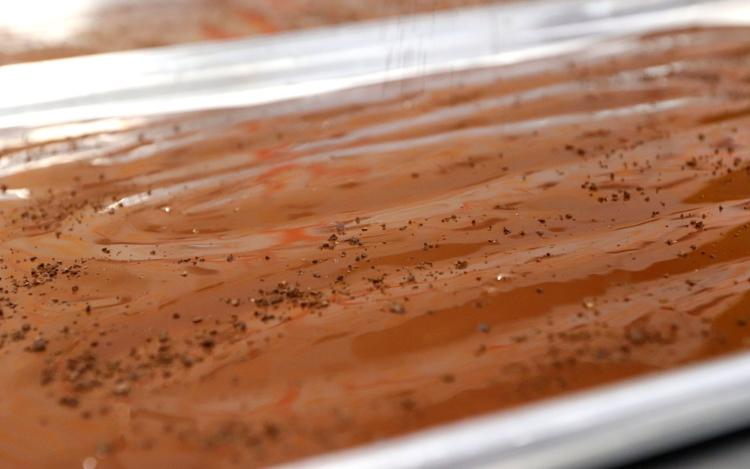 Kakao Chocolate & Confections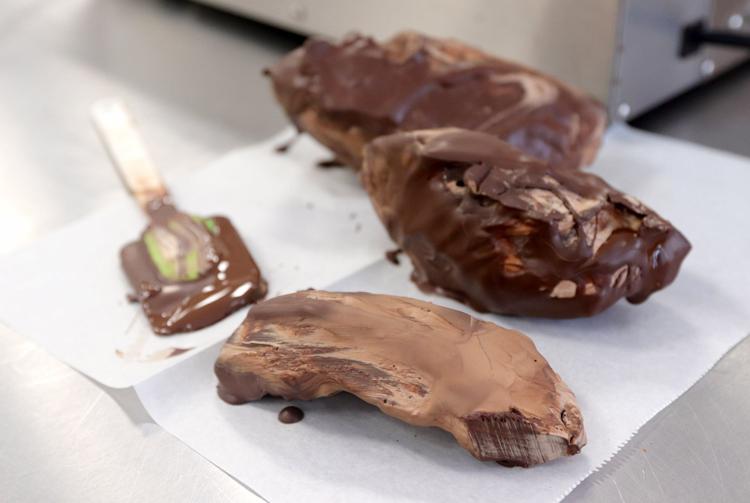 Kakao Chocolate & Confections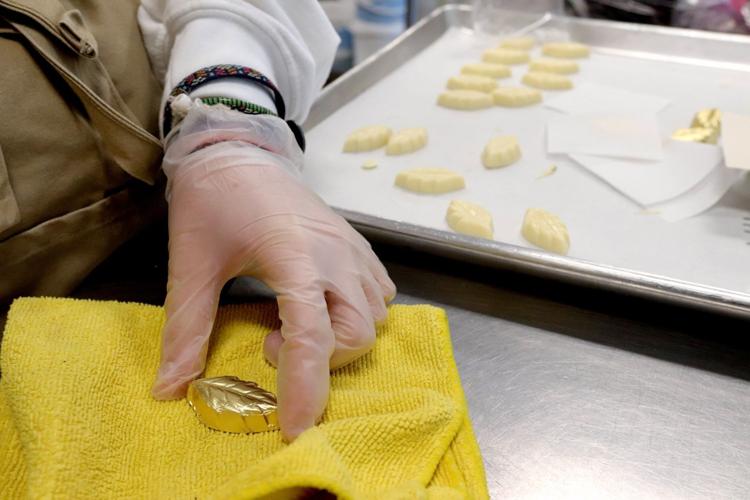 Kakao Chocolate & Confections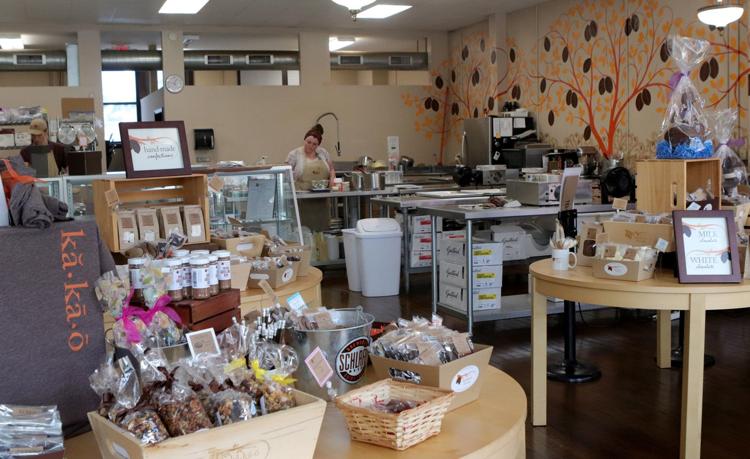 Kakao Chocolate & Confections