ST. LOUIS —Twenty-five years ago Thursday, Maxine Clark opened the first Build-A-Bear Workshop in the St. Louis Galleria.
Two hundred million stuffed animals later, the company is prospering like never before. Last year was the most profitable in the company's history, and the first six months of this year were even more profitable than that.
The company now has 500 retail locations in the United States, and employs more than 4,000 people worldwide.
In recent years, Build-A-Bear has been moving away from what it considers its traditional locations, inside malls, to search for other places to sell its bears. It now has stand-alone stores in tourist destinations, such as Pigeon Forge, Tennessee, and Pier 39 in San Francisco.
The stores have also opened up in third-party locations, such as amusement parks and every Carnival Cruise Line ship. These locations are not owned by Build-A-Bear, but the company trains the staff and monitors the quality while providing its goods at a wholesale level.
Even with the success of the brick-and-mortar stores, like everyone else Build-A-Bear is increasingly focusing on online sales, Hurt said. When the coronavirus pandemic shut down most shopping around the country, the company moved quickly to expand its online presence.
Because its bears are made to order at retail locations (large orders are created at a warehouse in Ohio), it is possible for the company to ship bears ordered online from the store that is closest to the customer, Hurt said, as long as it has the necessary inventory.
Much of the Build-A-Bear business now comes through licensing deals; it offers bears that are dressed like characters from "Harry Potter," Pokémon figures or Disney princesses. Hurt said the difference between Build-A-Bear collaborations and other licensees is that their products are not supposed to be actual Disney princesses; instead, they are bears that are dressed like Disney princesses.
Build-A-Bear created its own niche by allowing its customers to pick which stuffed animal he or she wants, and then having the customer participate in making it.
What began as a company that only made stuffed teddy bears is expanding in a multitude of directions, but stuffed animals are still at its heart.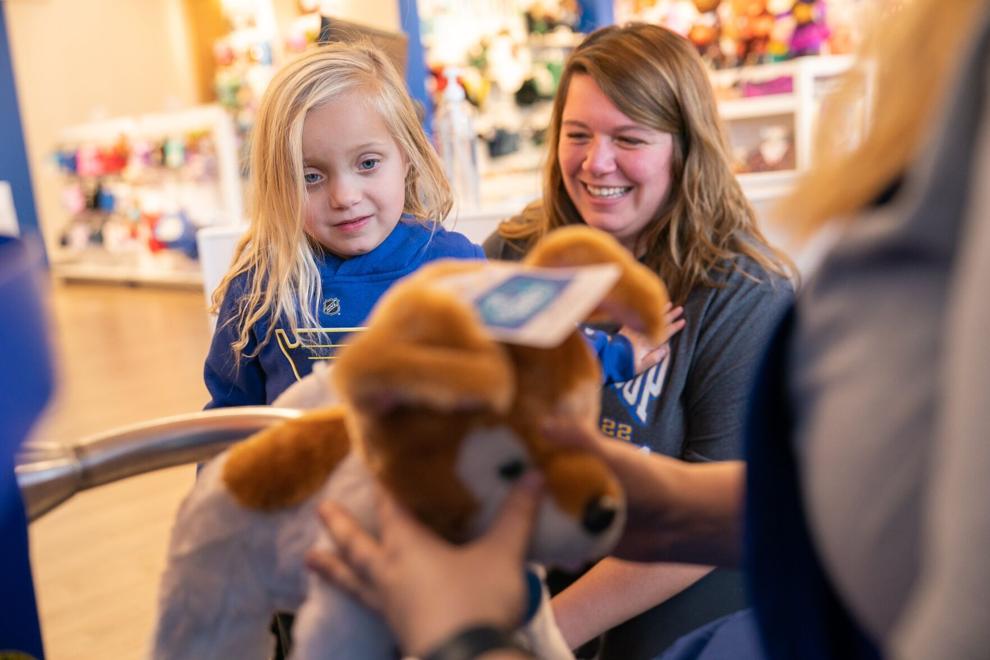 And a heart is still included inside every one. When a customer buys a bear — or a dog, or a dragon, or a unicorn — at any retail location, a ceremony is held in which the customer kisses a little plush heart and makes a wish on it before it is sewn inside the stuffed animal.
It's a formula that has helped create the company's success. College students bring their childhood bears with them to school because they helped to make them themselves, said J. Christopher Hurt, the chief operating officer.
In fact, 40 percent of Build-A-Bear customers are adults or in their teens. The childhood favorites begin to take on a nostalgic glow for people in their mid-teens through adulthood, he said.
The company even has an After Dark line featuring teddy bears that are ever so slightly risqué: an Oktoberfest bear carrying a stuffed mug of beer; a bear in a leopard-print dress and cat ears, wearing black high-heel boots; a rabbit in sneakers carrying a bottle of wine and a glass, wearing a T-shirt that says "It's wine o'clock somewhere."
Hurt said teenage and older customers often get their stuffed animals for Valentine's Day gifts, Mother's Day gifts, prom proposals, homecoming proposals and, of course, wedding proposals.
Christmas is still the busiest time for the stores, but these other occasions are so significant that sales are relatively flat throughout the year, Hurt said.
"If you saw our stats, you probably wouldn't think we're a toy-based retailer," he said.
The company uses this steadiness to its advantage. It can maintain a consistent workforce throughout the year, he said, and must engage in only minimal seasonal hiring.
The pandemic also postponed their corporate move from an industrial park in Overland to a newly renovated building behind Union Station. The new location was supposed to open in 2020, but they finally moved into it this May.
The building was built in 1990, but was completely gutted to fit the company's philosophy of business. Wall-to-wall windows provide expansive vistas of Union Station and the St. Louis Wheel, and it is the lower-ranking employees who have desks with views. Executives have interior offices, without the views.
They call this building their "bearquarters." It's one of many bear-isms, as they call them, that are found throughout the corporate culture. Good things are "pawsome" or "furtastic." The chance to do something is an "op-bear-tunity." They don't sell teddy bears or stuffed animals, they sell "furry friends."
The company is starting to create its own content through its Build-A-Bear Entertainment division. A live-action musical movie based on established Build-A-Bear characters, "Honey Girls," was released last year and is now available on Netflix. And plans are in the works for an updated, live-action version of Goldilocks and the Three Bears.
The company is also taking a step into the digital future by releasing non-fungible tokens. The first was sold at auction recently for $3,400; it also came with a physical version of the NFT, a one-of-a-kind plush bear fitted with Swarovski crystals. More NFTs will be sold in the coming months, at first with physical representations of the stuffed animals, and then only virtual versions.
More than 12 million customers belong to a loyalty program, and the data they provide allow the company to track information about them. But perhaps the most gratifying information comes anecdotally: Adults who had Build-A-Bear bears when they were children are now buying them for their own children.
"It's nice to wake up every day and realize that the bear is beloved and that we're making a difference. That matters to us," Hurt said.