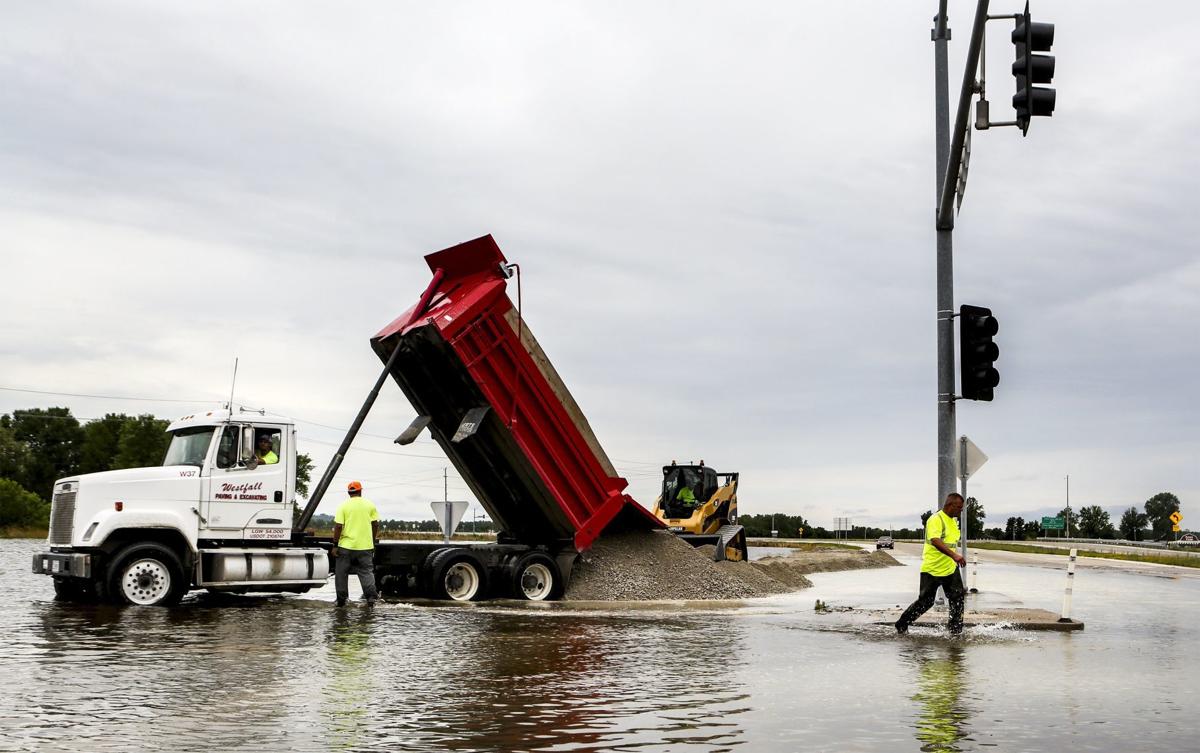 MARYLAND HEIGHTS — In a move that surprised city officials, St. Louis County Executive Sam Page's representatives effectively blocked a plan to use as much as $151 million in subsidies to help spur development in some 2,200 acres of flood-prone land along the Missouri River.
The six members of the Tax Increment Financing Commission appointed by Page joined Parkway School District Chief Financial Officer Patty Bedborough in a 7-5 vote Friday evening against creating a TIF in the low-lying area. The city's three appointees, Pattonville fire Chief Dave Dotson and Ron Orr of the Pattonville School District supported the TIF.
The Maryland Heights City Council could still approve the TIF. But because of 2016 changes to Missouri's TIF law meant to rein in municipalities using tax incentives to poach sales tax-generating developments from their neighbors, the vote severely limits what a TIF that Maryland Heights officials approve can pay for.
"I'm disappointed," said Maryland Heights Mayor Mike Moeller. "We were told that the county would support it. It's obvious that they didn't."
He said city officials had "numerous meetings with (Page) and his staff" and got no indication they would block the plan.
"I'm very surprised," Moeller said. "But, it is an election year."
Page is facing St. Louis County Assessor Jake Zimmerman in the August Democratic Party primary for county executive, a race many expect will decide the outcome of the general election.
Page adviser Paul Hampel, one of the county executive's appointees to the TIF Commission, said after the vote that TIF Commission members arrived at their opinions independently. The TIF Commission was formed in September and has held several public hearings on the proposal since then.
"The current approach of using (TIF) to fund a development in a large green space that's also a flood plain is a plan that we will not support," Hampel said.
He referred other questions to Page's spokesman, who declined to comment further.
Maryland Heights officials have long hoped to develop the area, and landowners there say they are tired of frequent flooding caused by pools of storm water. But environmental groups and others argued against using TIF — which lets cities and developers use future tax dollars generated by new development to finance projects — to help spur construction on what is now farmland and low-density development.
Property owners in the area decided years ago to tax themselves through the Howard Bend Levee District to finance a 500-year levee — constructed between 1999 and 2004. Yet development has not followed as it did in other former flood plains, such as Chesterfield Valley.
Maryland Heights Economic Development Manager Jim Carver stressed that no new levees would have been built as part of the plan, only storm water infrastructure to deal with water that pools on the land after rain.
The lack of pumping stations needed to handle the storm water that now collects on the low-lying ground has stymied development. This spring, for instance, the levee held, but farmers and landowners spent weeks battling floodwater that collected in the area after heavy rains.
The new TIF district pushed by Maryland Heights officials was seen as a way to help finance the pumping stations that many believe are needed for development but that some say the Howard Bend Levee District can ill afford. The levee district already had to raise the levee assessments that landowners there pay on their property tax bill by 9% this year to keep up with higher payments on a debt load of around $24 million.
"We have a few developers who are ready to move forward," said Carver, who is also on the levee district's board. "But they want the assurances that they are going to stay dry."
Maryland Heights planning documents suggest some $85 million in flood mitigation infrastructure is needed, along with $43 million for road and trail system improvements in the area.
The Howard Bend Levee District was preparing to issue bonds to fund an initial pump station estimated to cost between $8 million and $10 million. It had planned to be reimbursed with TIF revenue, and it's unclear how that will be financed now. Carver said city and levee district officials hoped to have the new pump station up and running by the first quarter of 2021.
"We've got to make it through 2020's potential storm event hopefully without flooding everybody again like we had in 2019," he said.
City officials aren't sure whether they will move ahead with the TIF plan. Landowners in the Howard Bend Levee District aren't sure what they will do either.
"We flood one more time, we can't afford it," said Dale Boggs, who co-owns Golfport, a 56-acre driving range there. "This last one was roughly a $200,000 loss."
Flooding in the levee district "keeps getting worse and worse," his wife, Carol Boggs, added.
But many attendees broke into applause after the final vote tally Friday. David Stokes, executive director of the Great Rivers Habitat Alliance, cheered the county commissioners for representing the whole region with their vote.
"This is fantastic," Stokes said. "To finally have a rejection of the latest taxpayer-subsidized flood plain development is a wonderful thing."