Office rents in the St. Louis market notched a solid year of increases that, by one real estate firm's count, put the asking price for office space at its highest level locally since the Great Recession.
St. Louis' 6.1 percent year-over-year bump in average asking office rents to $19.56 per square foot was the ninth-largest percentage increase among big metro areas, and the only Midwestern market in the top 10, according to data compiled by national real estate firm CBRE.
Overall vacancy rates in the region are between about 11 and 12 percent, according to year-end reports from four real estate firms. And in key submarkets, they're much lower.
"The Clayton market is very, very tight. West County's very tight," said Dennis DeSantis, a longtime office broker with Colliers International. "The other markets seem to be getting tighter because we just haven't seen any new buildings."
Rents for top-of-the-line space, known as Class A in the industry, have approached $30 per square foot on some deals in west St. Louis County, according to CBRE broker Tom Ray, who concentrates on the Creve Coeur and Westport areas.
"When you start seeing deals get done like that at those price points, it opens the door for new construction," Ray said.
In fact, he is marketing a potential 100,000-square-foot, three-level multi-tenant office building off of Olive Boulevard that would be developed by Larry Chapman's Chapman Ventures pending enough pre-leases.
With plans for a coffee bar, shared work spaces, a fitness center, a basketball court and a putting green, the Edge @ West is being marketed to appeal to companies with a younger, tech-oriented workforce that office areas such as Cortex in the Central West End have been successful in attracting.
"Employers are already using office space as a tool for the talent war to recruit and retain the best talent," Ray said. "That means buildings that have far more amenities than they might have had just 10 years ago."
The St. Louis suburban markets showed even more strength than the region overall, with rents there rising 7 percent year-over-year to $20.92 per square foot, the seventh-highest percent increase among big metros, according to CBRE's analysis.
"People are pretty confident," DeSantis said. "The economy seems to be humming along pretty good. The unemployment rate's low and the vacancy rate's low. Everything's working in the direction where we should see some new buildings."
Ray pointed to Microsoft's move from Creve Coeur to a new office building developed in Cortex last year. Even before the tech giant had vacated the West County space that had served as its regional office, another tenant leased it, Ray said.
"That to me is one of the strong indicators that the market and the tenants in the market are ready for new product if it's the right type of product for their needs," he said.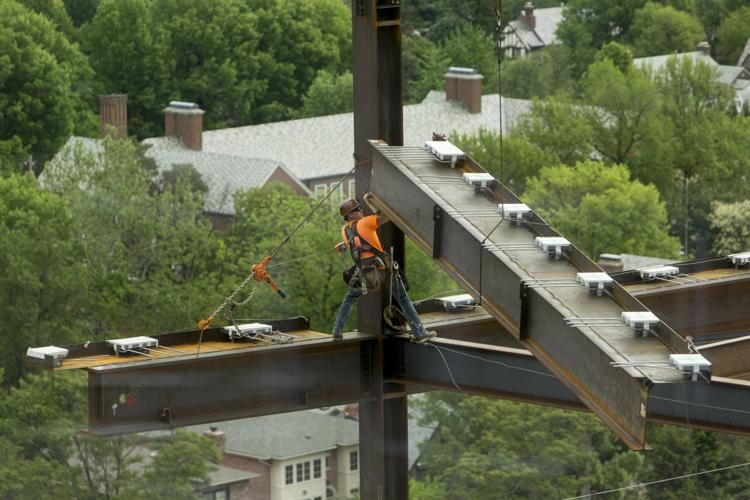 While newer urban office areas such as Cortex and Midtown are seeing new office construction and strong rents, downtown is the weakest part of the local market. Asking rents at the end of the year of $19.36 per square foot for Class A space was slightly lower than two years ago, according to real estate firm Cushman and Wakefield.
Even so, there's new Class A office space set to open late this summer, when Ballpark Village completes a 125,000-square-foot project that will be the first new Class A office downtown since 1989. It will be anchored by accounting firm PwC, which will move from Bank of American plaza nearby.
Cardinals say apartment tower 25 percent leased despite opening over a year away; office should be complete by August.
Downtown will have to absorb that space on top of big vacancies that kept the vacancy rate in the region's big commercial district at about 16 percent, according to CBRE. The 44-story former AT&T tower, for instance, still sits empty. But smaller tech firms are showing strength downtown. Renovations are underway at the T-Rex building on Washington Avenue to turn one floor into a geospatial hub for companies looking at the area in anticipation of the new National Geospatial-Intelligence Agency campus north of downtown.
There's still strong demand from law firms for space downtown, Sansone Group broker Nick Fiquette noted. His office recently inked a 10,000-square-foot deal at the Deloitte building at 100 South Fourth Street for Los Angeles-based Lewis Brisbois Bisgaard & Smith to enter the St. Louis market. And Bryan Cave, one of the biggest law firms in the region, extended in June its 200,000-square-foot lease at Metropolitan Square for a decade.
But the region's real hot spot is still Clayton, where average rents for Class A space sit at $30 per square foot. Managed care firm Centene's 550,000-square-foot office tower is expected to be fully leased when it opens in 2020. Bank of America has already announced plans to consolidate its St. Louis County offices in the space, as will Centene.
The Charlotte, N.C.-based bank said it will keep its office space in downtown St. Louis at 800 Market Street. 
"I do feel that this is a great showing for, not necessarily just Clayton, but St. Louis that we can deliver a 550,000-square-foot building and have it nearly 100 percent occupied before it's delivered," Fiquette said.
How quickly the other offices Centene vacates can be filled remains to be seen. In the Des Peres area, two essentially vacant offices with 300,000 square feet of space that were formerly owned by Scottrade, which was acquired by TD Ameritrade in 2017, are also on the market.
"It'll be interesting to see how space is backfilled," Fiquette said. "But with no lull period, I'm pretty confident there will be absorption."