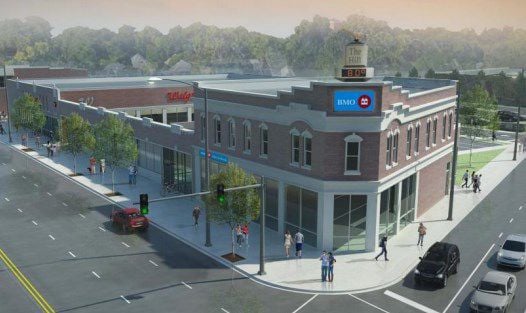 ST. LOUIS • The St. Louis Preservation Board gave preliminary approval Monday to recommendations from the city's Cultural Resource Office to allow BMO Harris Bank to renovate its Southwest Bank property in the Reber Place Historic District.
After more alterations to the initial plan for the buildings from 2301 to 2335 South Kingshighway, project leaders say the measure includes fewer demolitions and curb cuts. The construction project could cost $10 million.
But the board's approval is hinged on a condition: The building permit must be issued before the demolition permit.
The proposal involves demolishing sections of the Southwest Bank and replacing it with a Walgreens and space for parking. The plan also calls for revamping the current BMO Harris building and renovating the building at 2335 South Kingshighway for the Tower Grove Community Development Corporation to use.
John Bruce, the spokesman representing the bank at the board meeting Monday, said the revisions were the result of working with residents who voiced concerns about preserving the integrity of the buildings and the community to achieve a better plan.
Advocates for the measure say it would modernize the block, expedite the closure of the outdated Walgreens across the street and bring economic stability to the area.
However, to Shaw resident and local building owner Imran Hanafi, BMO's newest plan isn't a consolation.
"At first we were going to murder the block, and now we're going to maim it," he said.
Hanafi and others who oppose the plan urged the board to reject the measure that they say would hurt the architectural landscape of the area, disrupt safe pedestrian and traffic flow, diminish property values and prevent small businesses from setting up shop in vacant storefronts they believe are viable and should not be torn down.