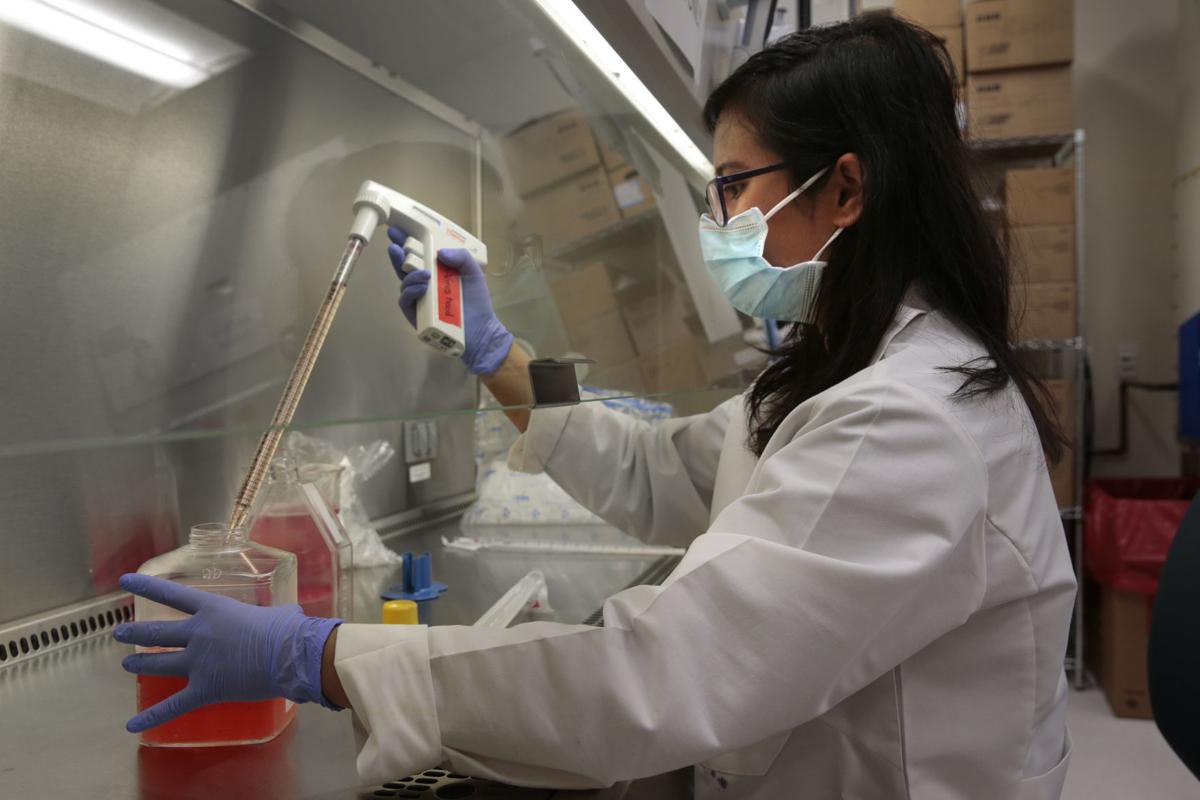 ST. LOUIS — For the last two years, Washington University postdoctoral fellow Wei Qian, of China, has been researching a rare fatal childhood genetic disorder with no highly effective therapy.
Now he's scrambling to reconsider his future.
Last week, President Donald Trump issued an executive order restricting until the end of the year certain types of foreign worker visas — notably the H-1B for highly skilled workers such as foreign faculty members and postdoctoral fellows. The Trump administration said the move would prioritize jobs for U.S. citizens and blunt the economic impact of the coronavirus pandemic.
But St. Louis area scientists are worried that limiting the entry of foreign workers, like Qian, will make it difficult for them to find qualified researchers and could even permanently stifle American innovation.
Qian works in Dr. Jonathan Miner's lab at Washington U. Miner credits Qian with identifying genes that could lead to the development of a more effective treatment for the rare disorder, STING-associated vasculopathy with onset in infancy, or SAVI.
"I can now easily envision a path forward that may save these kids' lives, and we wouldn't be close to where we are now without Wei having come here," said Miner, an assistant professor of internal medicine. "It breaks my heart to think what my lab would have been like without him and what would have been lost without his knowledge."
Qian, whose girlfriend of six years may no longer be able to come to the U.S. as a result of the restrictions, has not been back home for two years because he worries that if he leaves, he will not be able to reenter the country. If he had known that the U.S. would adopt such restrictions and rhetoric toward immigration, he would have sought a position in another place like the European Union or Singapore, he said.
Since the beginning of 2019, the U.S. has granted 4,213 new and continuing H-1B visas in Missouri, of which 826 went to Washington University and the Kansas City health technology company Cerner Corp. A January report from the National Science Foundation found that nearly a third of those working in science and engineering in the U.S. were born outside the country.
The freeze will not apply to foreign nationals who are currently in the U.S. or those with green cards. It provides exemptions for some foreign workers, such as academics on J-1 visas, for work and study exchanges. Officers issuing visas will consider petitions for other exemptions, such as those engaged in COVID-19 or food services work.
Still, St. Louis scientists, from postdoctoral researchers to the chiefs of key area institutions, lashed out after Trump's announcement.
"The U.S. has grown economically for decades on the back of science and technology," James Carrington, president of the Donald Danforth Plant Science Center, told the Post-Dispatch. "If we limit the numbers of people to grow science and technology, we are not just shooting ourselves in the foot — we are chopping our legs off."
Carrington estimated that 10% of his 350 scientists and staff are here on sponsored visas. If a portion of the Danforth Center's labor force were to be cut off, he warned, the proclamation could threaten the almost $100 million his organization injects into the regional economy annually.
Kaushik Panda, a postdoctoral fellow at the Danforth Center who was preparing to submit his H-1B paperwork prior to the proclamation, said the restrictions create the impression that the international community is a low priority and "easily replaceable whenever the need arises."
Tueth Keeney Attorney Diane Metzger, who specializes in immigration law, said that she is advising her clients not to leave the country even if they already hold a lawful visa, to avoid the possibility of being barred reentry into the U.S.
That threat has left foreign postdoctoral fellows like Panda on the sidelines if their labs travel to international scientific conferences, even in Canada.
Scientists also argued that the new restrictions would not actually provide more jobs to U.S. citizens.
Samantha Morris, assistant professor of developmental biology and genetics at Washington University, said out of 50 applications she has received for postdoctoral positions in the last five years, every single one came from an immigrant.
"It's really not the case that these jobs are being taken by foreign scientists," she said. "Because we simply don't get American applicants."
Morris, who arrived in the U.S. from the U.K. in 2011 for a postdoctoral fellowship, said the recent hostility toward immigrants is not the same America she remembers when she arrived.
"I always had this vision of the U.S.," she said. "That's where you go to do the most innovative science and build multinational teams of scientists.
"Science traditionally has not had borders."
Morris said these restrictions force foreign researchers to decide if they should cut their fellowships short and go home.
"There's a human cost to all this," she said. "It hurts the projects we're doing here, it hurts our science, but it really hurts their careers and potentially hurts their families back home."