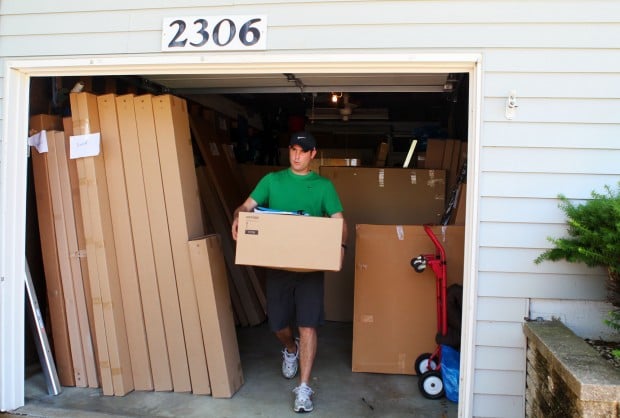 One Saturday each month, Emily and Mark Schmitz make a road trip to Ikea.
The south St. Louis County couple usually hit the road around 3 a.m. Once they get to the Bolingbrook, Ill., store, they split up to be more efficient. The Schmitzes end up spending about eight hours at the store, including two hours loading up their truck and trailer.
"We'll check out with anywhere from 14 to 18 carts," Emily Schmitz said. "They'll often open a special line for us."
But the furnishings don't end up in their living room. In the following days, they divvy up items to customers who pay the couple to make the Ikea run.
The absence of an Ikea store in the St. Louis region is acutely felt among its devoted fans, who often make pilgrimages to Chicago to buy cube-like bookshelves, funky lamps and assorted knickknacks. So wily entrepreneurs have turned the lack of a local store into a small cottage industry — picking up Ikea products and delivering them.
The company says it has seen this phenomenon — side businesses spawned by the demand for its products — pop up in other cities where Ikea is absent.
"There are definitely some resourceful Ikea fans out there. So more power to them until we come to town," said Joseph Roth, an Ikea spokesman.
In the age of online sales, it may seem surprising that there is a need for such pickup and delivery services. But only about 3,000 of Ikea's 10,000 products are available for sale online.
And even if an item is available online, it can be pricey to ship. Items that weigh more than 70 pounds and cost more than $200 have a minimum delivery cost of $349 to the St. Louis area.
"Sometimes the cost of shipping a bookcase can be as much or more than the actual cost of the bookcase," Roth acknowledged.
The delivery side businesses often charge far less. Nima Ferguson, of Clayton, had been eyeing a $79 lamp from Ikea, but it wasn't for sale online. So she turned to Expedite STL, paying about $29 for the delivery.
Customers place requests for couches, bed frames, rugs and other items through the Schmitzes' website, expeditestl.com. In the days following the trip, the couple deliver the items to certain ZIP codes. Or customers can pick up items from their house.
Another local business — IS Design Kitchens — designs kitchens and other home projects with Ikea products. Ivan Krasavtsvev, the owner, often flies one-way into Chicago and rents a truck to tote Ikea wares back home.
There's a lot of local demand because most of the options in the St. Louis region are fairly traditional, he said.
"And if you want something more modern or Scandinavian, then it's more expensive," he said. "But Ikea is a great way for people to decorate their homes without spending a lot of money."
Of course, the need for these services would dissipate if Ikea opened a local store. The prospect of a store here has been the source of much speculation over the years. More recently, there have been rumors that Ikea has secured some land in Missouri. But Roth said there's no truth to it.
One thing not working in St. Louis' favor is that Ikea does not have a distribution center in the Midwest, so it has focused its expansion instead in regions where it does, Roth said.
Still, Roth said Ikea continues to evaluate opportunities in new and existing markets, including St. Louis. With more than 2 million people in the region, St. Louis is big enough to support an Ikea store, he added.
Until then, Ikea fans may have little choice but to resort to this shadow business. Ferguson said using the service sure beats driving.
"That's not bad if you think about taking the whole day off and driving with gas prices the way they are," she said.