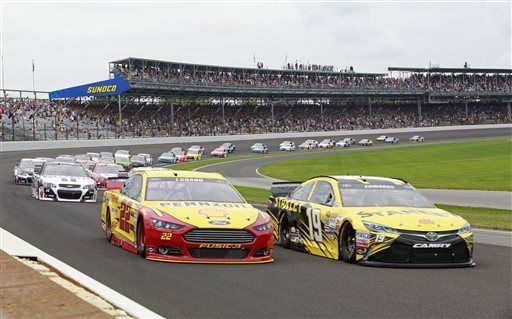 SunEdison Inc. has been named the "Official Solar Energy Partner of NASCAR Green," the Maryland Heights-based renewable energy development company and NASCAR announced Thursday.
The goal of the partnership is to build on the expanded use of solar technology at race team shops and race tracks across the country.
"Solar power is a proven and reliable form of renewable energy and the technology is already making a significant impact throughout our industry," Steve Phelps, NASCAR chief marketing officer, said in a statement. "Our strategic partnership with SunEdison will help NASCAR further reduce the sport's environmental impact and help continue to educate our fans on renewable energy."
Vikas Desai, SunEdison senior vice president of residential and small commercial, said the company was excited about the deal.
"We look forward to being a strategic NASCAR Green partner and helping fans, partners and the sport save money while reducing their carbon footprint," Desai said in a statement.
NASCAR, the National Association for Stock Car Auto Racing, says a study it commissioned in 2014 found that four out of five NASCAR fans believe the earth is going through a period of climate change, and two out of three of these fans feel a personal responsibility to do something about it.