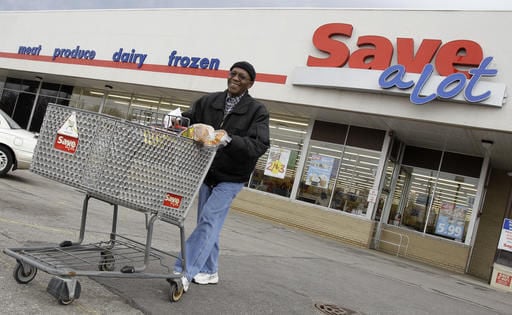 Supervalu Inc. will sell its Earth City-based Save-A-Lot business to Canadian private equity firm Onex Corp. for $1.37 billion rather than spinning off the discount grocery chain as previously planned, the companies said on Monday.
Eden Prairie, Minn.-based Supervalu had been looking to separate the more profitable division, which generates about a quarter of the company's sales, from its slower-growing grocery wholesale and food retail businesses as bigger rivals such as Wal-Mart Stores Inc. increase their focus on groceries.
Founded as a single store in Cahokia in 1977, Save-A-Lot has 1,370 stores mostly in the South and eastern U.S.
In the St. Louis area, Save-A-Lot has 800 employees, including at its headquarters, distribution operations and 19 company-owned stores.
The deal is part of a broader shake-up in the U.S. grocery industry, with major players consolidating and scores of supermarkets changing hands. Royal Ahold NV agreed last year to acquire Delhaize Group, combining the Stop & Shop and Food Lion chains. And Kroger Co., the largest U.S. grocery chain, has been gobbling up smaller competitors.
Albertsons Co., meanwhile, postponed plans in October 2015 for an initial public offering, saying the market was too volatile. 
Supervalu decided to explore an outright sale of the discount grocery chain after receiving interest from several private equity firms, Reuters reported in November.
"Save-A-Lot is differentiated among its competitors in a growing segment of the industry," Matt Ross, Onex managing director, said in a statement Monday. "We're excited to partner with the management team at Save-A-Lot, along with its licensed store owners, to support its growth for years to come."
David Livingston, a supermarket analyst in suburban Milwaukee, thinks Supervalu got a good price for Save-A-Lot, considering the competitive marketplace for discount grocers.
Analyst Ajay Jain of Pivotal Research Group in New York thought Save-A-Lot could fetch as much as $1.8 billion, but sales in the last four quarters declined between 1.4 percent to 3.4 percent. "We are not entirely surprised that the sale proceeds were lower than expected," he said in a research note.
On Wall Street, Supervalu rose 29 cents, or 5.8 percent, to close at $5.30.
Supervalu said it plans to use $750 million of the sale's proceeds to prepay a term loan. The remaining amount will be used to further reduce debt and improve capital structure, according to the company's statement. Supervalu has suffered recently from deflationary food prices, lower traffic and a loss of customers. The sale allows the company to improve profit margins as its higher-margin wholesale business will become a greater portion of its overall financial mix.
The sale also includes a professional services agreement in which Supervalu will provide Save-A-Lot with support for day-to-day operations such as cloud services, merchandising technology, payroll, finance, and other services.
The deal is expected to close by Jan. 31, the companies said.
Reuters, Bloomberg, the Star Tribune of Minneapolis and the Post-Dispatch contributed to this report.