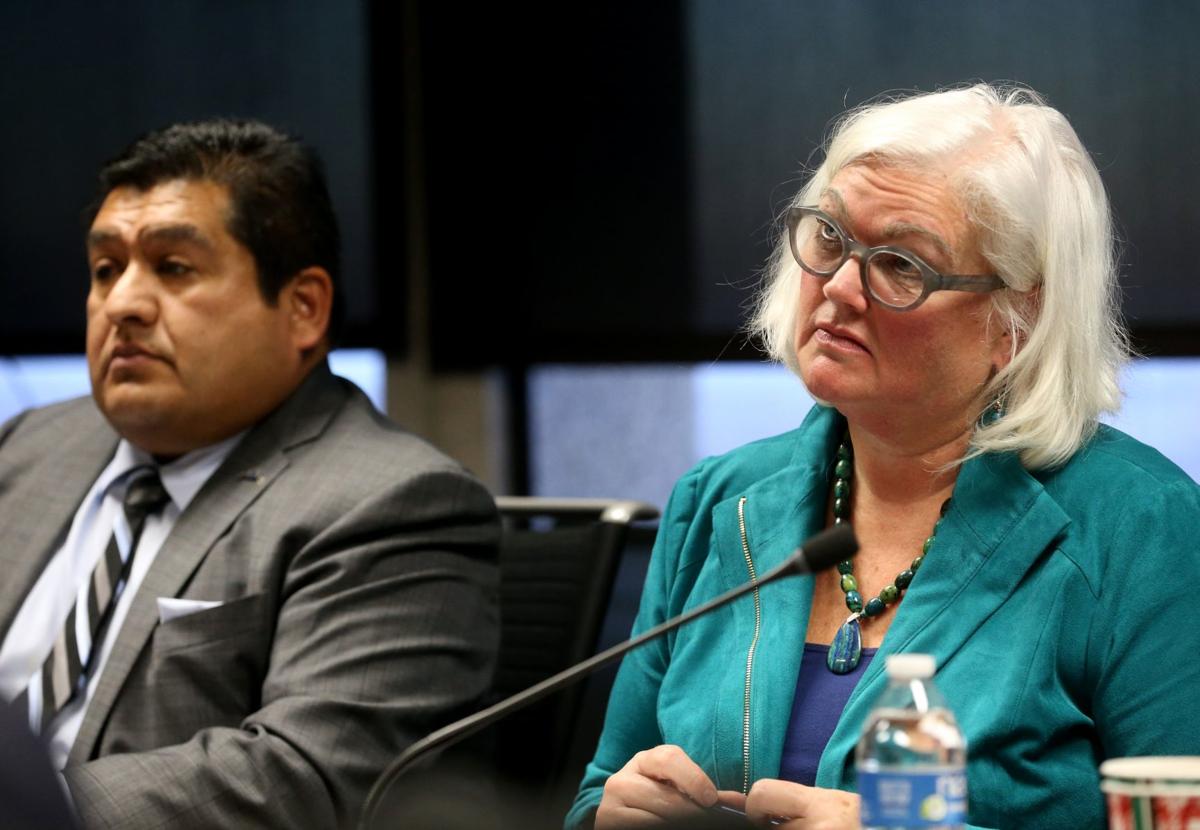 The St. Louis Economic Development Partnership is looking for a new leader after parting ways with Sheila Sweeney, its embattled chief executive.
The organization named Rodney Crim, president of the Partnership, on Friday as interim CEO, and announced plans for a national search for a replacement.
Sweeney's departure follows Post-Dispatch investigations into low staff morale and high turnover at the Partnership, the agency's procurement practices and the awarding of contracts to campaign donors of St. Louis County Executive Steve Stenger, who several former employees say essentially ran the office through Sweeney.
And it comes on the heels of moves by the St. Louis County Council to tighten oversight of the agency and fund it only in quarterly allotments, forcing it to submit to council inquiries in order to receive its annual $4.1 million county appropriation.
"Our board has determined that a new direction is necessary to fulfill our mission of building this region's economic engine," Karlos Ramirez, chairman of the St. Louis Economic Development Partnership board, said in a statement. "We are proud that our organization is one of the first combined efforts of the City of St. Louis and St. Louis County, and are committed to ensuring it can focus on our mission in the most efficient and effective way possible."
If pressure on Sweeney had been brewing at the board, it was mostly behind the scenes. The county executive, who appoints 11 of the 15 Partnership board members, has been mostly silent on Sweeney's performance. One of the member is his chief of policy, Jeff Wagener, and the other is his chief of staff, Bill Miller. The four remaining members are appointed by the St. Louis mayor.
Crim formerly led the St. Louis Development Corp. and moved to Clayton as part of the Partnership's establishment in 2013.
The Partnership board met in closed session Thursday evening for nearly two hours, its second special closed meeting in a month.
Its Friday morning announcement did not say whether Sweeney had resigned or if the board had taken any disciplinary action. It wasn't clear if the board had approved an exit compensation package for Sweeney.
Sweeney received total compensation of $500,000 in fiscal 2017. Crim received total compensation of $218,000 that year. The former CEO, Denny Coleman, received total compensation of $321,000 in fiscal 2015, his last full year as head of the organization.
Interviews with a dozen former employees at the St. Louis Economic Development Partnership detail low morale, high turnover and questionable spending. 
The board hired Sweeney in 2015 after paying executive search firm DHR International $56,000 to search for candidates. After what was described as a "national search" to replace Coleman, a longtime area economic development leader, the Partnership ended up choosing Sweeney. Sweeney ran a real estate business and was the longtime chair of the powerful St. Louis County Port Authority — an entity that collects $5 million annually in casino rent and is managed by the Partnership.
In the last 18 months, Stenger's support on the County Council has all but evaporated, and the body has passed legislation to appoint its own St. Louis County Port Authority board, a move that has set up competing port authorities. A judge is likely to decide which one is legitimate.
Stenger, who previously denied involvement in the Partnership's day-to-day operations, now says it is "wholly appropriate" for the county executive to communicate regularly with an agency that receives $4 million annually from county taxpayers.
A CITY-COUNTY AGENCY
The Partnership formed five years ago out of what was the St. Louis County Economic Council in an attempt to merge some of the business recruitment functions of St. Louis and St. Louis County.
However, the city's St. Louis Development Corp. maintained its staffing of the city's Port Authority, Land Clearance for Redevelopment Authority and other economic development arms. The Partnership staffed the equivalent agencies in St. Louis County.
SLDC gives about $1 million annually to the Partnership, which is supposed to offer locations to corporate site selectors without favoring the city or county. Those in economic development claim some success in working together when companies and their site selectors come knocking. Officials often point to the city's retention of the National Geospatial-Intelligence Agency and St. Louis County's agreement to withdraw sites in favor of the north St. Louis site that ultimately was chosen.
Former employees who spoke to the Post-Dispatch last month, though, say the organization clearly favored St. Louis County sites on other projects, unbeknownst to the city.
In a brief public session to discuss looming budget issues at the Partnership, Sweeney, too, pointed to the NGA and the Partnership's recent effort to put forward a competitive proposal in an attempt to land a 700-job U.S. Department of Agriculture office planning to move out of Washington.
"Certainly our business development has been very involved in the city and county to make sure we retain jobs here first and foremost," Sweeney told her board. "Those things I'm really proud of, and I think continuing it is the right thing to do for the city, the county and this region so we can move forward."
She did not respond to a request for comment on her departure.
The project is intended to assist fast-growing plant science firm Benson Hill Biosystems. 
In addition, the St. Louis County Port Authority has gained site control of the closed Jamestown Mall in north St. Louis County, though a developer has not yet moved forward with plans for the site.
However, other deals have raised eyebrows at the council about the Partnership's professionalism and whether it is being used as an economic development or political tool.
The Port Authority has drawn the interest of County Council Chairman Sam Page, who says he has right to participate in its deliberations.
Recently, the St. Louis County LCRA's sale of industrial real estate for a development that hasn't materialized has been back in the news. The new owners, a group that includes Rallo, wanted to flip some of the land to a used-car company that would provide far fewer jobs than they initially pitched. The county LCRA turned them down, and Sweeney has distanced herself from the deal. Former Partnership employee Joe Bannister, who oversaw the project, said the investors were given the opportunity because of their relationship with Stenger.
Daily updates on the latest news in the St. Louis business community.