Once a week or so, the chefs at Chase Park Plaza head to the Central West End hotel's roof, where they swap kitchen gear for white gloves, a mesh veil, and sometimes, a handheld metal smoker.
The equipment helps them peek inside two recent rooftop additions: brightly colored boxes which together house roughly 20,000 honeybees. A constant trickle of them can be seen flying in and out, collecting pollen to produce honey and honeycomb.
"It's truly Forest Park honey," said executive chef Gunter Weber, one of three chefs who have been looking after the hives since the hotel acquired them in April, referring to the park across the street. The 11-story historic hotel at 212 North Kingshighway was recently renamed the Chase Park Plaza, a Royal Sonesta Hotel, after a change in ownership.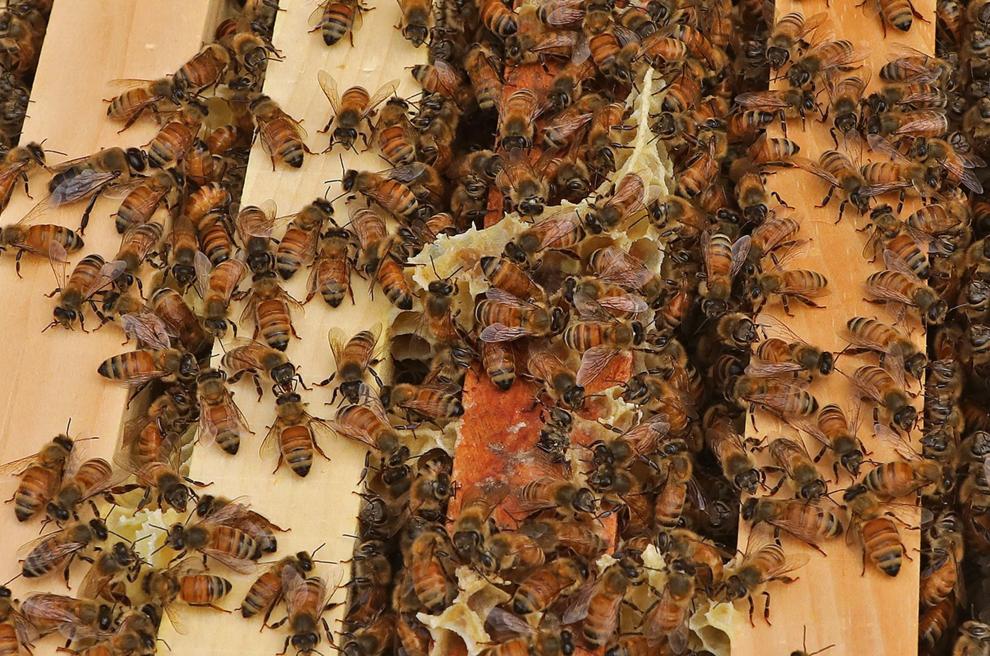 Beehives have become a way for urban businesses to generate local honey and combat colony collapse disorder, a condition threatening bee populations globally.
Other St. Louis businesses with beehives include the Hyatt Regency St. Louis at the Arch hotel downtown, which also has rooftop hives, and restaurants Eleven Eleven Mississippi and Vin de Set, which jointly operate a greenhouse and garden in Lafayette Square.
Weber said that he hopes to be able to harvest honey by the end of the year or early next year. He said it's possible for one hive to produce 15 gallons of honey in a year, and that some honeybees fly 2 million miles to produce one pound of honey.
Jane Sueme is the founder of Isabee's, a local beekeeping store in unincorporated south St. Louis County that also offers training, equipment and literature. Sueme helped Weber as well as Eleven Eleven and Vin de Set set up their hives.
Sueme said that despite the recent trend of keeping hives in urban areas, she hadn't heard of complaints about bees bugging city dwellers.
"That's what's so attractive about rooftop beekeeping in an urban environment, because they're on rooftops," Sueme said. "You don't have any interaction because they stay up so high."
Weber's experience at the hotel has been similar.
"There might be one or two down there (at the pool)," but they don't normally bother the guests, Weber said. "I think a lot of people have that fear, but usually if they land on you they won't sting." Weber said that he hasn't been stung while working with the bees.
Once the honey is ready for harvest, the chefs hope to incorporate it into their menu.
"Honey ice cream, sponge cake, chocolate that looks like honeycomb... we definitely want to try to use it as much as we can," Weber said.
Eleven Eleven general manager Robert Colosimo said the restaurant hosts honey-themed dinners, where a tasting of late-spring, early-spring and late-summer honey from the restaurant's hives is followed by a three-course meal also incorporating the sticky-sweet ingredient. Garden produce pollinated by the bees is also used in the restaurant.
Colosimo, who has been beekeeping for four years, said he has had some trouble with his hives dying off, symptomatic of CCD.
According to the EPA, he's not alone: In recent years, CCD has remained a problem despite declining numbers of reported incidents.
"Beekeeping in today's world is not as easy as in the past. You'll have a hive and then suddenly it'll die off. That's the big challenge for beekeepers," Colosimo said.
The causes for CCD are still not entirely known. Honeybees are notable for their intricate social behaviors, which include varied dance routines to communicate how far away a pollen source is.
For this reason, Sueme, who has been beekeeping since 2004 and has 14 hives of her own, described beekeeping as "farming for intellectuals."
"Their social structure and communication makes honeybee behavior very complex," Sueme said. "There are more books written about honeybees than any other species, except humans.
"And if you came to my store, you would see that," Sueme said.