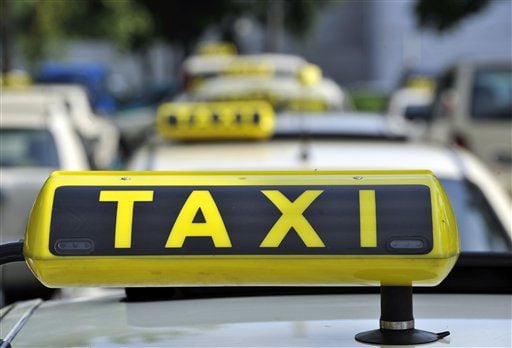 The St. Louis Metropolitan Taxicab Commission expects to "significantly increase" the minimum amount of insurance coverage required for cabs as a result of an accident in which Edward Domain, CEO of Techli, was badly hurt, the commission said in a letter to Domain.
Domain has been a vocal critic of the commission and a strong supporter of allowing UberX to operate here. He was injured in a 2013 crash while in a Harris cab and filed a lawsuit against the cab company and the cab driver, Asim Khurshid of Ballwin.
Domain alleged in his suit that Khurshid ran a red light at the intersection of Gravois Avenue and Russell Boulevard, drove at an "excessive" speed and used a cellphone while driving.
He got a $200,000 settlement, the amount of the current minimum-liability policy required by the taxi commission. That's eight times more than the $25,000 policy required by Missouri, and double that required for cabs in Kansas City, the commission said.
"Nevertheless, we expect to significantly increase those minimums as a result of what we have learned from your experience," the letter dated Thursday says.
No details were given on how much the minimums could increase, although Domain said he was told it would be to $400,000. He says that amount isn't enough, and wants it increased to the $1 million commercial-liability policy that UberX offers on rides.
"The expenses for your medical care and rehabilitation clearly exceeded the ultimate payment by the insurance company. No amount of money could come close to compensating you for your pain and suffering or loss of productivity. The claim should have been processed and paid without the necessity of legal action," the letter says.
The commission and Domain give conflicting accounts of when the commission learned of Domain's accident, one of the reasons Domain is angry at the commission's handling of his crash.
"It's almost comical at this point how hard they're trying to discredit me," Domain said Friday. "It's like theater."
He has lost count of how many surgeries he has undergone, either nine or 11, he said. His injuries include a crushed pelvis, multiple broken bones and torn tendons. Metal plates now connect his left leg to his pelvis, he said.
He said that Techli, a website focusing on technology news that came to St. Louis after winning a $50,000 Arch Grant in 2012, had suffered since his injuries and that he lost a major investor.
"I literally have nothing," said Domain, 42.
The taxi commission said its rules governing minimum-liability insurance coverage for vehicles-for-hire wouldl be reviewed, and would probably be recommended to increase, as early as its July 29 meeting — the same day it's expected to vote on allowing UberX to operate in St. Louis and St. Louis County.