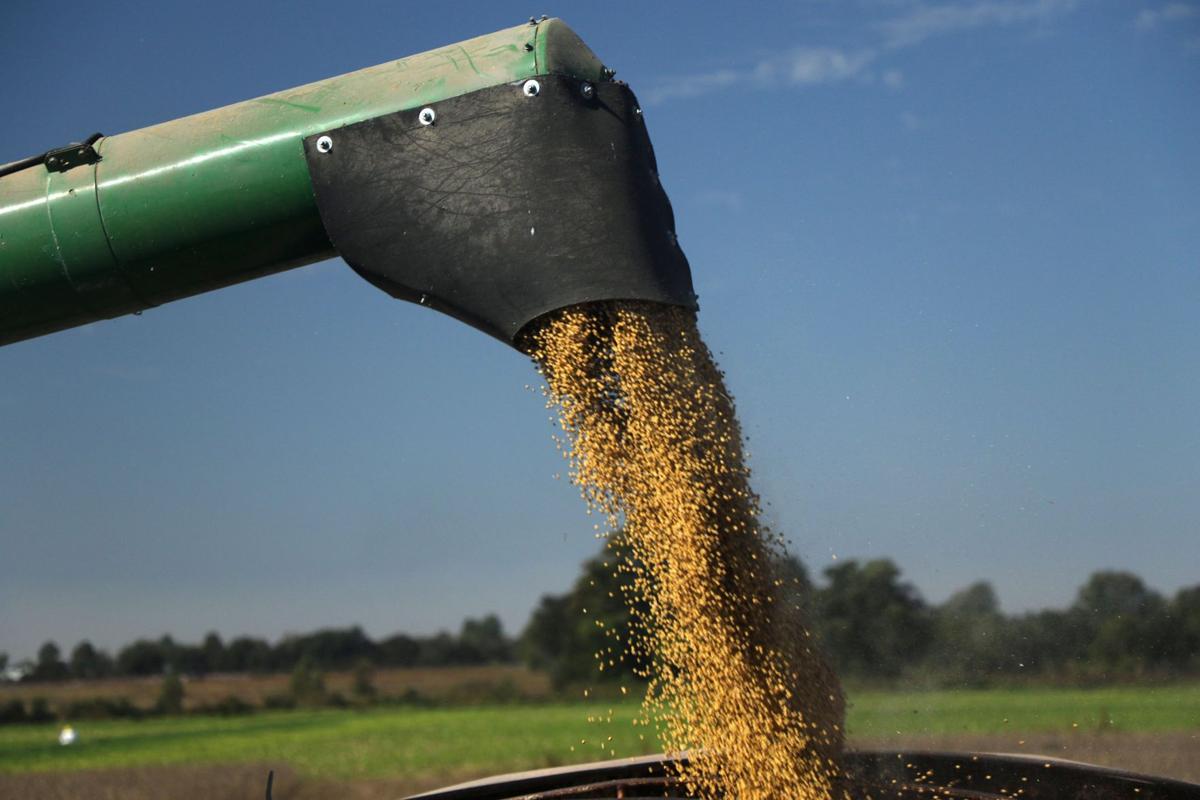 MALDEN, Mo. • Although this year's soybean harvest is setting national records for volume, many farmers in the Missouri Bootheel are not experiencing the same abundance.
The southeast region of the state is a part of a multistate swath where damage from suspected illegal herbicide drift has slashed yields for farmers who did not plant crops resistant to the herbicide, dicamba.
Fallout from the damage is pitting neighbor against neighbor and straining, or simply ruining, relationships in the area's tight-knit farming communities.
"There's hard feelings," said Kevin Bradley, a professor of plant sciences at the University of Missouri who has investigated much of the area's crop damage. "I've talked to several different farmers throughout that have said something to the effect of, 'He's been my neighbor for 20-some years, and now we're not talking anymore.' "
Insurance companies will not compensate farmers for losses caused by wrongful or "off label" herbicide applications, leaving civil lawsuits as a potential recourse for growers trying to recover damages.
The looming prospect of litigation has led to some verbal saber rattling, as people hire attorneys and trade barbs about whose pockets — and subsequent legal protection — go deeper.
Many say the stage was set for this year's drama by the recent release of dicamba-resistant crop varieties.
Over the last two years, Monsanto Co., the Creve Coeur-based biotech and seed giant, released dicamba-resistant cotton and soybeans amid growing resistance of weeds to its signature herbicide, Roundup. But the accompanying form of dicamba — supposedly less prone to vaporizing and drifting off target than previous forms of the herbicide — has still not been approved by the Environmental Protection Agency, leaving the new seeds without their complementary product.
Without it, some farmers have evidently disregarded warnings and used older, unsanctioned dicamba alternatives, leaving their crops unaffected but sparking a rash of herbicide drift complaints across the area.
Nonresistant soybeans are especially sensitive to dicamba. While farmers can often get 60 to 70 bushels of soybeans per acre, many affected growers are reporting far lower production as the harvest comes in. Some are getting 40 to 50 bushels per acre on damaged fields, or in some extreme cases, just 20 to 30. Depending on farm size, that reduction can mean hundreds of thousands of dollars in lost earnings.
Growers aren't the only ones affected. Area businesses — especially those dealing in agriculture — figure to take a hit too, as farmers are left with less money to spend.
That ripple effect adds to the reluctance of many victims to come forward and openly criticize those suspected of illegal spraying. Not only are victims wary of ruffling feathers of their neighbors, but they fear that they may incur ill will toward family members whose businesses rely on those accused of off-label drift.
Consequences may also drag into the future, as diminished yields could affect the crop insurance growers are able to secure.
"To make things worse, the amount of coverage [a farmer] can buy is the average of the last 10-year yield," said Ray Massey, an extension professor at the University of Missouri who specializes in crop insurance and risk management. "It may be just 2 or 3 bushels [per acre] that it goes down, but that was 2 or 3 bushels that he would've wanted to insure."
Some farmers, meanwhile, say that as tempers flare they've been falsely accused of spraying dicamba.
That happened to Jason Bean, a farmer near Peach Orchard, Mo., who planted dicamba-resistant soy. But without an approved form of dicamba to apply, he says he never used it, and has got 7-foot-tall pigweed plaguing his fields to prove it.
"Ninety to 95 percent of farmers are compliant," Bean said. "I hate that 5 to 10 percent are gonna ruin it for all of us."
Bean places blame on the EPA for its failure to approve the new dicamba variety and squarely on the wrongdoers themselves.
"If you speed, that's not the car's fault — that's your fault," Bean said. "Guys got hurt, and I'm on their side. Because the guys that did it went against the law."
But Bean says that ensuing lawsuits could be tricky. While many farmers with low yields are quick to suspect dicamba, he says the area has had an odd year in terms of weather, with rain and cooler temperatures late in the summer potentially throwing off the crop.
"Those are going to be tough suits to file and to win," Massey agreed. He notes that it can take more than a week from the time dicamba drift occurs until symptoms emerge, making it even more difficult to pinpoint where drift may have originated.
"It doesn't show up the day that it gets injured," Massey said. "It makes you wonder if it came from the guy to my left or to my right. ... To top it off, the guy to your left and your right are your friends."
The difficulty of nailing specific wrongdoers in a lawsuit means that many farmers may be left empty-handed.
"I believe the majority will suffer a yield loss for something they didn't do and they'll just take it," Bradley said.