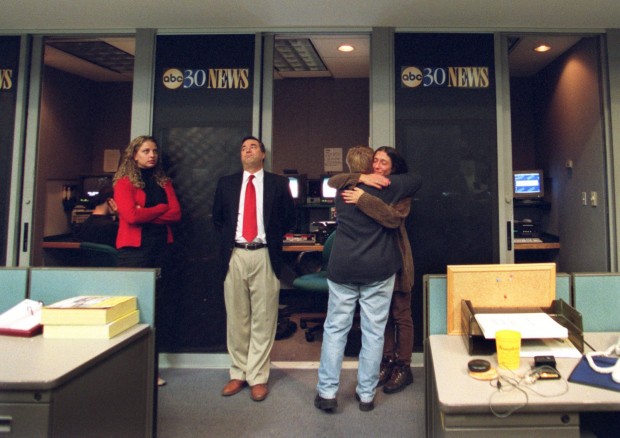 St. Louis is playing a starring role in the latest mega-consolidation in the media industry.
The move by Gannett Co. to buy Belo Corp., announced June 13, is among several big changes that will affect the local television market, leading to changes in oversight and potentially to fewer jobs.
Gannett, the McLean, Va.-based media giant that owns KSDK (Channel 5), the NBC affiliate in St. Louis, plans to spin off five of Belo's broadcast properties to new ownership, although it plans to provide services to those stations. One of the five is KMOV (Channel 4), the CBS affiliate in St. Louis.
• KSDK will stop producing newscasts for KDNL (Channel 30), the ABC affiliate in St. Louis, after Dec. 31. The end of the three-year-long partnership is unrelated to the Belo deal, a Gannett spokesman said. KDNL executives said they haven't decided whether to continue to offer a local news broadcast.
• Newport, Ky.-based Local TV LLC, which owns 19 stations, including KTVI (Channel 2), the Fox affiliate in St. Louis, is up for sale. New York-based private equity firm Oak Hill Capital Partners, which owns Local TV LLC, held an auction for the stations Friday, according to the Wall Street Journal.
But it's the Gannett deal to buy Belo for $2.2 billion, including the assumption of $715 million in debt, that's garnering most notice. The acquisition would nearly double the media company's television broadcast properties from 23 to 43, making it the fourth-largest owner of major network affiliates behind CBS, Fox and Sinclair Broadcast Group, which owns KDNL.
Other TV station owners, including Sinclair, have been on a buying spree in recent months, making some of the biggest players in broadcasting even bigger. According to the Wall Street Journal, Sinclair was among the bidders for KTVI's parent company.
To secure approval from the Federal Communications Commission for its purchase of Belo, Gannett said it will sell KMOV and four other TV properties to Jack Sander of Phoenix, a former Belo executive.
"We expect that the stations affected will be serviced by Gannett through shared service agreements or similar sharing arrangements," Gannett wrote in a memo to employees, adding that "these stations will be separately owned."
Gannett did not specify what the shared services agreement will mean in St. Louis but said it will be more limited than in other markets.
Sander said he doesn't expect to make big changes at KMOV under his ownership, and current management will continue to guide the station.
"My belief is that it's most important to have the stations run from the local market," Sander told the Post-Dispatch last week. "Philosophically, I'm in alignment with what KMOV has been doing."
FCC rules limit the number of TV stations a company can own in a single market and bar, in most cases, cross-ownership of local TV stations and newspapers. Rules allow ownership of two stations only if both are not among the market's top four stations.
Gannett's sale of KMOV is designed to avoid violating FCC rules, however both regulatory and Belo shareholder approvals are still needed.
Glenn MacDonald, an economics and strategy professor at Washington University's Olin Business School, said he doesn't expect the FCC to block the deal. With an ever-increasing number of cable channels and websites providing news coverage, there's less regulatory resistance to closer ties between TV station owners, he said.
"We look everywhere for information," MacDonald said. "There's CNN, other cable stations and hundreds of websites. There's tremendous amounts of competition for people's attention."
MacDonald also said he doubts that the sale will result in less local news coverage. "TV stations will provide what people want," he said. "If there's demand for local programming, somebody will provide it."
Gannett executives and Sander said KMOV will remain independent after the sale closes, but critics warn that consolidation could have negative effects.
Gannett said it expects the merger to result in $175 million in annual savings within three years after it closes but did not disclose how those expected savings will impact St. Louis.
"Almost inevitably, what happens is job cuts," said Free Press president Craig Aaron. Free Press is a Washington-based nonprofit group that supports universal and affordable Internet access, diverse media ownership and public media. "Across the country, that's what happens."
Sander said he's doing an analysis of the five stations he is acquiring and said no information about changes to staffing levels was available.
"I don't believe that this focus is on cost cuts or employee reductions," he said. "I'm an old school broadcaster who has the belief that if you're doing a good job, then you succeed and viewers follow that. KMOV has been a great station for many years, and that's something we want to sustain and perpetuate well into the future."
Shared service agreements are increasingly common in the TV industry. In Springfield, Mo., for example, Schurz Communications owns NBC affiliate KYTV and oversees operations of KSPR, the local ABC affiliate, through a shared service agreement. Similar agreements are in place across the country.
KMOV is currently the only major network affiliate in St. Louis operating solo.
KDNL, which had stopped offering a local newscast in 2001, began carrying KSDK-produced news in early 2011.
In a similar arrangement, KTVI, the local Fox affiliate, began operating KPLR (Channel 11) in 2008 under a local marketing agreement, with the two stations sharing office space in Maryland Heights.
Spencer Koch, general manager of KTVI and KPLR, said the model his two stations operate under is different than the model Gannett is proposing with KSDK and KMOV in St. Louis.
KTVI and KPLR air their news programs at different times during the day and cross-promote each others' stations on-air.
"We are not competing against each other," Koch said of KTVI and KPLR.
Viewers have benefited, Koch said, by having increased news coverage.
"KPLR only did a half-hour of news a day five years ago, and that's increased," Koch said. KPLR and KTVI "went from 49 hours of news a week to 75 hours of week," he continued. "We've been able to do more."
Free Press' Aaron said he fears Gannett's acquisition of Belo will effectively limit the sources of local television news in St. Louis to Gannett and Fox.
"You're giving a big city like St. Louis essentially two sources of content," Aaron said.
Julius Hunter, an anchorman at KMOV for nearly three decades until he left the station in 2002, said the changes under way at St. Louis TV stations are driven by financial considerations that will ultimately result in news coverage with less depth and quality.
Hunter recalled a time when KMOV was owned by CBS in the 1970s and the station sent anchors to some events by limousines.
"That was part of the golden era of CBS," Hunter said. "Stations now are operating on bare-boned budgets," he said of all news stations, without singling out a particular station.
"They hire people right out of school with no experience, and those are the people who never get to know how to pronounce streets, and it's very painful to turn on the TV."
Gail Pennington of the Post-Dispatch contributed to this report.