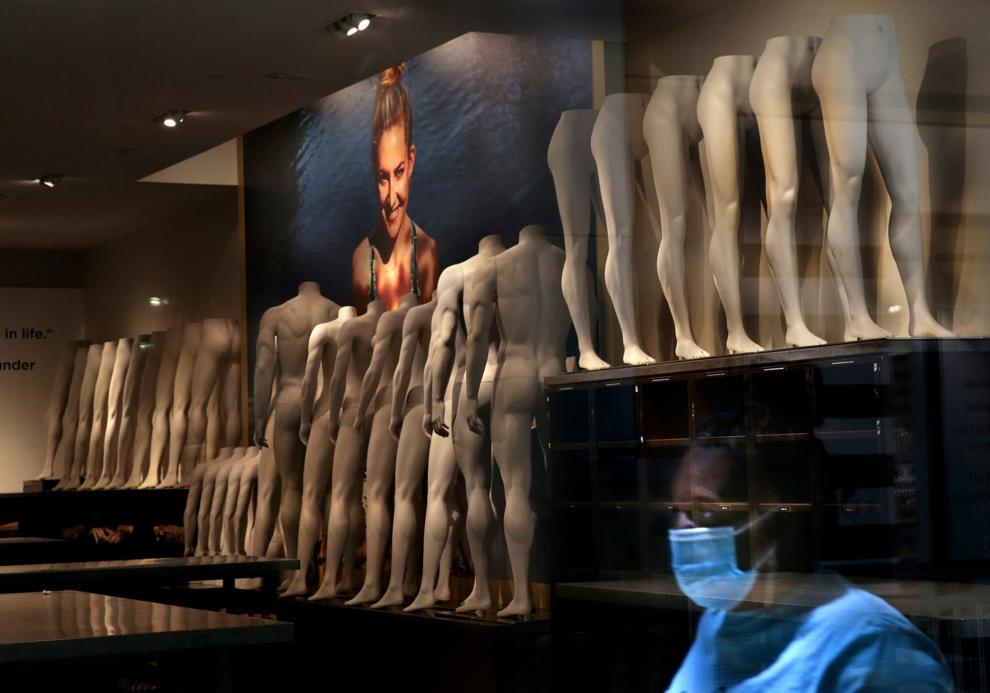 CHESTERFIELD — Music blasted over the speakers inside the cavernous Chesterfield Mall one day this month for the few visitors — maybe five — walking the central hallway.
Remnants of the mall's once-vibrant past remain. Signs still point to Sears, which closed in 2018. A water main rupture closed Dillard's nearly four years ago, and its three floors never reopened. Empty storefronts stretch nearly the length of the 1.3 million-square-foot shopping center.
But Chesterfield Mall's new owner isn't about to revive the mall of days past. It is rethinking the mall, as a whole.
The financial woes of malls across the country, spurred in part by overbuilding and online shopping, preceded the coronavirus. Several St. Louis-area malls had already closed for good, including Northwest Plaza in 2010, Crestwood Plaza three years later and Jamestown Mall in 2014. Then the pandemic hit. Malls shut down. And shoppers stopped spending. Retail has rebounded some in recent weeks, but few think malls will ever fully recover.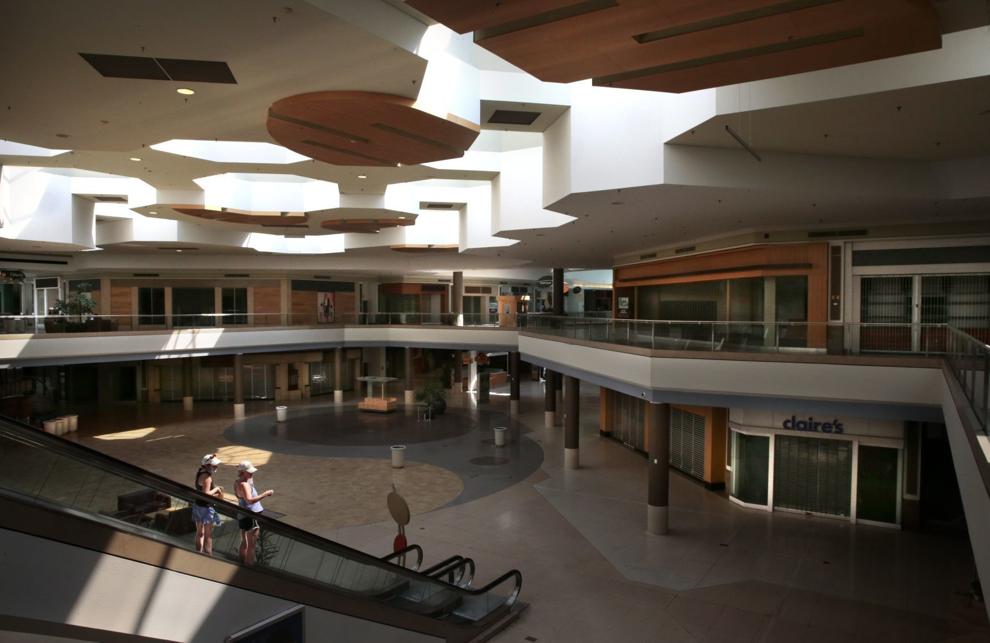 That leaves their owners, from national giants to local developers, reconsidering the great American mall, that staple of teenage freedom, creator of artificial ambiance, and provider of exercise to a legion of walkers, countrywide.
Empty 47 acres, left behind from mall's 2013 closure, will stay empty as the would-be developer cited concerns from the coronavirus pandemic. 
'Substantial doubt'
For existing mall owners, the latest punch could prove fatal. Earlier this month, CBL & Associates Properties, the owner of the most malls in the St. Louis area, said in a securities filing that the pandemic and shaky credit market created "substantial doubt that it will continue to operate."
CBL, which once owned Chesterfield Mall, has 63 enclosed malls, including West County Center, St. Clair Square, Mid Rivers Mall and South County Center.
Those malls pay millions in taxes — the Mehlville School District, for example, collected more than $1 million this year from property tax paid by South County Center, the district said, which is nearly 1% of its total budgeted revenue.
And those taxes are imperiled. CBL, based in Chattanooga, Tennessee, skipped an $11.8 million debt payment on June 1 and expects that reduced cash flows will leave it out of compliance with loan covenants.
In March, it drew $280 million from its line of credit. In April, it collected only 27% of billed rent. And in May, it expected to collect between 25% and 30%.
CBL hinted in the securities filing that bankruptcy loomed — it has hired two firms for advice on how to reduce interest expense, including "options that may result in the reorganization of the company."
One firm predicts that 60% of mall department stores will close by next year
Chris Kuiper, equity analyst and vice president at CFRA Research, said recent strong jobs numbers and the reopening of malls are somewhat positive news for CBL, but that won't stop the downward spiral. He forecast serious cash problems and the need for debt restructuring, with a growing risk of bankruptcy.
"They have very few options," Kuiper said.
He described CBL as the poster child for mall trends: declining sales, department store closures and the need to spend money trying to keep malls fresh.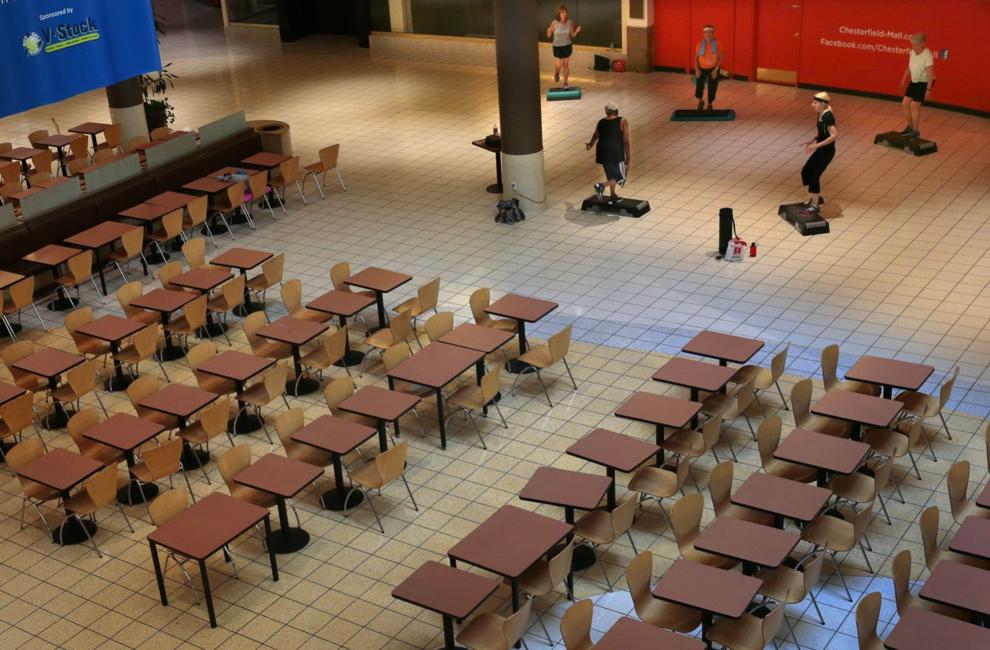 Anchor stores, once major traffic generators for indoor shopping complexes, have been in decline for almost two decades as people go online to avoid traversing multiple levels of a store to find one or two things, he said.
And when anchors close, as in Chesterfield, they leave behind massive vacant spaces that often require capital to reposition, such as dividing them into smaller stores for new tenants, he said.
"Instead of being an asset for malls, they become an albatross around their neck," Kuiper said.
Green Street Advisors, a real estate research firm, has predicted that 60% of mall-based department stores will close by the end of next year.
From malls to town centers
Analysts and insiders say two things are happening, even now:
First, strong malls are adapting and getting stronger. Many stores, for example, will keep options they added during the pandemic, such as curbside pickup. "A lot of consumers don't want to expose themselves inside the stores," said Nick Shields, senior analyst at market research firm Third Bridge, "and see curbside pickup as an alternative to shipping it straight to home."
Second, other malls simply won't look like malls anymore.
Key growth areas for malls are in dining, in entertainment and in health and wellness, said Mara Devitt, senior partner at retail consulting firm McMillanDoolittle in Chicago. They have to go beyond relying on stores to bring people inside, she said, but instead shape themselves into a destination people want to visit frequently. That means offering good restaurants, gyms, health care providers, art and theater options, she said.
Malls flush with space and ample parking could even add child care centers and camps, Devitt said.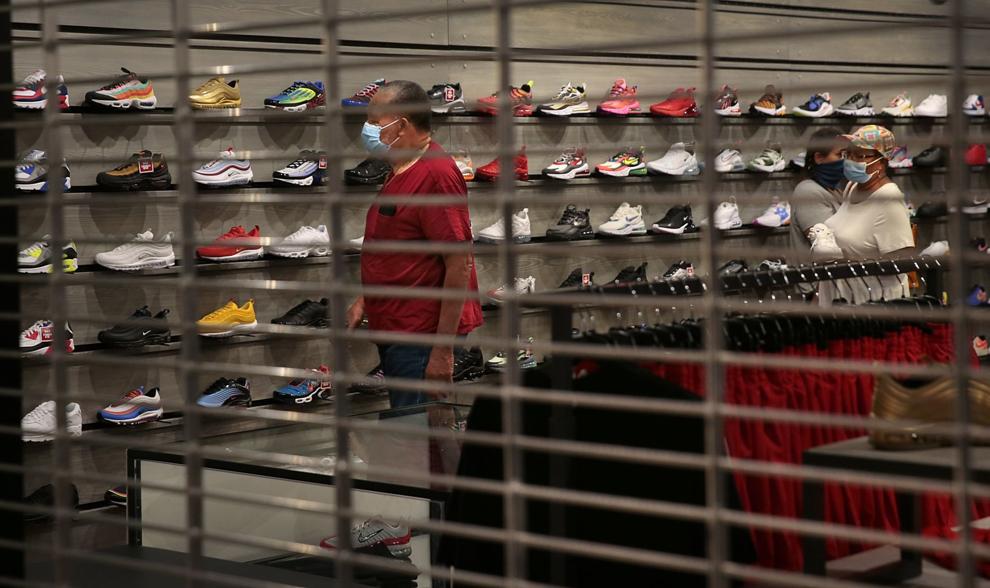 CBL spokeswoman Stacey Keating said the company has replaced poorly performing department stores with stronger retailers, restaurants, entertainment venues and nonretail uses. And it has transformed some properties from traditional enclosed malls into suburban town centers.
"At the same time, we believe there is still a place for successful fashion department stores as part of the overall retail mix and see that continuing into the future," she said in an email.
It's too soon to tell what the long-term effect of the coronavirus will be on the company's malls, she said. Its St. Louis centers have excellent access, infrastructure and strong tenant lineups that give CBL "the ability and flexibility to attract new retailers and new uses that position our malls for future growth and success," she wrote.
But the virus is already being blamed for the end, almost before it began, of one major mall-property revitalization in the St. Louis area.
Creve Coeur-based Walpert Properties put the 47-acre former site of Crestwood Plaza under contract in 2018, with plans for a $300 million redevelopment into apartments, office space and retail.
It never closed on the purchase from Urbanstreet Group, which bought the mall in 2014 and began demolishing it two years later.
"There is no financing available today. None. Zero," said Kent Evans, a principal at Walpert. He said plans had been moving ahead well, including breaking the project into smaller pieces to build and finance.
Evans said he's absolutely confident the project would've been built, had the coronavirus never happened. But parts of the project, especially a movie theater, became risky in light of the pandemic.
"It's definitely the right project for that site," Evan said. "But it's the wrong time."
Still, it was difficult to finance a mall redevelopment even before the virus struck. A $25 million tax break from Crestwood wasn't enough to kickstart the redevelopment even in 2016, when the economy was good.
And as cities and malls look for new uses, still plenty of customers, even those who do a lot of online shopping, like going to malls. On Monday, Suzy McBride of Carbondale, Illinois, and her family shopped at West County Center, which bustled with masked customers. That mall offers the best variety of stores, she said, and a change of scenery.
But even McBride was gloomy about malls' futures. She just didn't see, she said, how they'd survive post-coronavirus when they already were hurting.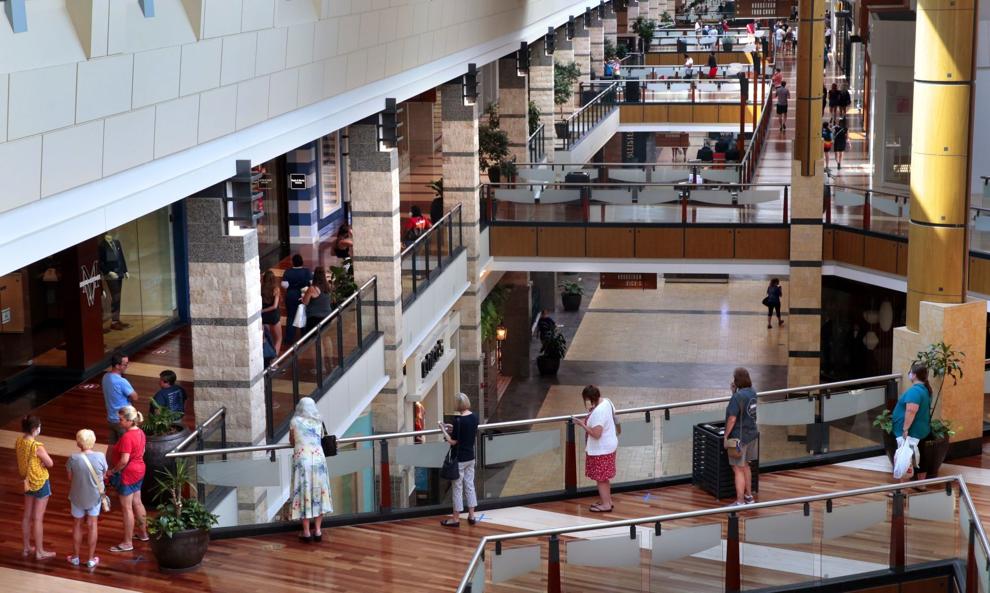 New uses
The Staenberg Group, a St. Louis-based real estate firm, is thinking of new uses for malls.
Then, in February, Staenberg completed its purchase of the rest of Chesterfield Mall, with plans for a development called Downtown Chesterfield.
Staenberg plans to remake both.
Construction at Taubman, for now called Chesterfield Outlets, has already started. Staenberg has dubbed it The District, slated to include a 3,000-seat indoor concert venue called the Music Factory, in addition to other entertainment offerings that the firm hopes will complement nearby Topgolf. The first phase features the Main Event, a restaurant with activities such as bowling, a rope course and arcade games.
Staenberg hadn't yet submitted plans for Downtown Chesterfield, Mike Geisel, the city administrator said recently.
Plans also in the works to turn Chesterfield Outlets into entertainment venue to include a 3,000-square-foot concert space and Main Event restaurant 
"It has lived a useful life," Geisel said of the mall. "But people's buying habits have changed."
Staenberg already has ideas to replace the mall with multifamily residential, office space and restaurants, plus a theater, fitness center, supermarket and pocket parks.
"We bought Chesterfield Mall because of the location and the market," said Tim Lowe, vice president of leasing and development for The Staenberg Group. "We didn't buy it to maintain a mall — we bought it for the purpose of redeveloping that downtown district.
"Going forward, we won't consider it a mall. It won't be a mall."
Still, some things may not change.
Macy's, for instance, is interested in staying, Lowe said. The retailer likes the idea of being a part of something different this time.
A new downtown. In suburban Chesterfield.