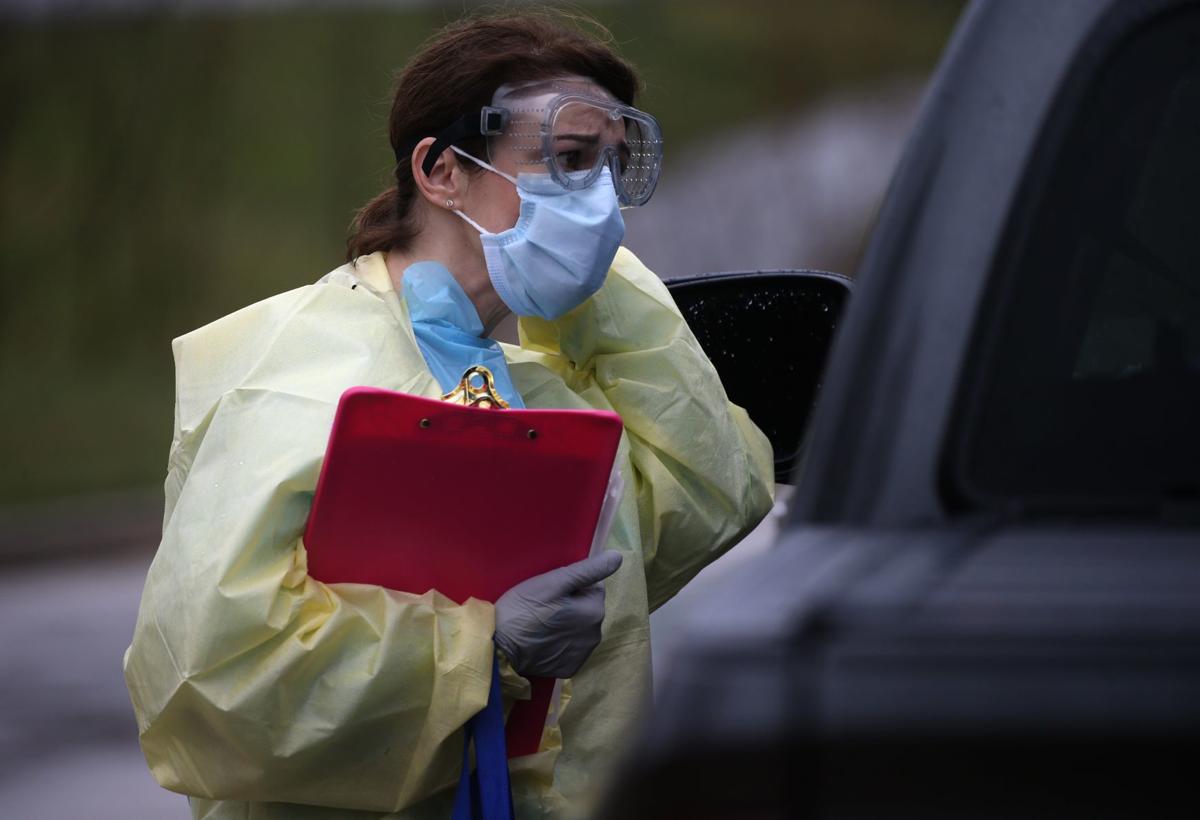 ST. LOUIS — Under a few scenarios, there are enough hospital beds in the region for the tidal wave of sick about to arrive:
If St. Louisans contract the new coronavirus at slower rates. If hospitals clear out patients quickly enough. If residents here stay away from one another long enough that the pandemic stretches over a year or more instead of hitting all at once.
But under all other scenarios, hospitals will be overwhelmed.
The region, including outlying counties, has about 10,000 hospital beds in total, according to new work by the Harvard Global Health Institute. About 4,300 of those beds were available on any given day, Harvard found.
But the need could far outpace that.
The state of Washington had zero official cases on March 9 and almost 1,400 just 10 days later.
Over the same span, New York cases spiked from zero to more than 5,000.
And Italy, with 1,600 cases on March 1, now has more than 40,000.
The Harvard model estimates that at least 530,000 St. Louis-area residents will become infected — and perhaps as many as 1.6 million.
Of those, at least 111,000 will be hospitalized over the full life cycle of the pandemic. Perhaps more than 300,000. Those patients will not all need beds at once. But some 22,000 might, under the worst scenarios.
Already, confirmed cases of COVID-19 are multiplying with dizzying speed: 15 in Missouri on Tuesday. 24 on Wednesday. And 90 by Saturday, not including a handful in the Metro East. Three have died in Missouri, one of those in St. Louis County.
Federal, state and area officials are now working to ramp up resources.
"Our biggest challenge is convincing people this is real," said Dave Dillon, vice president of public and media relations for the Missouri Hospital Association. "When we're at the peak of the curve is not the time to understand that — it's now."
And it's not just about hospital beds. It's becoming increasingly clear that the region doesn't have enough ventilators, supplies and staffing to manage an outbreak on the scale seen in Italy.
Italy, Singapore
Italy reported its first two confirmed cases on Jan. 31, according to the World Health Organization. Three weeks later, by Feb. 21, the country still reported only three confirmed cases.
Italian officials had a plan: After Chinese tourists accounted for the nation's very first cases, political leaders immediately moved to stop flights from China, and later closed schools, museums, movie theaters and other gathering places in areas where the coronavirus was spreading within the country.
The lockdowns kept escalating in scope and severity. But they didn't happen soon enough.
Over the next two and a half weeks, Italy's caseload surged exponentially, and by March 10, the country had the second-highest number of infections outside China. Just three weeks after identifying the first locally transmitted cases, authorities had confirmed 17,660 cases and reported 1,268 deaths amid widespread news coverage of intensive care units overwhelmed by patients.
In contrast, the densely populated sovereign city-state of Singapore, among the first places outside of China to confirm the presence of the virus, reported its initial case to the WHO on Jan. 24 — seven days before the first Italian case. Nearly eight weeks later, Singapore's caseload has climbed gradually to about 350, this week, without ever accelerating uncontrollably. No one there has died from COVID-19, the disease caused by the virus.
Experts cite Singapore's free and available testing, fast identification of cases, speedy quarantines of close contacts, and transparent, online information on where the infected live, work and frequent. Schools have staggered lunchtimes to avoid or minimize social crowding.
The stakes are high
Multiple factors, from intensive care beds to face mask supplies, will determine how well or poorly the regional health care system handles the outbreak here. But researchers have used available hospital beds as a metric.
The Harvard Global Health Institute, a universitywide think tank, estimated the impact of 20%, 40% or 60% of the population contracting COVID-19, spread out over six months, 12 months or 18 months. It calculated its projections for regions across the country.
The database shows more than 4,300 currently available hospital beds in the region — which includes a large swath of land stretching south from St. Louis and into Illinois. If hospitals can successfully free up beds, that estimate grows to nearly 7,300 "potentially available" beds in the region.
If only 20% or about 530,000 of the region's 2.7 million adults get sick, and more than 110,000 patients end up hospitalized, and those hospitalizations stretch over 18 months, then patients will fill only about 2,400 beds.
But the scenarios grow increasingly dire. If the same number get sick, but the need is far more acute — over six months instead of 18 — hospitals will need 7,400 beds.
In the most extreme scenario — in which 60% of the population, or 1.6 million people, contract COVID-19 over six months — the region would see 330,000 hospitalized and need more than 22,000 beds at one time — three times the number of beds available under the best circumstances.
In total, the region's needs exceed the available beds in 12 of the 18 scenarios Harvard examined.
Preparations
Hospitals are working feverishly to increase capacity.
On Thursday, major systems including BJC Healthcare, SSM Health, Mercy and St. Luke's released a joint statement announcing they would cancel all elective procedures, effective Monday.
St. Alexius Hospital, a 190-bed south St. Louis institution, took that step last weekend.
"We don't have the depth of workforce that some of our neighboring facilities have," Wendy Munaco, the hospital's chief nursing officer, said on Tuesday. "We just need to be very cautious with our resources, including our workforce."
"It's a global shortage that's about to occur," Munaco said. She said the hospital has adequate supplies for now and has placed orders for more, but she added: "We anticipate that we will have a day when we don't have the appropriate supplies."
Hospitals are also thinking outside the box.
"What are the creative ways that we can utilize our own real estate?" said Rachel Charney, medical director of disaster preparedness for SSM Health Cardinal Glennon Children's Hospital. "Are there areas of the hospital we're not using as much that we can transform into care areas?"
In terms of staffing, Charney said, the system is focusing on redeployment — finding areas where the job requirements are decreasing, and moving those staff to other areas.
"We always want to think one step ahead to make sure that we don't find ourselves unable to take care of our community," she said.
Gowns, goggles, ventilators
In order to treat coronavirus patients, hospitals need protective equipment for employees. That includes masks, respirators, gowns, gloves and face shields or goggles.
They also need equipment for patients with more severe symptoms. That includes ventilators and the medications patients need when they are on them.
"We have lots of sick patients already that have nothing to do with coronavirus," said Dr. Hilary Babcock, an infectious disease specialist at Washington University and BJC's director of infection prevention.
Bigger hospital systems have an advantage: If they have a hospital in an area with a higher number of COVID-19 cases, they can send supplies from other locations.
"That is something we have done before, and we could do again in this situation if we needed to," Babcock said.
Missouri Gov. Mike Parson said this week that 370,000 units of protective gear would be distributed throughout the state, with an emphasis on stocking emergency rooms.
Dillon, of the hospital association, stressed the importance of this gear in protecting health care workers so they don't become ill or need to be sent home in large numbers.
"There isn't a glut of health care workers who suddenly could fill the positions," Dillon said. "Do I think this is going to be very hard for hospitals? Absolutely I do."
This week is critical
Medical and public health experts emphasize that the next week or two will be critical in shaping St. Louis' future. The path the region takes — and its severity — will be determined by decisions and actions made now.
"I think the next two weeks are going to tell us a lot about what our trajectory will look like," Babcock said a few days ago. "Our goal is to not look like Italy and to look more like Singapore or Hong Kong."
Back then, St. Louis was quick to implement drastic safeguards and social distancing measures — closing schools and banning public events — and had the lowest death rate from the disease among the nation's 10 most populous cities at the time.
"In some cases, outcomes appear to have correlated with the quality and timing of the public health response. The contrast of mortality outcomes between Philadelphia and St. Louis is particularly striking," said a 2007 academic paper published by the National Academy of Sciences that evaluates public health interventions and local intensities of the 1918 epidemic.
Officials in Philadelphia did not act as quickly a century ago as their St. Louis counterparts, and they ended up with an exponentially worse surge in cases and deaths. The two cities' response times differed by about 14 days from their first reported cases — or "approximately three to five doubling times for an influenza epidemic," the paper says.
"The costs of delay appear to have been significant; by the time Philadelphia responded, it faced an epidemic considerably larger than the epidemic St. Louis faced," the authors conclude.
At this stage of the coronavirus transmission within the U.S., Babcock said, it's hard to judge which states are managing public health most effectively, and which policy measures — such as restrictions and closures that promote social distancing — will be most effective.
States that were among the first with cases of the virus did not have the benefit of learning from others, she adds. But thanks to geography, Missouri has, until recently, been relatively protected.
Moreover, it has the advantage of being "able to look at other states that are farther ahead of us and learn from what they're doing."
Babcock is "cautiously optimistic" that social distancing and other actions will keep the looming wave of COVID-19 cases manageable.
"What you really hope with an epidemic or a pandemic is that it looked like you overreacted," Babcock said. "Because that will mean that the measures worked. Everyone in the community really has a part to play in protecting everyone else in the community from this infection."
Erin Heffernan and Andrew Nguyen, of the Post-Dispatch, contributed to this report.