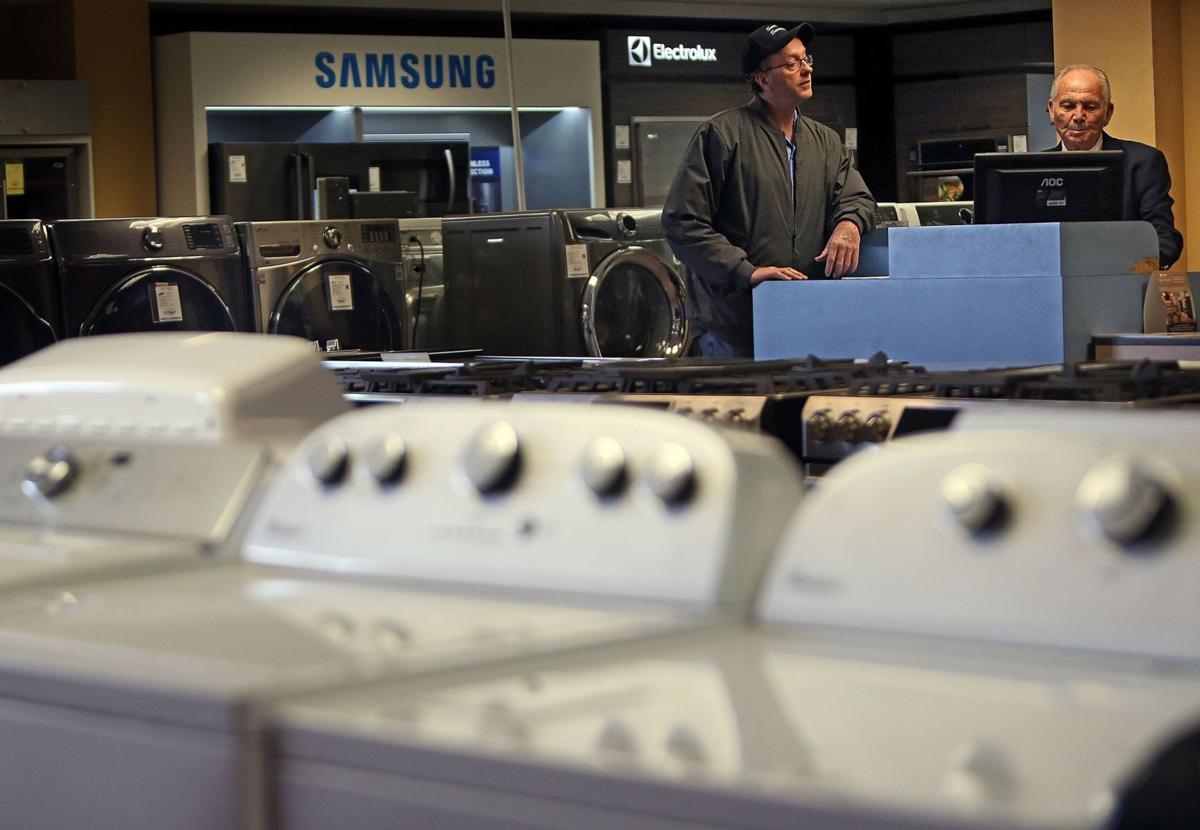 ST. CHARLES — Albert Fouerti might dread opening the mail these days.
Two weeks ago, the new Goedeker's CEO got a letter from his third-largest shareholder telling him more than half his board needs to go.
He and the company fired back with a list of all the good things the appliance retailer is doing, called the complaint a "disturbing" distraction and recommended other shareholders be "extremely leery" of it.
But on Wednesday, Fouerti got another letter from another big investor, Cannell Capital, telling him the first guy was right.
"Accordingly, CC neither consents, nor approves of GOED allocating any cash to defend its position," said J. Carlo Cannell, whose firm owns about 5% of Goedeker's and rights to nearly double that.
Goedeker's days as a mom-and-pop store with Sundays off are over. The past 14 months have seen it go public, pull off a $210 million merger and watch its stock price soar and then crash. Now, despite a new CEO and promises to change, the company finds itself in the crosshairs of activist investors, careening toward a Wall Street special: the proxy fight.
David Kanen, a former A.G. Edwards broker who owns 5.5% of the company, kicked things off with a news release Sept. 9.
The Florida-based investor wanted control of the board. He included a list of five nominees for the nine-member panel, including multiple veterans of CarParts.com, which recorded a dramatic turnaround after Kanen pushed for a change in leadership. He also included himself, noting his experience on boards at CarParts.com, Build-A-Bear and other public companies.
He told the Post-Dispatch it was nothing personal. He was happy to see Fouerti replace previous head Doug Moore, who had overseen a 70% decline in the stock price. But the board members who hired Moore remained. They were on duty in May when the company sold shares — well below market value — to raise money for competitor Appliances Connection, sending the share price tumbling. And a few days later, they gave Moore a raise and a $150,000 bonus.
"They've demonstrated the ability to consistently make bad decisions," Kanen said. "They need help."
Fouerti, who spent the past 20 years building New Jersey-based Appliances Connection into one of the largest firms of its kind, saw things differently.
His company's public response cast Kanen as a snake who launched a hostile takeover just days after telling executives in private he wanted to work together. It trashed his nominees, saying they lacked the skills to oversee the business.
And Fouerti said the effort ignored progress the company is making on rebranding itself and beefing up its system for delivering appliances to customers.
"We are still in the initial phases of accelerating growth," he said, "and my goal is to avoid unwarranted disruptions and focus on value creation."
Fouerti went quiet for the next week. Then on Tuesday, he wrote another letter.
In it, he told shareholders he wants to build a "world-class business" and said his work has only just begun.
He said the company is in a good place with an expansive selection competitors can't match. He acknowledged struggles with short-term supply chain issues but said he expects demand to remain strong long-term.
He also said the company is working to improve: on customer service, on product shipping and on the board. He pointed out the company added one new board member this summer and said a broader "refresh" is ongoing.
He took another swipe at Kanen, too, telling shareholders that the investor was trying to take control of "your company." He also wrote that he looked forward to hearing from shareholders "big and small" on further improvement.
Cannell wrote in the next day.
The longtime investor said it was hard to say much about Fouerti's letter because Cannell Capital's inquiries have gotten the cold shoulder recently. But he said his firm had reviewed Kanen's board nominees and considered most of them better than Goedeker's. Given that, he wrote, the company shouldn't spend a dime of shareholders' money lawyering up for a proxy fight over board seats.
"For the benefit of all owners," he wrote, "CC calls on GOED to immediately reach a fair and reasonable settlement with (Kanen Wealth Management)."
Fouerti responded on Thursday.
He said Cannell has plenty of access to executives, most recently with an hour-and-a-half private conversation with company leaders after a public quarterly earnings call. Fouerti argued that granting more access, as Cannell requested this month, would be unfair to other shareholders.
"While you and Kanen may find it beneficial in the short-term to grandstand and engage in public hostilities," Fouerti said, "I am confident that a majority of my fellow stockholders will look unfavorably upon efforts to distract the Company's leadership from the pursuit of sustainable, profitable growth and long-term value."
Cannell did not respond to a request for comment.
"He's not talking to the public about this right now," a spokesperson said.
Kanen chuckled at the comment about his "grandstanding." He said he's been through a few activist campaigns and can tell when someone is posturing before a shareholder election.
"Has anybody ever run for office and said, 'Hey, we think we're going to lose?'" he asked.
Kanen is open to compromise, though. He said a fight at the shareholder meeting could mean expensive legal bills for both sides.
"I'm an owner of the company," he said, "I don't want the management team that owns less stock than me to burn up $1 million in a ridiculous proxy contest when we could work out something by all compromising."
Fouerti said he's also open to negotiation.
"If you would like to schedule a call with leadership or send us a constructive, private note about your specific input into our ongoing director refresh," Fouerti wrote to Cannell in his most recent letter, "we would be happy to receive that feedback."
The annual meeting will take place Nov. 10.