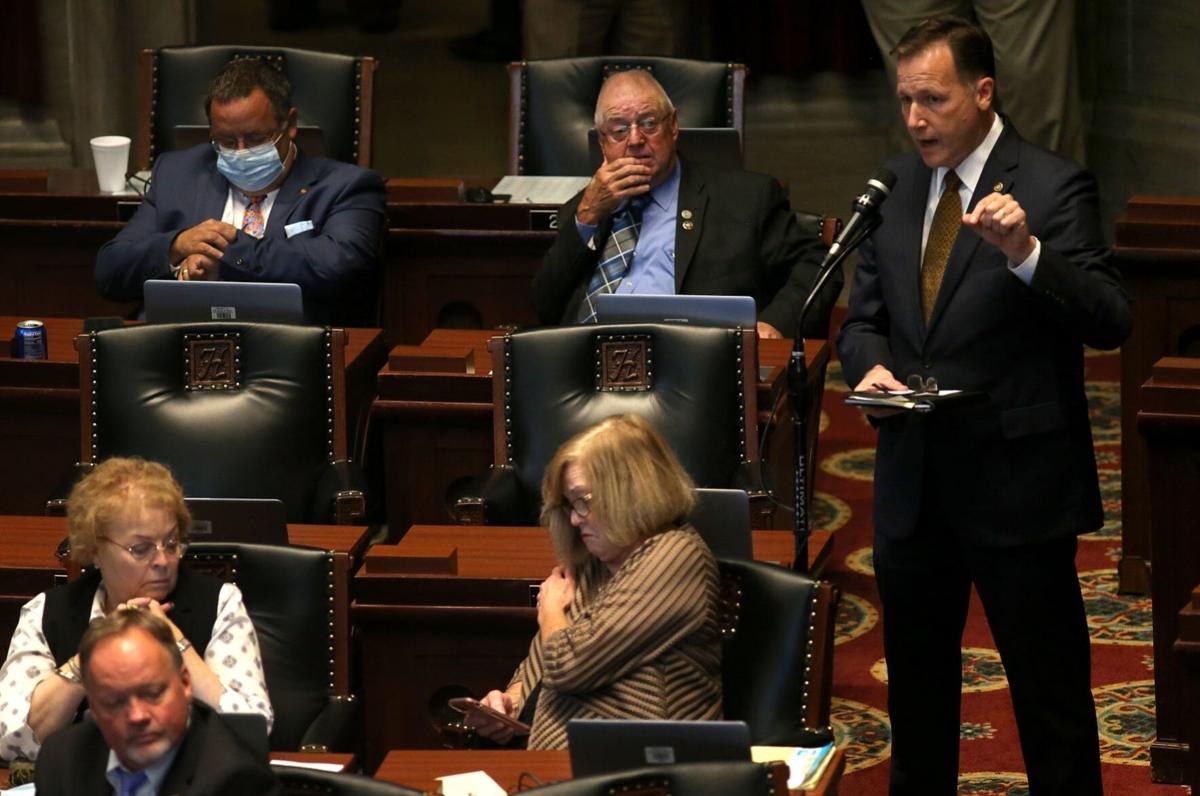 JEFFERSON CITY — A statewide public policy nonprofit is calling on Gov. Mike Parson to use leftover federal coronavirus relief dollars on another round of stimulus checks to Missouri families, and send less to the fund that pays state unemployment claims.
But the Missouri Budget Project, a left-leaning think tank, said rather than socking it away after many have already exhausted their state unemployment benefits, payments to Missourians would better goose the economy.
"A stimulus payment for families would not only assure that remaining federal COVID funding would flow to Missouri families who are most in need, but their spending would help stimulate local economies across the state," Amy Blouin, President and CEO of Missouri Budget Project, said in a statement.
Missouri's unemployment trust fund has paid out more than half its savings over months of unprecedented jobless claims, sending the balance to $440 million at the start of last month from over $1 billion at the beginning of the year.
The governor wants to take unused money and plug it into the state's unemployment insurance fund that has been depleted by the economic downtown that began in March when the pandemic arrived.
The bulk of the money Parson wants to put toward the unemployment insurance fund comes from federal stimulus aid that counties haven't spent. Parson and lawmakers are working to pass legislation allowing the state to spend it on pandemic-related expenses within the state rather than returning it to the federal government.
"We want to spend all of this in Missouri if we can," Haug told the House during debate last week.
Parson has already announced that the taxes companies pay into the fund are slated to go down in 2021.
"Over the past several months, Missouri has experienced unprecedented economic pressures and a historic spike in unemployment claims," Parson said in a statement announcing the change last week. "Despite these challenges, Missouri's Unemployment Trust Fund (UTF) remains sound and stable, and instead of facing a tax hike, Missouri employers will see their taxes fall."
But Budget Project spokeswoman Traci Gleason says that's exactly why the state doesn't need to send that much money back to the trust fund. Use $85 million, she said, to send $1,000 to each of the 85,000 Missourians who have exhausted their unemployment benefits. Whatever remains in December could go to the trust fund.
Either way, the tax cuts for businesses will be modest, according to the Budget Project. It estimates companies will save about $6 per employee.
Missouri businesses pay unemployment tax on a portion of each employee's salary. The level changes each year depending on the trust fund's balance.
If the fund drops below an average of $350 million, unemployment taxes rise to replenish it. If the fund fills past an average of $650 million, then state law requires a reduction in taxes.
For instance, the unemployment taxable wage base was $13,000 in 2017. But a strong economy and more jobs led to rising trust fund balances, and the state began to lower the taxable wage base, which settled at $11,500 this year.
Next year, it's set to drop again, to $11,000.
And while the wage base is set statewide, the tax rate varies by company. New companies pay 2.376% or about $273 a year in unemployment insurance taxes per employee. The Budget Project estimates the average rate for all companies is far lower, about 1.24%.
The Missouri Department of Labor said the unemployment tax rate is also set to fall next year, by 12%.
Meanwhile, new jobless claims for regular state unemployment continue to fall. Numbers released Thursday show Missouri's initial jobless claims fell last week by about 500 to 7,600. Ongoing claims as of Oct. 31 fell 8,900 to under 46,600.
Missourians on the federal program for self-employed workers as of Oct. 24 fell 3,300 to 44,000.