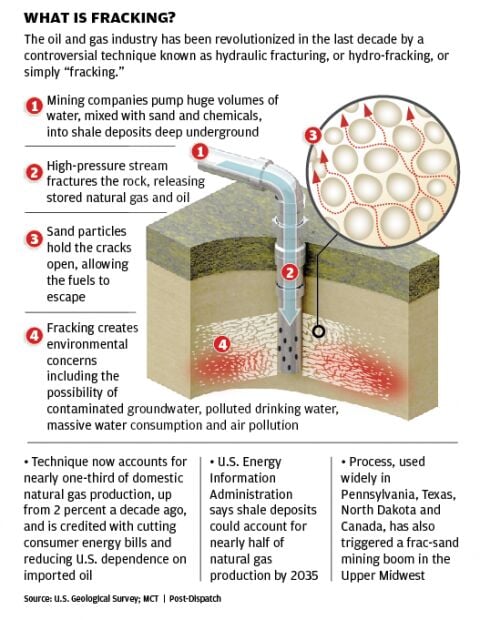 Editor's note: After publication, the Illinois Department of Natural Resources clarified that permits for fracking "are not granted until all affected landowners are notified."
EDWARDSVILLE — Just a few years ago, Illinois was bracing for a fracking boom — particularly in southern parts of the state.
State leaders set the stage when they passed a 2013 law to allow high-volume fracking using horizontal drilling techniques. Within a year, fossil fuel companies bought hundreds of lease rights in certain Southern Illinois counties. Lawsuits opposing the practice emerged, and communities waged divisive fights about what the activity could mean for local economies and environmental quality.
But despite the hoopla, a rush on oil and natural gas failed to materialize.
Oil prices took a nosedive in late 2014. It took until 2017 before the Illinois Department of Natural Resources finally approved its first permit application for the state's new approach to fracking — but the Kansas-based company behind it soon backed away from its plans to drill, citing the "burdensome" costs of navigating state regulations, the Chicago Tribune reported.
That remains as close as anyone came to high-volume, horizontal fracking in the state — with no other permits appearing in the time since.
But still, at least one legal fight surrounding Illinois fracking drags on — as was the case in a Metro East courtroom last week.
"Fracking" — short for hydraulic fracturing — entails blasting a pressurized mix of water, sand and chemicals below ground to burst apart shale rock in order to free natural gas and oil that is trapped within, and then captured for fuel. Around the country, the practice has ignited fierce debate as it has risen to prominence over the past decade, often centering on health concerns from groundwater impacts, but also touching on other matters, including mineral rights and property rights.
In Illinois, a collection of individual citizens and a nonprofit group called Southern Illinoisans Against Fracturing Our Environment are plaintiffs in ongoing litigation that, since 2014, has voiced broad legal opposition to fracking in the state, on multiple grounds.
The group's latest court proceedings, heard in Madison County Circuit Court last week, argued that certain fracking information from the state should be made public. The information in question contains details about examples of forced integration, or forced pooling — the term for when oil or gas extraction is allowed to go forward even in areas where certain property owners disapprove of it, as long as a majority of owners with applicable mineral rights want to allow it.
In other words, if there is a desirable deposit that extends beneath someone's land, companies could make a play on it without their permission — as long as enough of the neighbors say yes.
"When a majority of mineral rights owners want to develop it, then they can go to (the Illinois Department of Natural Resources) and force other owners to participate," said Vito Mastrangelo, a plaintiff and lawyer in the case, based in Mount Vernon, Ill. "The process is exemplary of how I believe property rights are violated in Illinois."
Mastrangelo is especially concerned about the potential to combine the practice with the latest horizontal fracking techniques, which he said can reach two or three miles away from a wellhead — a distance that far exceeds the 1,500-foot radius that Illinois requires property owners to be alerted of oil and gas extraction.
"They will be drilling under land that they did not even notify people of," said Mastrangelo. "People can have their land drilled through and their mineral rights taken without even being given notice."
He describes the possible situation as "subsurface trespass," and adds that, unlike in eminent domain proceedings, there are not systems in place where a jury would determine fair compensation for Illinois property owners affected by forced pooling orders.
[After publication, IDNR clarified that fracking "permits are not granted until all affected landowners are notified" — including if a horizontal well were to extend beneath their property.]
IDNR declined to comment on the pending litigation, and deferred to the Illinois Attorney General's Office, which is handling the case. But the agency said that petitions seeking forced pooling within the state are not common.
"I can tell you that they are not a frequent occurrence, but they do happen," said Dan Brennan, the acting director of IDNR's Office of Oil and Gas Resource Management.
A representative for the Attorney General's Office declined comment beyond existing court documents in the case.
But even though high-volume, horizontal fracking has not panned out in Illinois as was once envisioned, Mastrangelo said it's still important for opponents to seize the lull in activity by staying vigilant and proactive, instead of waiting for potential hazards to emerge.
"People shouldn't have to wait until the harm is being done," he said. "Really, that's the key to why we need to pursue this."