Lawrence Perry knows he should have read more closely before he signed.
Behind on several bills, Perry, 62, who lives on Social Security disability payments, decided he needed a quick loan. He'd seen lots of ads and storefronts for TitleMax, so in June, he went to a shop on North Grand Boulevard and took out a $5,000 loan. He said a store employee told him he'd pay back $7,400 over two years.
As he would soon realize, $7,400 was the finance charge. The loan's annual interest rate was 108 percent, and if he managed to make all payments on schedule, he would repay a total of $12,411.
Perry said that he was to blame, though he felt the employee misled him. "I thought that was stuff they did with the loan sharks years ago," he said.
He's hoping a legal aid lawyer can help him. If not, he said, "I have no choice but to make the payments." Otherwise, his 2009 Kia Borrego could end up at a local auction house and into the hands of the highest bidder.
Although the state passed some protections for consumers getting title loans, TitleMax avoids the restrictions by offering loans under a different statute, even though it calls itself a title lender and secures its loans with car titles.
Companies that offer what the state classifies as "consumer installment loans" or "small loans" must file annual reports, which the Post-Dispatch obtained through an open-records request. Of the 27 companies that had at least 10 storefronts, TitleMax repossessed more vehicles than all other lenders combined and by a wide margin.
Companies that operate under the title lender statutes are far fewer in number and don't have to file reports.
In 2014, Missourians took out more than 49,000 loans from TitleMax, which is owned by Savannah, Ga.-based TMX Finance. The company, which was founded in 1998, is run by CEO and controlling shareholder Tracy Young.
Since customers can take out multiple loans, it is impossible to know the exact number of borrowers or the share of them who lose cars after defaulting. TitleMax's annual report doesn't shed light on interest rates, but contracts reviewed by the Post-Dispatch carried annual rates ranging from 96 percent to 180 percent.
After exiting bankruptcy in 2010, TMX Finance has embarked on an aggressive growth strategy. According to a March 2011 regulatory filing, the company had 601 locations at the time. Four years later, it has more than 1,400 stores nationwide, most of which carry the TitleMax name.
TMX, which declined to comment for this story, is privately held and doesn't disclose finances. But its last publicly available quarterly report, from the first three months of 2013, provides a snapshot of its ascent.
During that period, TMX issued $169 million in loans and earned $181.3 million in revenue and $44 million in profit, according to unaudited numbers. The loan and revenue figures were more than double what they were three years earlier. Despite the cost of opening dozens of new stores each quarter, profit was up by 63 percent.
"I would say they're doing very well," said Ed Lawrence, a finance professor at University of Missouri-St. Louis who studies short-term lending. "Banks would love to have a profit margin that high."
Because mainstream lenders don't want to take on risky borrowers or spend resources underwriting small-dollar loans, Lawrence said, cash-strapped people have few alternatives. If they can't get money from friends or family, many turn to title loans, payday loans and other high-interest products.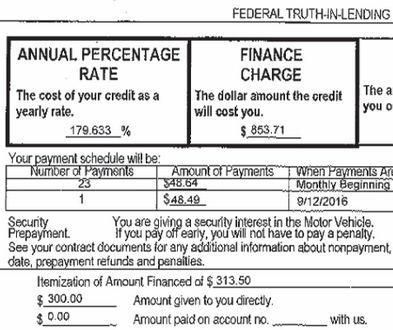 If used modestly and paid back quickly, high-interest, small-dollar loans can be crucial lifelines, he said. "If the rent is due on Wednesday and you have no other sources, I don't think being homeless is a good option.
"These are high-risk returns," Lawrence said, noting the $17 million in loan losses on TitleMax of Missouri's balance sheet. "How many businesses can afford to write off 30 percent of their accounts receivable?"
TitleMax is able to make up a portion by selling thousands of repossessed cars. In addition to the nearly 9,000 cars taken from delinquent borrowers in Missouri in 2014, the lender seized 6,925 cars in 2013 and 26,996 vehicles in 2012, according to its own reports. Numbers aren't available for Illinois because its records are closed.
It's not clear why the 2012 total is so high — if, for instance, it includes multiple repossessions of the same car on the same loan, or if it's simply an error. A TMX spokeswoman did not explain the figure.
Nick Bourke, a researcher at the Pew Charitable Trusts, said Missouri's "open-ended" consumer finance laws allow lenders to "basically choose whatever terms they want."
"They don't compete based on price," he said. "They compete based on convenience."
Proposed regulations from the federal Consumer Financial Protection Bureau could threaten TitleMax's business model, and the credit ratings agency S&P recently downgraded TitleMax's rating, saying the bureau's rules could slow future growth.
Bambi Baker, 33, was hired as a customer service representative at TitleMax in 2011, and soon became a store manager, working at three area locations before leaving in 2012. She now works for a rental car company.
Repossessing cars was not the goal, she said, because usually it was not profitable. After taking a car, TitleMax had to pay hundreds in fees for towing and storage, and cars often were sold at auction for far less than what they were worth.
Store general managers trained employees to tell people to pay more than the minimum amount each month to limit the impact of interest, Baker said, though she was aware of other stores that encouraged people to go the full two-year term of the loan.
Managers wanted customers returning to take out new loans or renew current ones — which she and another former store manager said happened frequently — and repossessions meant a borrower was no longer making payments.
Lax lending standards, however, made defaults and repossessions inevitable.
Rob VanderMyde, 50, was a Bridgeton store manager who left TitleMax in 2012 and now works as a caseworker at a counseling center. State law requires lenders to consider borrowers' ability to repay. He and Baker said in their stores, as long as monthly payments didn't exceed 40 percent of borrower income, a loan was typically given.
As a result, delinquencies were common, they said. At a New Halls Ferry Road store in Florissant, Baker said three or four cars were repossessed each week. When she transferred to a Ballwin store with more affluent customers, repossessions were less common.
"In North County, sometimes it seemed like it's predatory. I had a co-worker who would just give loans out to anybody," Baker said, though a district manager did get upset after discovering the employee's actions.
But a boss also encouraged her to lend $5,000 to customers who she thought couldn't afford the payments. "I was right," she said. "The customer didn't pay, and I had to repossess."
Bonuses were influenced by the volume of interest payments generated, VanderMyde said, which incentivized employees to issue risky loans and encourage borrowers to renew them before they had finished paying off the balance. The larger the balance, he said, the more payments were going toward interest — and the store's profit — and the longer the customer would be in the store's system.
Employees would walk people through contracts and explain how the interest works, which VanderMyde said comes across as "wonderful customer service." But for many borrowers, he said, it was obvious that "it's going in one ear and out the other, and they're just waiting for that check."
VanderMyde once took out a loan himself, which he paid in full a few months later. "If everyone did that," he said, "the store wouldn't operate. It wouldn't make enough money."
The company, he said, is "counting on the fact that everyone who comes in there is irresponsible. They're in a bind, they're poor, whatever."
"It's a sales job," VanderMyde said. "And then it turns into a collections job."
In the eyes of the state, TitleMax is not a title lender.
It advertises itself as a title lender and secures all loans with car titles, but by issuing loans under the state's consumer installment laws, it avoids restrictions on loan sizes and renewals.
Neither has an interest rate cap, but unlike installment loans, title loans cannot exceed $5,000, and third and later renewals require that the principal drop by 10 percent of the original loan amount.
Installment lenders are regulated by the Missouri Division of Finance, which says that because there are no limitations on collateral for such loans, installment lenders can secure all loans with car titles.
John Campbell, a Denver University law professor and a consumer protection attorney who worked in St. Louis, said regulators are wrong to allow a company that secures loans with titles to operate as an installment lender. Campbell, who represented borrowers in a class-action suit against a different lender on similar grounds in the past, also argues that marketing installment loans as title loans violates state merchandising laws.
In 2011, state Sen. Joe Keaveny introduced a bill that would have required lenders who, in essence, offer title loans to be subject to title lending statutes. It didn't pass. Keaveny said he was unaware of any recent attempts to address the matter. Lenders, he said, are a powerful lobby in Jefferson City.
Over the years, TitleMax has given at least $173,000 to legislators, political party committees and statewide officeholders, according to data from the National Institute for Money in State Politics. TitleMax and Young, its CEO, have donated at least $3.9 million to political causes in numerous states.
Campbell and other consumer protection lawyers say consumers are stymied by arbitration clauses TitleMax and other lenders include in their contracts. TitleMax customers agree to waive their right to pursue class arbitration and their right to have a court, other than a small claims court, handle the dispute.
Class arbitration encourages attorneys to take on small-dollar cases where clients can be bundled into larger groups, which TitleMax contracts forbid.
"This means you'd have to litigate these cases in private, one at a time, without the ability to produce (legal) precedent," Campbell said.
"They have no problem giving one guy $4,000," he said. "They're concerned about having to give 100,000 people their money back."
The arbitration clauses can be waived within 60 days, which Campbell argues allows TitleMax to say that it gave customers the chance to opt out. But consumers rarely take advantage of such provisions, he said. "The notion they're reading this closely during a 15-minute transaction in a place with a neon sign" in the window is highly unlikely, he said.
In July, a class-action suit filed in state court against TitleMax alleged that the company acts as a title lender and is therefore violating numerous title lending statutes. The case was moved to federal court, where TitleMax has argued that because the borrower agreed to an arbitration provision and a class-action waiver, the claim should go to individual arbitration. An attorney for the borrowers, Jesse Rochman, declined to comment.
Perhaps because of arbitration clauses, there haven't been many lawsuits filed in Missouri against TitleMax, though the attorney general's office has received several dozen complaints about the lender in recent years.
Though the interest rates are spelled out, many customers interviewed by the Post-Dispatch said they had dire financial circumstances and simply didn't comprehend or take into account the impact of the high rates.
Janice Sheets, 76, borrowed $5,000 from a south St. Louis TitleMax in 2012 to get hearing aids. She said she misunderstood the interest rate, which she attributed to poor hearing. "I said, 'What is the interest rate, 9.6? That's really good.' And (the employee) did not correct me." The interest rate was 96 percent. She made more than $4,000 in payments before her daughter helped arrange for a finance company to provide a more affordable loan to pay off TitleMax.
She felt foolish for signing the contract. "When you're desperate," Sheets said, "you don't read things very closely."