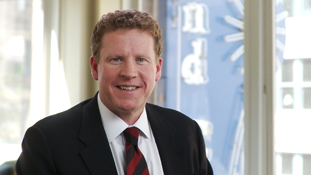 Seven years after founding St. Louis-based Wind Capital Group LLC, Tom Carnahan said Monday that he has resigned as the company's chairman.
Carnahan, who turned 43 last month, left Wind Capital in late January — a year after stepping aside as from his role as chief executive. He said he maintains a passive, minority interest in the company, which has been majority owned since 2008 by Ireland-based renewable energy investors NTR Plc.
Wind Capital, which employs 60 people, including 20 in St. Louis, will maintain its Washington Avenue headquarters, the company said in an emailed statement. It also has satellite offices in Chicago and Madison, Wis.
The youngest member of one of the state's most prominent political families, Carnahan gave up his law practice in 2005 to become an entrepreneur. Now, he's evaluating new opportunities, but declined to be more specific.
"I'm looking at a number of different enterprises, including some in renewable energy," he said in an interview. "I've been in discussions with a number of different parties about new platforms and new ideas. I'm very interested in being part of the advanced energy economy of this country and expect that I will continue to do so."
Whatever he pursues next will probably involve the wind energy business, but he isn't limiting himself to that, he said.
When Carnahan gave up practicing law, he didn't know specifically what kind of company he would start. But he had a strong interest in renewable energy and saw opportunity for wind projects in his home state, which had been passed over by other wind developers.
Today, more than 450 megawatts of wind energy have been developed in Missouri, more than two thirds of which was built by Wind Capital.
Overall, the company has developed 900 megawatts of wind power throughout the Upper Midwest, including wind farms in Minnesota and Iowa that were sold.
Wind Capital currently has projects in various stages of development in 13 other states, according to the company's website.
Carnahan didn't have energy industry experience when he started Wind Capital. But he did have a last name that was recognizable to Missourians.
But his family's political clout cuts both ways, and his company became a target of GOP attacks in 2010 at a time when his brother Russ Carnahan was seeking re-election to Congress.
And Tom Carnahan hasn't shied away from politics since then, hosting President Barack Obama at a $25,000-a-person fundraising dinner at his St. Louis home last fall.
While Carnahan is leaving his wind energy company, he remains actively involved in helping promote the wind industry.
This spring, he takes over as chairman of the American Wind Energy Association at a time when the renewable energy industry is pushing Congress to extend the federal production tax credit, which expires in December.
The subsidy, which provides an income tax credit of 2.2 cents per kilowatt-hour for large-scale wind projects, is "an immediate concern because the wind industry really needs to have that so it can continue to grow jobs that have been created over the last couple of years," Carnahan said.
But the tax credits are only part of a broader agenda, according to Carnahan.
"I want to be part of a discussion of how we do energy policy better in this country," he said. "And I think wind has shown that it has a rightful place in our energy mix."