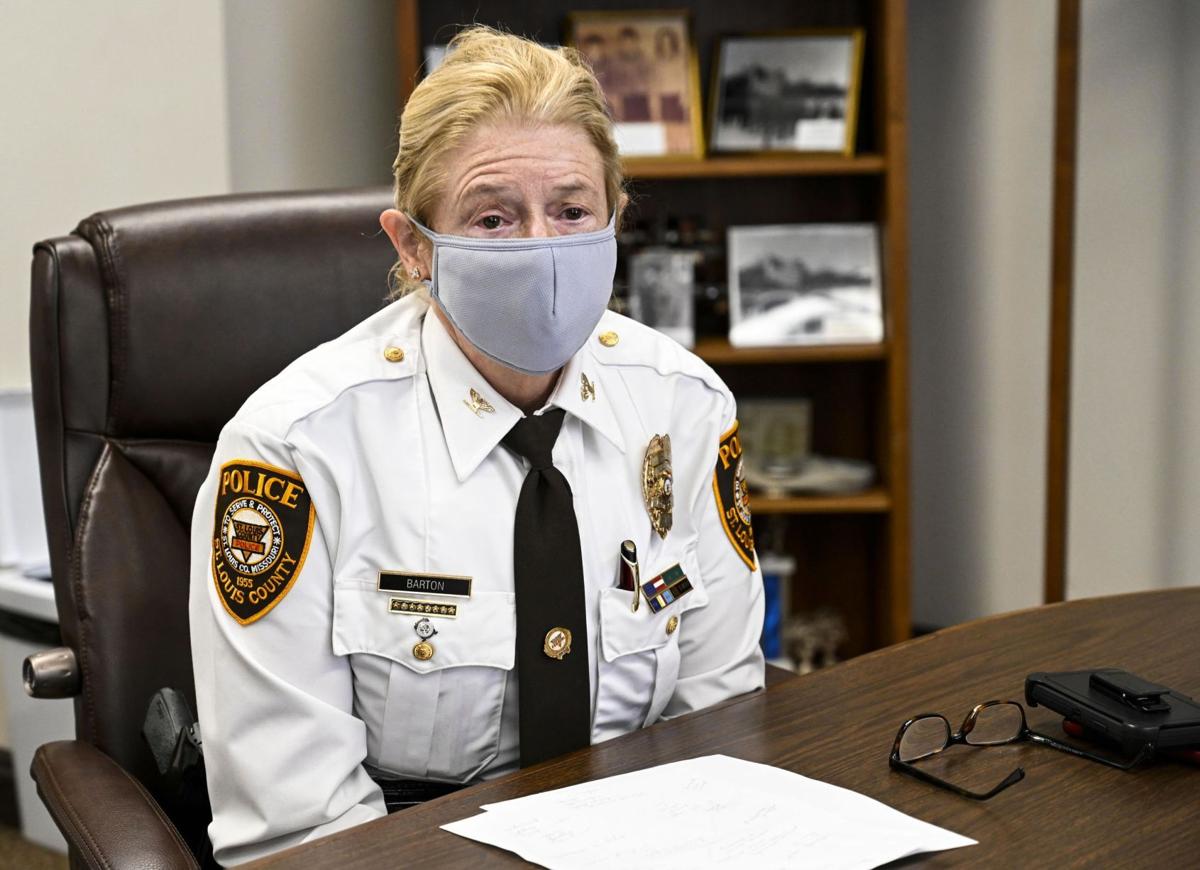 JENNINGS — A 120-day collaboration between police in St. Louis city and county could be a model for the region's two largest police forces to work more closely to attack violent crime, County Police Chief Mary Barton told the Post-Dispatch.
The pilot, dubbed the Violent Crime Task Force, concentrated resources from Oct. 23 through Feb. 6 in the high-crime areas around Jennings in North County and the nearby Walnut Park West neighborhood in the city. Officers remained in their own jurisdictions, but held joint roll calls, shared police radio channels, created a joint accounting of open investigations and communicated daily.
The program was recommended by consultants working for Teneo, a New York- and London-based CEO advisory firm. They were paid by Centene Corp. and other major St. Louis companies to review city and county police operations. Teneo's reports were published in late December. While they did not suggest combining city and county departments, the consultants recommended the 120-day pilot and pushed for more collaboration in fighting regional crime.
The pilot came under scrutiny early on when elected leaders in North City and Jennings complained they were left out of discussions and found out about the effort when the Post-Dispatch reported that it was underway. Jennings Mayor Yolanda Austin and all eight members of the Jennings City Council signed a letter to county officials expressing concern about the corporate-backing of the consultants.
"We will not be dictated to by companies and consultants from London and with no real investment in the betterment of our city nor by elected officials that do not live in the city," the letter said.
But, now that the pilot period is over, the question remains: Did it work?
Data show that in the cross-border area, overall crime fell by 29% compared with the same period in 2019. A 55% drop in property crime drove that dip, including significant declines in car thefts and burglaries. Violent crime rose slightly by 10% compared with 2019, but, county police officials noted, violent offenses were down 30% during the pilot period, compared with the 120 days prior. Those figures may be significantly affected by weather, because violent crime typically drops from summer into fall and winter.
Barton called the program a clear success that could become a model for other areas of the county.
"I can tell you that communication has improved greatly with the city," Barton said in a recent interview. "We always had a working relationship with the city, but the piece that always needed improvement was the real-time communication … on a daily basis. That's what really drove most of this model."
Many parts of the pilot will continue, Barton said.
"Everybody came together to make this program a success," the chief said. "But we're not coming in here reducing violent crime and leaving. We're coming in at a ground level on this."
Added enforcement from the task force netted 157 felony arrests, 116 recovered guns and 41 recovered stolen cars, which county police said was "dramatically higher" than usual. St. Louis police said there were 55 arrests in Walnut Park West alone, more than eight times the number from the same period in 2019.
Mayor Lyda Krewson's office issued a statement this week on the results of the pilot: "The City remains very committed to cooperation with law enforcement in Jennings, but also with all our surrounding partners," the statement read. "Crime doesn't know geographical boundaries, which is why it's in the region's best interest to address public safety together.
More visibility
Barton also addressed concerns that the review represented too much corporate influence on the department's work.
Although the businesses funded the Teneo study, "at no time did they ever tell the police department how to run this study, how to attack violent crime, how to engage in community activities," Barton said. "They simply were the impetus to get us started. … There was no undue influence of any kind by the business community … . They were merely the benefactors for which we are very grateful."
Some leaders in Jennings and north St. Louis said they were still concerned about the origins of the pilot, but they also noticed a change in policing.
"There's been a lot more police here the last few months," said Jennings City Councilwoman Aja Owens, who has lived in that city for more than 30 years. "There were a lot of complaints over the years that there wasn't enough visibility from the officers and the community wants to feel protected. Now you see them a lot more and crime has been lighter, but we'll have to see if that stays when it warms up."
Owens said she was still concerned about a lack of transparency in how the pilot developed.
Before city officials were told about the pilot, Centene CEO Michael Neidorff spoke of it in October during a roundtable discussion of U.S. mayors and chief executive officers. The Post-Dispatch reported on Neidorff's comments, including his assertion that without the companies' involvement, the collaboration would not have happened.
Austin, the Jennings mayor, and other members of the City Council did not respond to requests for comment.
St. Louis County Councilwoman Rita Days, whose district includes much of Jennings, said she hadn't been updated on the pilot's progress after news of its launch.
"I think it's a good thing if the departments work together more, I just hope it's not a slippery slope to merging city and county police because that's something that the people need to decide."
St. Louis Alderman Pam Boyd, 27th Ward, said Walnut Park West residents had been pushing for years to see more police resources in the area.
But she said, "There was a weakness in communication."
'Nothing nefarious'
Lt. Col. Bryan Ludwig, commander of the St. Louis County police division of patrol, said the department had met with clergy and other community leaders before and after the launch, but added that the department has learned from the early complaints.
"Any time you have a bunch of chefs in the kitchen, it's difficult to ensure that everyone is involved to their satisfaction," Ludwig said. "I can only say that we had a lot of conversations with the stakeholders involved in this project over the course of months as it was developed. … There's nothing underhanded about this project. There's nothing nefarious about any of it. It's an effort to build a sustainable model to help improve the lives of the citizens that we serve."
Ludwig emphasized that the county got no funding from corporate backers beyond the recommendations from Teneo. The pilot only involved reassignments of resources, Ludwig said.
Ludwig said county police have seen success by sending more resources into confined areas in the past. "But it ends up just pushing it into places like Walnut Park, so it's not solving anything, it's just displacing crime," he said. "Here, we want to do more than that. We want to make it a sustained thing."