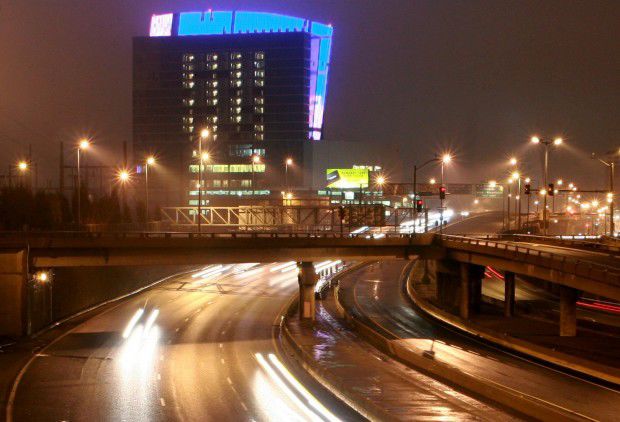 The ownership of the St. Louis region's six casinos has been reshuffled after two deals closed this month.
And Missouri regulators made sure that one company — Gaming and Leisure Properties Inc. (GLPI) of Wyomissing, Pa. — won't own the real estate for every casino here, though it will continue to own or lease five of six casino properties.
Penn National Gaming Inc. closed on its purchase of Pinnacle Entertainment Inc. this week, adding River City Casino in Lemay to a local portfolio that also includes Hollywood Casino in Maryland Heights and Casino Argosy Alton.
To get over regulatory hurdles, Pinnacle's Ameristar St. Charles — the top-grossing casino here — was transferred to Boyd Gaming Corp. Along with Ameristar Kansas City and casinos in Indiana and Ohio, the divestiture to Boyd netted $563 million.
Penn ended up paying 26.3 million shares of Penn common stock and approximately $1.25 billion in cash in the Pinnacle deal, according to a securities filing.
And two weeks ago, Eldorado Resorts Inc. finalized its $1.85 billion deal for Tropicana Entertainment, the former owner of Lumière Place in downtown St. Louis. As part of that deal, GLPI, which leases real estate to casino operators, was going to pay $1.21 billion for substantially all of Tropicana's real estate and lease it to Reno, Nev.-based Eldorado.
But Missouri regulators balked, and to close the deal, GLPI entered into an agreement with the Missouri Gaming Commission to lend Eldorado $246 million to purchase Lumière Place's real estate. GLPI, which was spun off from Penn National in 2013 and also founded by Peter Carlino, will still hold a lien on the property under a loan due in two years, with the possibility of three one-year extensions.
GLPI became the landlord for Pinnacle's casinos in 2016. Missouri regulators approved that year the transfer of the Ameristar Kansas City, Ameristar St. Charles, and River City properties to GLPI (River City's real estate in Lemay is technically owned by the St. Louis County Port Authority, and GLPI has a 99-year lease for the land for which it pays some $5 million annually into a special fund).
GLPI is already the landlord for the Casino Queen, operated by CQ Holding Company, and Ameristar St. Charles, now operated by Boyd.
Four operators now run the area's casinos: Penn National (Argosy, Hollywood, River City), Eldorado (Lumière), CQ Holding Company (Casino Queen) and Boyd (Ameristar).