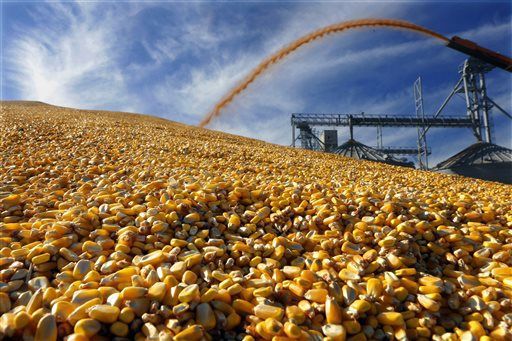 A St. Louis lawyer has secured the right to proceed with a national class-action lawsuit that could pit more than 440,000 U.S. corn farmers against Switzerland-based seed giant Syngenta.
A Kansas federal district court judge ruled Monday that the case can move forward as a class action, leaving Don Downing of St. Louis-based Gray, Ritter & Graham P.C., as one of four lawyers from around the country to represent farmers in the proceedings.
The legal dispute against Syngenta first emerged in 2014 and is centered on allegations that the company "prematurely and irresponsibly" released new seed varieties that were not approved in China. Eventually those varieties, Agrisure Viptera and Duracade, contaminated U.S. corn exports to China, leading to a trade ban in late 2013. Plaintiffs say the trade ban and China's continued unwillingness to buy genetically modified corn from the U.S. has resulted in estimated losses of $5 billion to $7 billion for domestic corn growers.
"Once you've lost a foreign market, it's very difficult to get it back because they tend to look to other countries to fill their needs," Downing said. He explained that China has turned to Ukraine as its primary supplier of corn imports. He says China now also uses imports of milo, a sorghum product, as a feed grain substitute to replace American corn.
Downing says virtually all U.S. genetically modified corn producers were affected by fallout from the trade ban.
"When we lost the Chinese market, it affected the Chicago Board of Trade price for corn," Downing said. "All farmers across the country were affected on a per-bushel basis, equally."
In terms of sheer monetary value, Downing says the legal case to recover losses could be one for the ages.
"In the agricultural sector, it certainly has the potential to be the largest case in history," Downing said.
"The Court's ruling will make it easier and less expensive for farmers to pursue their claims against Syngenta," said Scott Powell, another of the plaintiffs' lawyers, in a released statement. "Instead of having to retain and pay individual counsel, file their own lawsuit, produce voluminous farm records, sit for a deposition and appear at trial, the Court found that all class members may attempt to prove their claims through a limited number of class representatives. If those class representatives win, all class members win. No individual farmer has to file a lawsuit to seek a recovery."
Downing, raised from a farming background in southeast Missouri, has past experience with similar cases. He was the co-lead counsel in a $750 million settlement reached between Bayer and U.S. rice farmers in 2011. In that case, U.S. long-grain rice exports were embargoed after an unapproved, test variety of seed — called LibertyLink 601 — contaminated the domestic rice supply.
Despite some overall similarities, Downing says there are key differences in the cases, arguing that the Bayer episode was more of an instance of negligence while Syngenta's responsibility was more intentional. He says many in the grain industry warned Syngenta that China's failure to approve the seed varieties in question presented an unnecessary risk to an important foreign trade partner.
"At the end of the day, the question is whether they should have approved Duracade at all," says Downing. "And if so, given the lack of approval in China, what it could and should have done to minimize risk to farmers."
A trial in the case is currently set for June 2017. In addition to the nationwide class established by Monday's ruling, statewide classes of affected farmers were approved in Arkansas, Illinois, Iowa, Kansas, Missouri, Nebraska, Ohio and South Dakota.
Syngenta said it may appeal the district court's decision.
"Syngenta respectfully disagrees with this ruling, particularly given the widely varying ways in which farmers grow and sell corn in different markets across the U.S.," Syngenta spokesman Paul Minehart said.
Reuters contributed to this report.