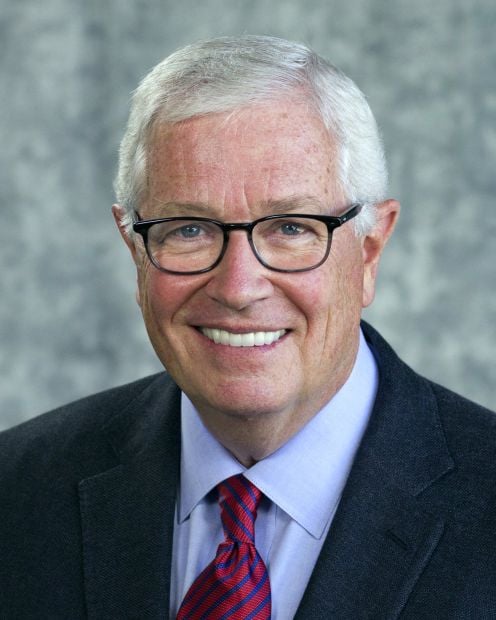 Charles Hoffman, new dean of the University of Missouri-St. Louis business school, says he was a "typical UMSL kid."
He grew up in south St. Louis County, joined the Air Force during the Vietnam War and left the service married with two children.
With a family to watch over, the idea of going away to college and spending a lot of money on it, was out.
He got a bachelor's in business in 1974 and an master's in business administration in 1976, both from UMSL. Then he began a career in telecommunications, ending up as a CEO in Silicon Valley.
Now 64, he began his new job at UMSL in September.
UMSL's role now is what it was back then — offering an affordable education, mainly to local students without lots of money, many of whom live at home.
As such, Hoffman thinks the school is underappreciated.
"Our kids, who typically don't have privileged backgrounds, are hard workers and they really accomplish," he says. "Ninety-two thousand people take the CPA exam every year, and for three out of the past five years we've had kids with top scores. And we're a much smaller school than those other schools."
Three UMSL grads won the Elijah Watt Sells Award in the past five years. The American Institute of Certified Public Accountants gives it to students who score at least 95 on the exam. Last year there were 39 winners nationwide.
In Hoffman, UMSL gets a man with a lot of experience running complex businesses, but a newbie in academia. Out of college, he started his career at IBM then moved to Southwestern Bell.
He was present at the birth of the cellular revolution and became "the one to launch the wireless experience in St. Louis." The year was 1984 when St. Louis became the third city in the nation with cellular service, after Boston and Washington.
"That was the big transceiver in the trunk, and the thing that looked like a phone in front of the car. We had shops all over town drilling holes in the cars."
At Southwestern Bell (now AT&T) he served as general manager of cellular operations in St. Louis, Boston, Washington, Mexico and Canada. He later joined Sprint PCS, then became CEO of Rogers Wireless, a national carrier in Canada.
In 2001, just as the technology boom was busting, he became CEO of Covad Communications. It was a troubled Internet-backbone company drowning in debt. His job was to do a turnaround.
He put the company through a bankruptcy, prearranged with creditors, to reduce debt. He ran the California-based business until 2008, when it was sold.
Then he retired. He served on the boards of several mid-sized technology companies, along with several UMSL advisory committees, including the business school's.
"When the old dean decided to retire, faculty reached out to me and said, why don't you apply. I'd never thought of anything like that," said.
He jumped in anyway. "I wasn't a good retiree," he said.
You were hiring business school grads, and now you're creating them. When you were hiring, were you able to get what you wanted?
I've had many top business school graduates working for me. The last job, which was in Silicon Valley, there were Harvard and Stanford MBAs all over the place. Smart people, but they didn't know how to make anything happen. They typically had their parents pay for their school, so they never really had to work. There's a reason why most Fortune 500 CEOs come from the Midwest and from state schools. They are guys who know how to make things happen. You don't have to be the smartest guy; you just have to be the guy what can bring everybody together and execute.
I call it leadership. The kids from UMSL, who are known as hardworking students, technically prepared, need that extra knowledge of "How do I succeed?"
Through case studies. We use a lot of practitioners to supplement the tenured professor. They say, "Here's how the real world works."
The management courses all teach, "Here's what actually happens in companies, and why that CEO made that decision."
Business night school (teaching staff) is typically all practitioners. Sometimes it gets criticized because you don't have a Ph.D. there.
Do business schools teach the right things? Unless you're going to be an accountant, is it best to major in business, or is it best to major in science or technology and learn business as you do it?
When I was here, I had to take courses like "introduction to non-Western music." I was like, why do I have to waste my time in this? Later on in your career, all those classes you didn't want to take become the important ones.
That one I used on international assignments. English, oral skills, writing skills, that's what becomes important. It's those soft skills, like leadership, that really become important later. So the right business school balances all that.
I'll make sure they're not just technically prepared but ready to make changes for their employers. I'm going to do the capstone course for graduating seniors. That's going to be all about leadership, how to execute, and some practical advice.
We'll want to teach women how to deal with this environment that's still very much male oriented. What do you do when somebody tells a dirty joke in front of you, or comments on your appearance. How do you handle that? How do you get beyond that glass ceiling?
How do you deal with whose career is more important, yours or your husbands? All that makes it tougher for women — and minorities. We have a certificate in women's studies, and we're offering business courses in that.
You can't run a business school like in the old days, where you teach principles and the principles don't really change.
Every business is global now. Even a small business is probably global in some way. It uses engineers in India or something. It takes cultural assimilation to understand this, and how people do things in different ways.
High tech is moving so fast, it's hard for people to keep up. Seventy-nine percent of companies are using social media marketing in some way. Eleven percent know what they're doing.
Is an MBA still worth what you pay for it?
Take my son, who lives in New York and makes a very good salary. To give up that good salary, and then maybe pay $100,000 to go to a good business school (full time) makes no sense.
Our MBA classes are all in the evening. Our students all work. If you look at the percentage of our graduates who get jobs, it's probably 100 percent, because they all have jobs already.
The hottest thing now is the professional MBA. (Nearly half the courses are taught on-demand on the Internet. Some are done for specific companies where the students work.) We do one with Express Scripts. We do them for professionals in certain fields. They use their own companies as examples, "Here's what I'm facing at work. What do you all think of that?"
Online is surely more efficient. I had an email from a student who said, "I work full-time in Chesterfield. I have only one class to go, and it's only offered in the morning. I can't do it." Now, the professor is going to work it out with him. But online just makes it a lot easier. You do interact with the professor, by email. (Students and professors also meet, generally on weekends.)
You were a CEO. A CEO can give orders. When you give orders in the academic world, you just start a big discussion. Have you noticed that difference?
It's very different. The concept is called "shared governance." Think about it. We have all these really smart Ph.Ds in the business school who really know their area. You want their input.
It's not that foreign to me, because typically I did things in a collaborative fashion.
The biggest difference is that in business, you quickly came to a conclusion. This what we're going to do and you start doing it today. Here, it's not as simple. There's the faculty senate, the administration, the University of Missouri system. It just takes longer.
One would hope the decisions are better and that you'd make fewer mistakes.