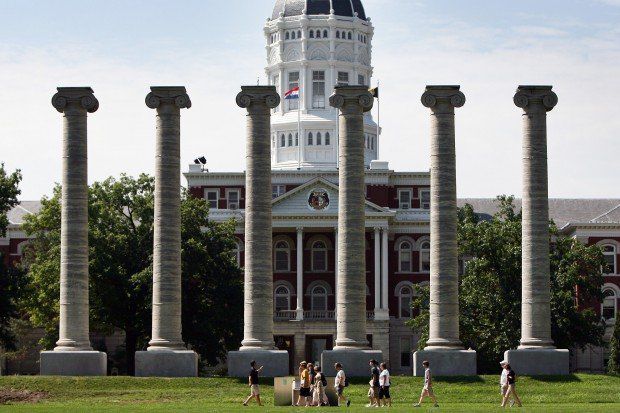 University of Missouri administrators will offer insurance subsidies to graduate students working at Mizzou, backtracking from last week's decision to cut the funding.
The move comes after intense criticism, the threat of a graduate student walkout and pressure from Sen. Claire McCaskill, D-Mo.
Last week, university officials told graduate students employed as teaching assistants and research assistants that Mizzou could no longer provide money specifically to help the students pay for health insurance.
University officials said the subsidies violated rules under the Affordable Care Act that penalize employers who give money to workers to purchase individual health insurance plans.
Mizzou, however, has now decided to "defer" this decision until next year, according to a statement sent Friday to students. But deferring the issue gives students only a temporary reprieve before potentially losing access to affordable health care coverage again.
Mike Horton, a graduate instructor in the English Department, was relieved to hear the news.
He is currently uninsured, holding out in hope that the university would reverse its decision. His gamble worked. But he's still skeptical of the university's original decision.
"Why didn't they just do that in first place?" Horton asked. "It's even more obvious that this was a budget decision," he said of the university's decision to restore subsidies for health insurance coverage.
Removing this benefit in the first place shows just how little the university values graduate students, Horton said.
"The university does not function without us," Horton said. "We do a ton of the research, we do a ton of the teaching. We're not just TAs; we don't just go to class."
The decision to backtrack is particularly important for international students such as Kristofferson Culmer who are required to have insurance coverage. He came to Mizzou from the Bahamas to study for a doctorate in computer science.
"It's a step in the right direction but ultimately … students need to see a long-term solution for this issue," Culmer said.
McCaskill, an MU graduate, agrees.
"It's clear from the confusion over the last few days that a long-term policy is needed to provide certainty to these students," McCaskill said in a statement Friday.
She also is pleased with the university's decision to "correct this mistake," she added in the statement, which was released one day after she spoke with UM Chancellor R. Bowen Loftin about potential solutions.
McCaskill already is urging the Treasury Department to figure out a solution that would allow the University of Missouri to continue to provide affordable health insurance for its working graduate students without running afoul of the Affordable Care Act.
In a letter to the Treasury Department, McCaskill pointed out that there are graduate students who aren't eligible for Medicaid under Missouri law and don't make enough money to qualify for federal subsidies available under the Affordable Care Act.
"These students are now in danger of losing access to affordable, quality healthcare without a viable alternative," she said in the letter sent before Mizzou reversed its decision. "Therefore, I request that you act expeditiously and come up with a solution to allow universities to comply with IRS regulations and the Affordable Care Act, while ensuring that healthcare is accessible for all students."
Students making between 100 percent and 400 percent of the federal poverty level would qualify for federally subsidized coverage on HealthCare.gov. The poverty level is $11,770.
Graduate students were threatening to walk out if a list of demands, including restoring the subsidized coverage, were not addressed by next week, the first week of school.
There's nothing stopping the university from adding the graduate students to the university's group health plan for faculty and staff, said Christina Postolowski, health policy manager, attorney for Young Invincibles, a health care advocacy group focused on young adults.
Not extending funding to graduate students, however, could have saved the university millions of dollars next year.
In 2014, the university says it spent about $4 million on stipends for health insurance coverage for 3,100 graduate students.
At the University of Missouri-St. Louis, the size of the subsidy program was much smaller. Roughly 100 graduate students received the money, and they got only a 25 percent reimbursement.
UMSL is not reversing its decision to end the subsidies but will follow through with the previously announced one-time $103 credit to all eligible graduate students this semester, according to spokesman Bob Samples.
University of Missouri-Kansas City and the Missouri University of Science and Technology in Rolla do not offer insurance to graduate students, according to university officials. However, about nine graduate students were offered paid coverage at MUST. Those students were part of a special international program, spokesman Andrew Careaga said.
Other schools are looking to get rid of subsidies. Louisiana State University sent out a similar notice to its graduate students on July 24, according to Tara Kistler, a spokeswoman for the university.
However, Mississippi State officials said they still provided subsidies for graduate health insurance, while Auburn says it is examining how to comply with ACA guidelines.
Washington University and St. Louis University say they are looking into the issue but haven't disclosed their current arrangements.
Koran Addo of the Post-Dispatch contributed to this report.
Samantha Liss • 314-340-8017
@samanthann on Twitter