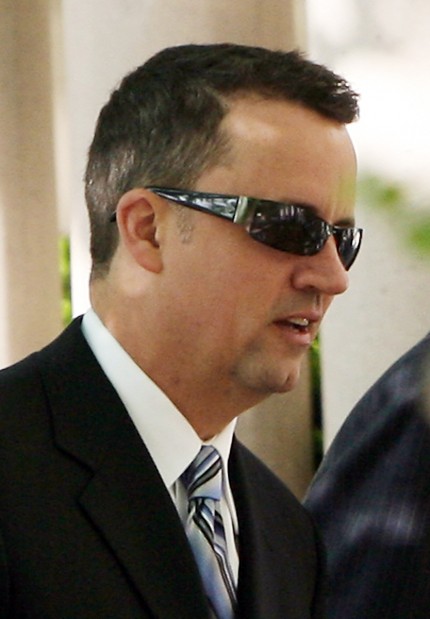 ST. CHARLES COUNTY • The former co-owner of what was once one of the nation's largest seller of auto service contracts pleaded guilty Thursday to fraud and stealing charges, admitting he ripped off customers and took millions from the company.
Cory Atkinson, 42, former vice president of Wentzville-based US Fidelis, appeared in St. Charles County Circuit Court, where in April his brother, company president Darain Atkinson, 47, pleaded guilty to similar state charges.
Cory Atkinson is scheduled to appear in federal court Monday to plead guilty to related charges there, and he is expected to be sentenced to no more than a total of four years in prison on both the state and federal charges, said his attorney, Bill Margulis.
"He decided to accept responsibility and thought it was in the best interest for himself and his family to resolve it," Margulis said after the hearing on Thursday. His client was set to go to trial in St. Charles County in September.
Sentencing is set for Sept. 28. Darain Atkinson is expected to be sentenced to eight years in prison on July 16.
Missouri Attorney General Chris Koster said that under Cory Atkinson's plea agreement, a 13-count indictment that a grand jury had handed down in June 2011 was collapsed into three charges: insurance fraud, consumer fraud, and stealing by deceit.
The brothers jointly owned National Auto Warranty Services, which sold vehicle repair coverage under extended service contracts nationwide. Its name was later changed to US Fidelis. The company collapsed in late 2009 amid allegations of widespread consumer fraud.
In his plea, nearly identical to his brother's from April, Cory Atkinson admitted that the company's profit on a contract typically priced at more than $2,000 was often more than $1,200. The contract provider received about 30 percent of the money and the company that financed the deal got 10 percent.
Fidelis used deceptive and misleading direct mail and telemarketing campaigns to fool customers into thinking they were talking to auto dealers or manufacturers, according to the plea documents. They made customers think the contracts were more comprehensive than they actually were, the plea says.
Unhappy customers canceled, sometimes at a rate as high as 60 percent.
Fidelis staffers were told to arbitrarily withhold 10 percent to 40 percent of their money, according to the plea.
The Post-Dispatch first reported the widespread sale of product warranties by US Fidelis and other area companies. The coverage plans are considered an illegal form of insurance in Missouri.
The brothers took about $100 million to fund their luxurious personal lifestyles, including paying for multimillion-dollar homes in St. Charles County, Lake Tahoe and the Cayman Islands. The brothers also bought luxury boats and vehicles and paid for the expenses of family members.
Last month, a proposed liquidation plan was filed in bankruptcy court in St. Louis. It said former customers will split $14.1 million, and creditors will get less than one-third of the $12.4 million owed.
The plan said although Fidelis likely was never profitable, it generated "mountains of cash."
So far, about $23.7 million of the Atkinsons' $100 million has been recovered.
In April, a judge ruled in bankruptcy court that more than 550 former US Fidelis workers will share in a $1.45 million settlement of a lawsuit alleging they weren't properly warned before being laid off. The ruling came over the objection of the Missouri attorney general's office, who sought to exclude as many as 371 of the ex-employees, including relatives of the brothers. The attorney general's office argued that those who had contact with consumers or influence on company policy should not be rewarded before the customers.