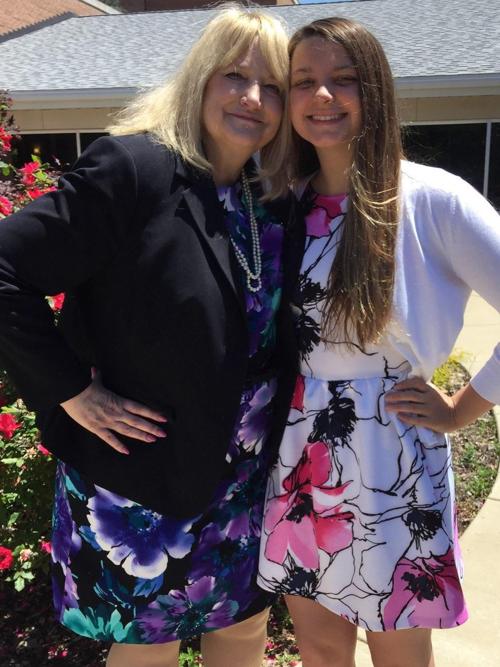 Victoria Hulslander, of St. Louis, was bewildered when her then-5-year-old daughter Nancy was diagnosed as obese. Nancy was active in swimming and ate the same as her siblings, neither of whom struggled with their weight. The standard treatments through her pediatrician and nutritionist yielded no results nor insights into what was wrong. Their insurance did not cover the treatments.
After a chance meeting with Denise Wilfley, professor of psychiatry at Washington University in St. Louis, Nancy was enrolled in Wilfley's pilot study of a childhood obesity treatment known as family-based therapy and started to lose weight for the first time.
Now, Wilfley and her collaborators at University of Rochester and Louisiana State University have been awarded $14 million by the Patient-Centered Outcomes Research Institute to expand their study of family-based therapy to hundreds of families across the three states, including Missouri.
One in five children in the United States is considered obese, according to the Center for Disease Control and Prevention. Stephen Cook, associate professor of pediatrics at the University of Rochester and a collaborator on the new study, said he became concerned with childhood obesity when he began seeing obese adolescents develop complications which he had previously only seen in obese adults, such as cardiovascular disease and type 2 diabetes.
Wilfley noted that, in addition to the increased risk for medical complications, overweight and obese children, "suffer a lot of terrible social consequences like teasing and bullying, and that can oftentimes lead to depression and eating disorders."
Currently, childhood obesity is treated by counseling the child about eating and physical activity, typically by a pediatrician. If this is unsuccessful, the child is referred to a more intensive hospital-based program.
Family-based therapy approaches the problem more holistically by counseling the child and other family members who are overweight or obese together. Parents can then act as role models and partners in the child's treatment, explained Wilfley. This approach changes the child's home environment through his or her parents, which makes it easier for the child to change habits and behaviors. "That's what made me feel more comfortable in the program," recalls Nancy, now 16. "We were all trying to make this change together."
"There's more to obesity than just eating too much and not exercising," Cook said. Moving beyond this misconception, family-based therapy helps patients examine how and why they are eating certain things and learn goal-setting. Hulslander says that their family still uses many of the strategies learned in the program, such as eating off smaller plates, not eating when distracted, and modifying family recipes to make them healthier.
Childhood obesity is a major focus for the Patient-Centered Outcomes Research Institute, a nonprofit agency based in Washington that funds research into treatments that center patients' priorities and can be implemented in clinical practice. The institute has awarded $41 million for studies on childhood obesity.
Andrea Brandau, program officer at the institute, praised the "incredibly stellar team" of researchers involved in this study, saying "the engagement, the work they've done before they even started the study, has been really strong."
Evidence supporting the effectiveness of family-based therapy in helping both parents and children lose weight has been accumulating for nearly 25 years, but many of the studies have been in settings like psychology labs or with small groups of participants.
The new five-year program, which will begin this August, will deploy family-based therapy across hundreds of families in Missouri, New York and Louisiana. The therapy will take place in pediatricians' offices rather than hospitals, making it more accessible for many patients and proving to payers that it can be carried out in a real-world setting. Each family will undergo 12 months of therapy, with follow-up after 18 months.
Wilfley and Cook also plan to target underserved populations, both because they are at a higher risk for obesity and because less is known about how effective this treatment is for them. At least 50 percent of the participant families will be insured by Medicaid, and at least 50 percent will be racial and ethnic minorities, particularly black families.
The study could also reveal differences by geographical area. "What may work for me in suburban Rochester might not fly in downtown St. Louis," Cook said.
A major strength of this study's design, according to Wilfley, is the inclusion of three advisory boards to inform the research as it progresses: one for families, one for health care providers, and one for insurance companies. Nancy, who will serve on the family board with her mother, said: "This program gave me so much, and I can't wait to give that back to other kids."
Several major insurers are involved, including Cigna, Blue Cross Blue Shield, Aetna, Humana, and state Medicaid programs, as well as the American Academy of Pediatrics and the American Psychological Association. The institute leaders believe that this broad engagement, especially of payers, will be crucial to successfully translating the findings of this study into clinical practice.
Most insurance plans have little to no coverage for treatment of childhood obesity, according to Wilfley and Cook. The reason for this is partly financial. "There has been a lot of momentum in the country for payment for adult obesity because it's been shown to be cost-effective," Wilfley said. However, she explained that because the financial benefits of treating obesity in childhood are spread over the child's lifetime, the recovery of costs is slower and harder to quantify, making it less attractive to insurers.
Another barrier, Cook says, is that "there's still a bias against obesity where they want to think, 'Oh, it's cosmetic, it's a personal choice, it's lack of willpower.'" This stigma has made it difficult for patient advocacy groups, a common driving force for changing insurance coverage, to get a foothold.
Nancy has continued the habits developed in Wilfley's program, which she says are mainly about creating balance.
"I have so much more confidence in myself, whether it's in school or swimming or with friends," said Nancy. She plans to swim competitively in college.
"I remember a coach saying that 'she doesn't have the right body type'" for swimming, recalls Hulslander. "And I want to say, 'Look at her now! She's the same person that she was then.'"