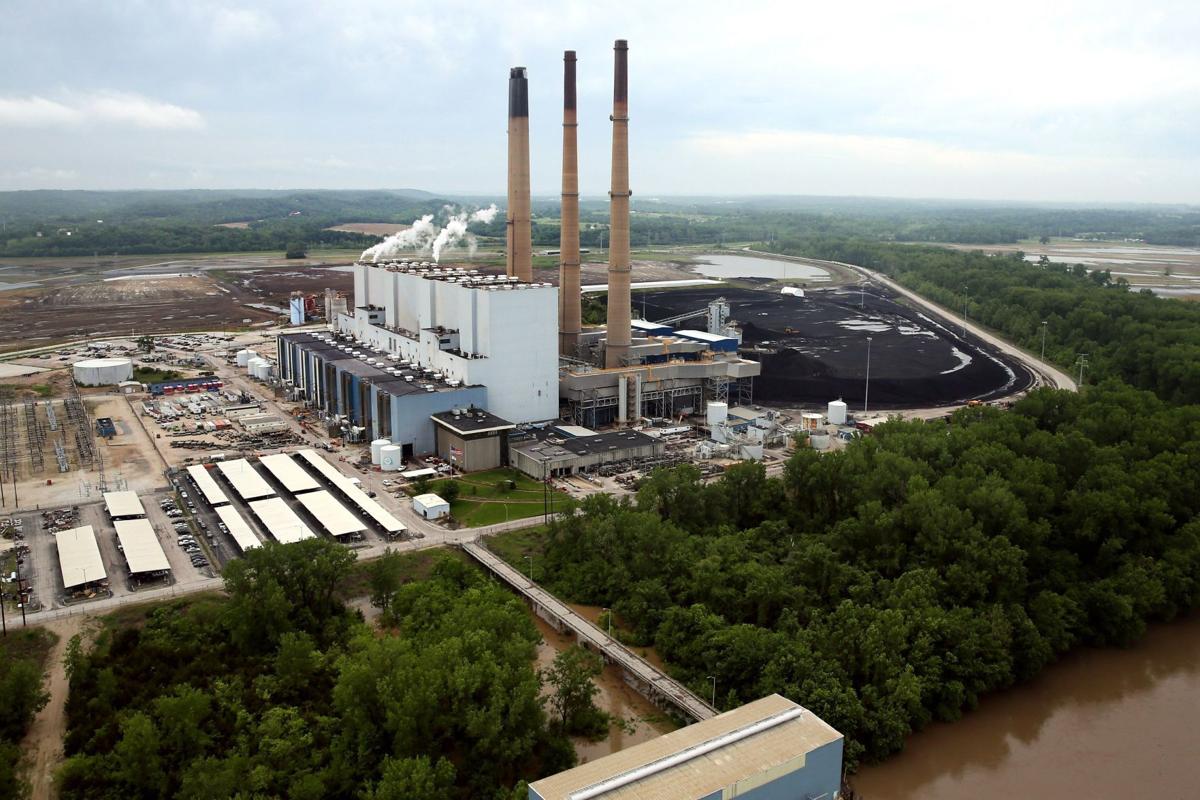 ST. LOUIS — Scientists here are criticizing a proposal by the U.S. Environmental Protection Agency declaring that the Labadie Energy Center — the biggest coal-fired power plant in Missouri — has met a key air quality standard.
Watchdogs say the plant's owner, St. Louis-based electric monopoly Ameren Corp., has not installed air monitoring equipment in a large arc southeast of the Franklin County facility, where winds primarily push emissions. Without that, they say, the EPA cannot possibly know the true impact of the plant on air pollution.
"It's a premature decision," said Ken Miller, an environmental scientist at Washington University's Interdisciplinary Environmental Clinic, which closely tracks Ameren. "Only after you've filled that data gap will you have enough information."
Under the Trump administration, the EPA has changed similar designations for 52 areas nationwide, ruling that they've pulled into compliance with air quality rules after previously failing to meet safe pollution levels, or after being judged "unclassifiable."
The EPA's move effectively would declare that the Labadie plant is not emitting levels of sulfur dioxide that could compel Ameren to invest hundreds of millions of dollars in pollution controls called "scrubbers" — leaving it as the nation's largest coal plant without technology to reduce the pollutant on any of its units, critics say. The agency will take public comment on the proposal for a 30-day period after it is entered into the Federal Register.
Ameren defended the EPA's decision.
"There's a very robust monitoring system around Labadie," said Steve Whitworth, Ameren's senior director of environmental policy and analysis. "This wasn't done arbitrarily. It's a very exacting process."
But the agency's proposal renews a dispute that has simmered for years, largely centered on where to place air monitors in the area.
The Sierra Club, for example, has argued that Ameren intentionally put monitors in locations where terrain and weather reduces concentrations of sulfur dioxide — an air pollutant linked to respiratory distress and other health issues. And Washington U.'s environmental clinic said that the Missouri Department of Natural Resources had "not done due diligence in reviewing and accepting Ameren's monitoring locations," according to comments submitted to the EPA in June 2016.
That year, the EPA deemed the plant's air quality unclassifiable, and said it needed more data. That ruling came as a surprise to area residents and environmental advocates, and was reached only months after the agency issued a preliminary decision suggesting that Labadie was not satisfying requirements for sulfur dioxide.
Ameren has fought suggestions that it should place air monitors southeast of the plant. In comments submitted this month to DNR — which officials say is nearing the same conclusion as the EPA, based on its own review of the air data around Labadie — Ameren said that arguments for additional monitoring were unfounded.
The company explained that monitor locations were approved after "considerable input and collaboration" with DNR and the EPA, and "were sited at the point of maximum impacts based on two separate modeling efforts."
Critics now vow to contest the proposal during the public comment window.
"We're basically arguing that they should put this on pause," said Miller, of Washington U.
With one monitor east of the plant and another to the southwest, he said that there is a roughly 135-degree arc with no monitors along the plant's southern and southeastern flank.
"The idea that we wouldn't slow down a bit and figure out what's going on in this uncovered area, it doesn't make sense to me," he said.
Others said the proposal continues a trend of undercutting health protections.
"EPA doesn't have a great track record under this administration with air quality designations," added Andy Knott, a St. Louis-based representative of the Sierra Club's Beyond Coal campaign.
Knott called it "deeply disturbing" that the plant has remained an anomaly over the years, without scrubber technology to cut down on sulfur dioxide.
"It's the largest unscrubbed coal plant in the country that doesn't have a retirement date in the next 10 years, and it's getting off scot-free," Knott said.
The EPA's decision comes about a month before Ameren is due to release a new long-term strategy for electricity generation.
Groups such as the Natural Resources Defense Council say that costs of pollution controls are challenging the viability of top Ameren coal plants, and raise questions about whether to accelerate retirement dates currently set as far off as the 2040s.
A federal judge last year ordered Ameren to put scrubbers on the company's Rush Island Energy Center in Jefferson County. At the same time, U.S. District Judge Rodney Sippel ruled that, because Rush Island broke Clean Air Act rules for years, the Labadie plant "must reduce emissions commensurate with the excess emissions released by Rush Island," and install its own pollution controls — though not scrubbers — within three years.
Ameren has appealed the ruling.
In February, the Department of Justice accused the company of failing to comply with its order to curb air pollution and said necessary work had been "inexplicably paused."