With four stores in the giant, global city of Singapore, the founders of We The People keep getting the same question: Why are you opening your first U.S. store in St. Louis?
"It's right smack-dab in the middle of the United States," said co-founder Ryan Sim, who heads marketing and business development for the crowd-sourced retailer.
Last Friday, curious shoppers trickled into We The People's first American store inside West County Center to play with gadgets such as portable standing desks and smart pill boxes, which sat alongside an assortment of board games and handcrafted apparel. All of it is crowdfunded from small inventors and craftspeople, using platforms including Kickstarter.com.
"We're all creators actually," said Sim, who produced his Kisetsu line of wallets with seed funding using Kickstarter. "We all got together and wanted to come up with our own store."
In an age in which physical retail is on the decline in the face of the growing clout of online platforms, We The People is swimming against the current. But the novel products dreamt up by home inventors often lend themselves to an in-store experience, where their utility can be demonstrated and defects can't be Photoshopped away.
Online, "they cannot feel it," said co-founder Jay Kang, who before We The People worked for SooZip in South Korea, a design association that provides a marketplace for creators of hand-crafted goods.
The space in the city's Academy neighborhood acquired the equipment from TechShop, which closed abruptly last year. 
Take Akeem Shannon, the St. Louis inventor of Flipstik. We The People made sure to reach out to the area makers, and Shannon took them up on the chance to get his product onto a sales floor.
The Flipstik uses an adhesive patch to mount smart phones to any material. Stick it to the wall to watch a video or on your dashboard for directions when you're driving. The material is waterproof, so it can be rinsed after it starts to get dirty.
He has a website for online sales, but "when we do this in person, sales are much better," said Shannon, who funded his concept with Kickstarter earlier this year and recently opened a dedicated Flipstik kiosk in the Galleria. "We definitely need that hands-on approach."
Janelle Becker came into her native St. Louis from Florida, where she lives now, to finally put her hand-designed leather dinosaur puzzles, Skelosaurz, on a retail shelf. The kits can be sculpted into various dinosaurs when the leather is moistened, and she's previously sold them only online at art fairs and other events.
"This is the first time they're just out, you know, they're in the mall," Becker said. "I used to always want to be in one of these interesting-type of stores that sells all those weird things."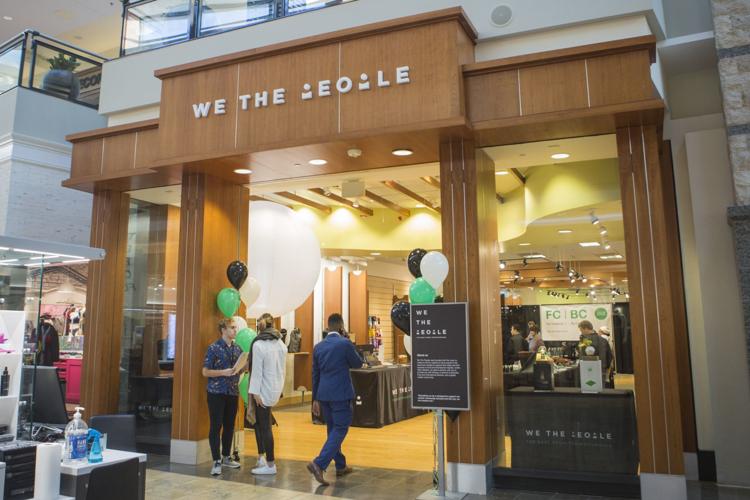 Founded in Singapore in 2016, We The People got its start after reaching out to more than 100 inventors on Kickstarter, asking them if they wanted a retail location to sell their creation. Just a handful responded, but the company's approach spread by word of mouth after that.
Now, it is opening stores in South Korea and Malaysia, Spain and Hong Kong.
We The People is in a temporary space in the West County mall now, and it will move to a permanent storefront in the mall sometime next month. It plans to expand into other U.S. cities in the coming year, and part of the appeal of St. Louis, in addition to it being "a rising hub of creators," was its logistics infrastructure to warehouse and ship products, Kang said. It's also far more affordable here than in coastal cities.
The appeal of We The People to creators is a place to sell without any risk. Unlike the b8ta store, a similar retail concept for new products, Kang said there was no subscription for shelf space, so small inventors don't lose money if their product doesn't sell.
We The People splits the sales price 50-50 with the creators who stock its shelves. It can be selective in the products it chooses, and it will rotate out products that aren't selling. For U.S. inventors, it provides a bridge to Asian markets and vice versa.
New design technology and region's industrial infrastructure means St. Louis shouldn't discount strength of manufacturing sector, boosters say. 
We The People also provides what they call "live crowdfunding." With the online crowdfunding world "really noisy" these days, Sim said We The People offered dedicated space for inventors to showcase their prototypes in-store to build support and enthusiasm for their crowdfunding campaigns.
In addition to physical retail shelf space, We The People also plans to organize classes and maker gatherings to educate fledgling inventors on how to find manufacturers and bring their products to market. For promising products, they refer inventors to manufacturers and provide marketing and other services.
"When we did it, it was tough as nails," said Sim, the co-founder and wallet line creator. "Now we want to give back, to show people you can do it, too."
Daily updates on the latest news in the St. Louis business community.