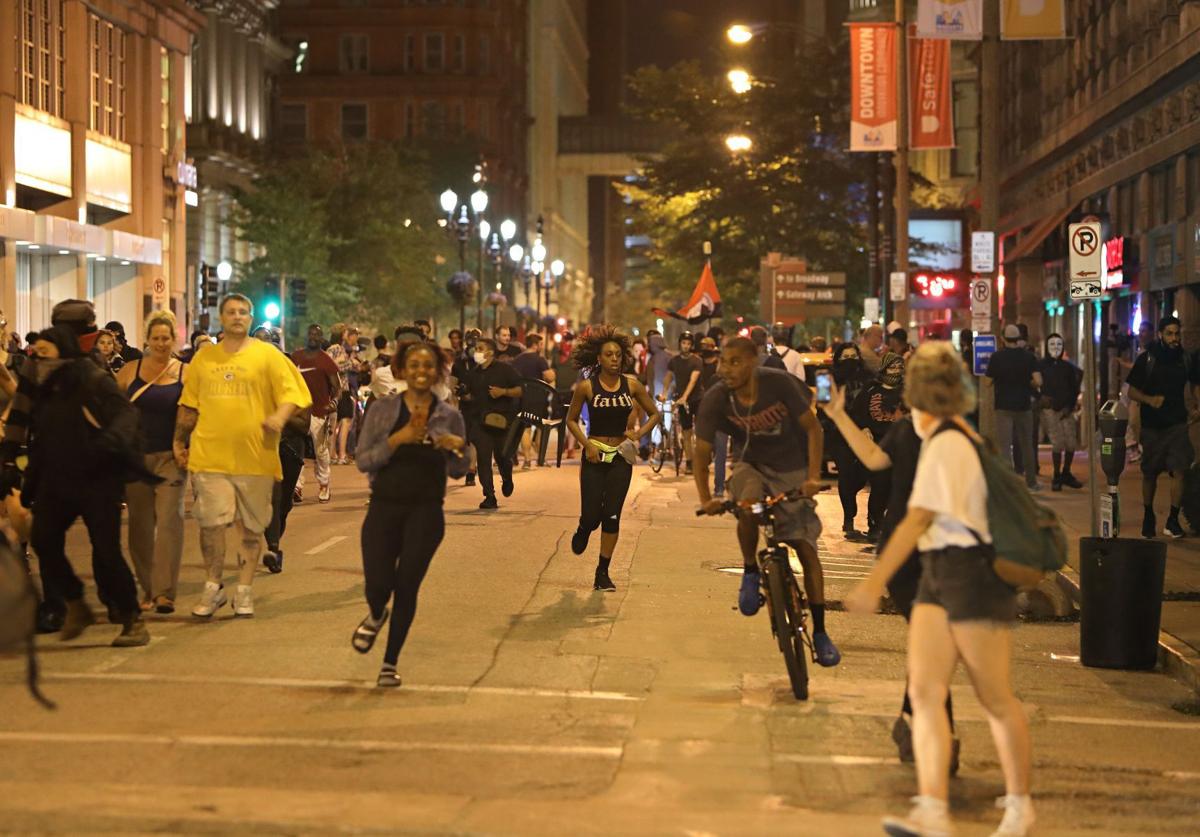 A weekend of protests following the not-guilty verdict in the murder trial of former police Officer Jason Stockley has delivered what some activists promised: disruption to the metropolitan area's economy.
For people who counted on big concerts downtown or small-business owners who banked on a weekend of sales, the loss is fairly easy to quantify. A smaller paycheck. An unexpected repair bill. Fewer customers.
The longer-term effect on the region — one that was convulsed just three years ago by Ferguson protests — is unclear.
For some hotels, restaurants and retailers, paying for plywood and replacement windows is only the beginning. Some businesses have trimmed operating hours before and after protests, resulting in lost revenue and fewer hours for employees.
Three Kings Pub, a Delmar Loop restaurant that had its front window smashed by vandals late Saturday while diners were inside, warned on Twitter it would close its University City location at 5 p.m. Monday — six hours early — due to another planned protest in the Delmar Loop.
Several other Loop businesses also said they planned to close early Monday, including HSB Tobacconist, a staple in the business district for 45 years.
Jessica Bueler, HSB's owner, started a fundraiser on GoFundMe.com to help other Loop small-business owners affected by the damages pay for expenses that aren't covered by insurance. By Monday afternoon, less than 48 hours after about two dozen Loop businesses were damaged, more than $5,000 was raised by the GoFundMe effort.
Bueler said she was at her home in pajamas around 11 p.m. when she saw on TV that some businesses were being damaged Saturday night. She and several other nearby business owners rushed to the scene and called a single company to board all of their broken windows. Her glass door alone cost several hundred dollars to board up, and she's waiting on an estimate for glass replacement.
"Even if a business has insurance, they may have a $5,000 deductible, and that's a substantial amount for a small business," Bueler said. "The costs are going to be astronomical," she said of the damages to the area.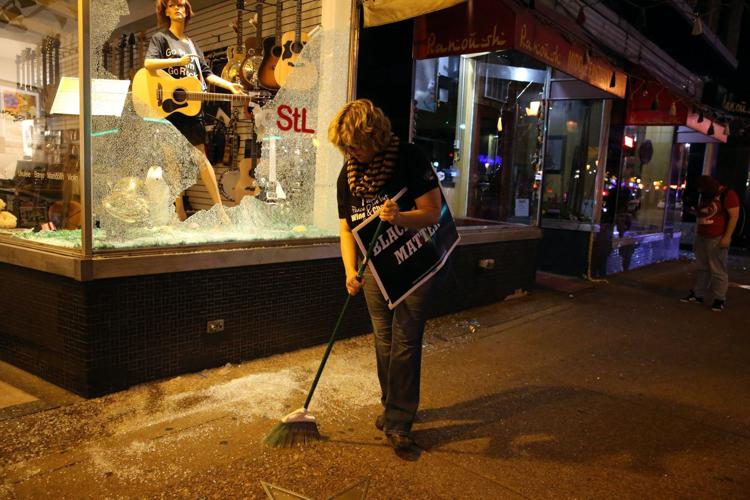 "I'm hoping I see that trend continuing," she said. "We just have to get through this."
Blueberry Hill owner Joe Edwards, who chairs one of the Loop's business associations, said 23 businesses had their windows broken during the weekend.
Comedy shows scheduled for weekend performances at the Loop venues of the Pageant and Delmar Hall were postponed, and a concert scheduled for Monday night was also canceled.
'This doesn't help'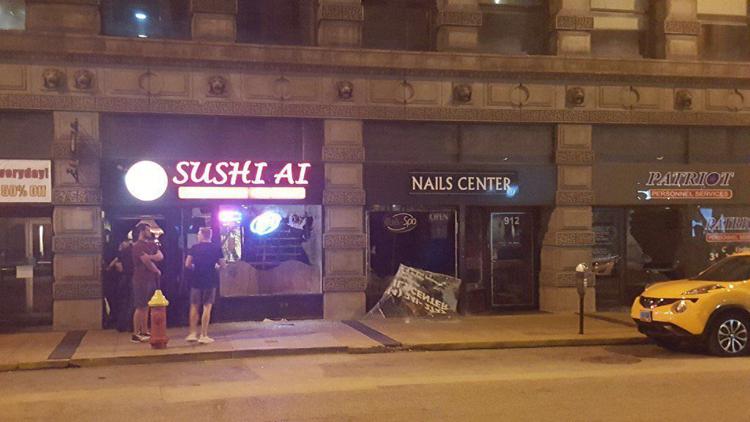 In downtown St. Louis, about eight businesses had their windows broken Sunday evening, said Missy Kelley, president and CEO of Downtown STL Inc.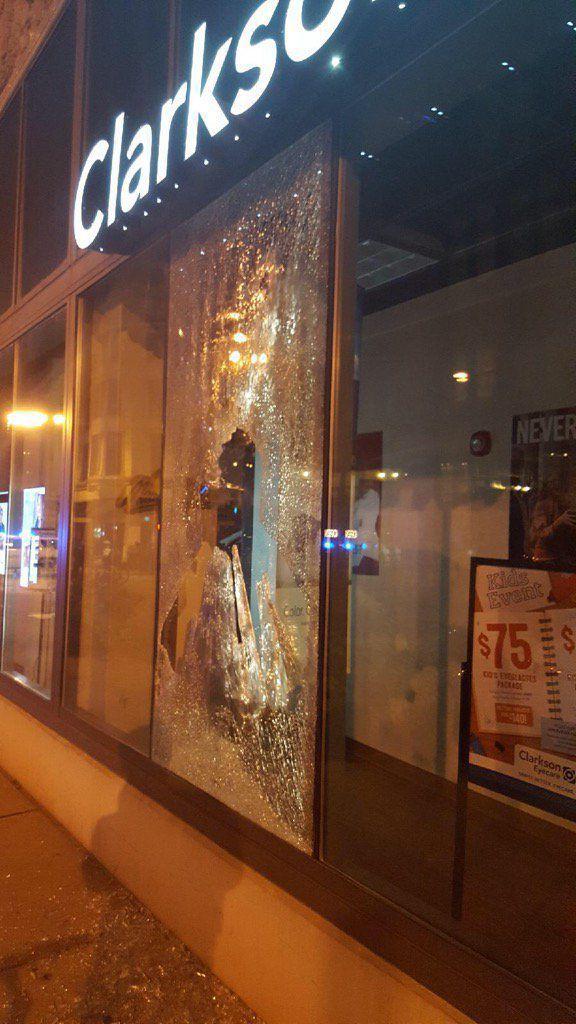 The downtown booster group and tax-supported neighborhood improvement district Kelley leads is helping pay for paint and other supplies to decorate boards some businesses are putting over their windows. They're also helping to assess the damage so businesses can apply for funds to help pay for repairs.
Beyond physical damage, Kelley said the loss of foot traffic from closed offices on Friday and decisions by restaurateurs and retailers to shut their doors also hurt.
"There were businesses that closed Friday night, Saturday and Sunday, so three days of lost revenue," Kelley said.
The cancellation of two concerts over the weekend — U2 was supposed to play Saturday at the Dome at America's Center and Ed Sheeran was booked for Scottrade Center on Sunday — will have an impact beyond the immediate loss of people who would have spent hours downtown, she said. Especially for such a huge name like U2, people traveling from around the Midwest to downtown St. Louis turned around this weekend.
"They didn't go to restaurants, didn't go to hotels," Kelley said. "That's the short-term impact. Longer term, it's a hit to our brand. It makes people think twice about coming."
Downtown hoteliers and restaurateurs were banking on the U2 and Sheeran concerts to be big revenue generators.
"We were on track for a sellout on Saturday," said Steve O'Loughlin, president and CEO of Maryland Heights-based Lodging Hospitality Management. When the concerts were scrubbed, guests canceled 300 rooms at LHM's Hilton St. Louis at the Ballpark Hotel, which has 675 rooms. At LHM's St. Louis Union Station Hotel, 150 guests canceled out of 539 rooms. Additionally, revenue at LHM's 360 Rooftop Bar atop the Hilton was down 50 percent.
"With U2, that would've been a huge night," O'Loughlin said of the impact.
In the short-term, O'Loughlin said he's expecting upcoming home Cardinals games to once again the fill the rooms at LHM's downtown hotels. But longer-term, protests have the ability to negatively affect hotel bookings, as they did in the midst of Ferguson protests, he said.
"As we're booking conventions, obviously this doesn't help," he said.
The St. Louis Convention and Visitors Commission, which operates the Dome at America's Center, said it had no way to track the economic impact from the weekend concert cancellations.
"While we were disappointed, we understand the decision made by the promoters due to the strain events would have placed on manpower at the police department," CVC spokesman Anthony Paraino said in a statement.
The organization did not respond to a follow-up question about how much revenue the U2 cancellation cost the Dome, for which taxpayers are still making debt payments.
Kelley said most downtown businesses appeared to be back open on Monday.
"The thing I would say is most important right now is St. Louis needs to show up," Kelley said. "We need to visit these restaurants and these retailers. … They are taking the brunt over something they have no power over. So we need to show up and support them."
Amazon chase
The unrest comes as St. Louis joined dozens of metropolitan areas across the country scrambling to put together bids to lure Amazon's proposed $5 billion second headquarters.
While the Stockley verdict and its aftermath dominated news coverage in St. Louis, other cities — including cross-state rival Kansas City — have been moving aggressively ahead with their Amazon planning. The Kansas City Area Development Council, for example, confirmed they hired Richard Florida and Joel Kotkin, two well-known experts in city planning and retaining business talent, as consultants in their bid, according to the Kansas City Star.
At a press conference Saturday evening, St. Louis Mayor Lyda Krewson was asked whether the protests would derail the city's chances to land Amazon or another economic development prize.
"I don't know the answer to that for sure," she said at the press conference. "I think certainly it's concerning, but I'm not going to make a prediction about that. I think St. Louis is putting together a very competitive proposal for Amazon, but I would also say to you that every city over 1 million in the United States right now is giving their media that same quote."
St. Louis County Executive Steve Stenger said Monday area officials are still working at a "fever pitch" to put together a competitive bid for Amazon.
The unrest and property damage from the weekend haven't halted those efforts, he said.
"I think we need to look at the situation relative to other large metropolitan areas," Stenger told the Post-Dispatch on Monday. "While this is untimely that it's happening while we're working on our submission, the issues that St. Louis faces, they're issues that are faced across the nation."
For St. Louis' pitch to Amazon, Clayco Chairman and CEO Bob Clark is advising officials on the submission, in addition to Express Scripts Chairman George Paz, and staff from design firms Forum Studio and HOK, Stenger said.
"We have a gathering of individuals who are pledged to make this happen," Stenger said, adding the sites under consideration for St. Louis' bid are still being evaluated. "This is a true regional effort, and there is no predetermined site. We want the best site in our region to be in the bid."
Still, some residents say the recent unrest likely ruins St. Louis' Amazon chances.
"I'm not happy that these marches inevitably lead to violence," said University City resident John Rava.
"It's really a shame — a black mark on our whole community. … It's very discouraging. It makes the Amazon bid — it completely sabotages something like that."
For some in St. Louis, economic concerns are eclipsed by the social justice issues raised by the Stockley verdict.
In a Facebook post on Sunday, the Rev. Traci Blackmon, a senior pastor at Christ The King United Church of Christ in North County and a member of the Ferguson Commission, wrote: "Let me be clear: I don't give a damn about your broken windows. Because, clearly, you don't give a damn about our babies' bullet-riddled bodies. I will replace your window. You replace your killer cops ... and we still won't be even."
Bryce Gray of the Post-Dispatch contributed to this report.
Daily updates on the latest news in the St. Louis business community.