EUREKA — Business is booming in the Old Town section of Eureka. Every square foot appears to be leased. The one-block district is thriving with two gift shops, a clothing boutique, a coffee shop and five restaurants plus an Irish pub.
It's like a tourist town, only there aren't many tourists. Several of the Old Town businesses have opened in the past year in this community west of St. Louis, across Interstate 44 from Six Flags.
The secret to the district's success — as resident after resident and shop owner after shop owner told us — is a sense of community.
"It's a very tight-knit community. They're very much about supporting Eureka," said Tara O'Dell, the general manager of O'Dell's Ale House.
O'Dell's brother and business partner Casey died of brain cancer last year; he was 45 and left behind a widow and five children under 13. The community came together to support the business and the family.
Local restaurants donated all the food for the funeral, O'Dell said. Customers went out of their way to give the restaurant and pub extra business, and were understanding when it had to be closed. One landscaper still cuts the grass at his widow's house for free, she said.
"We try to support each other's business," said Taylor Martin, an assistant at Art Dog — a studio where customers can paint their own pottery or take classes in art.
Other small towns in the area have historic downtowns that are not as prosperous.
Union has a charming town square, but several offices and stores across the square's heart, the Franklin County courthouse, are empty. Pacific's sleepy row of buildings includes many vacancies. St. Clair's quiet historic district is mostly notable for one restaurant and a string of antiques stores. New Haven offers a movie theater, a glass studio, a deli and a Mexican restaurant among few other options.
The one exception is Washington, with an expansive downtown teeming with people going into gift shops, clothing stores, restaurants, professional offices and bars. It, too, resembles a tourist town.
Eureka resident Jen Jones, who was recently shopping in Old Town, said, "I think with Eureka, you're hitting a small enough, but big enough, town that you have everything — and people with money."
Indeed, the town's 11,646 residents, as of the 2020 census, have a median household income of $112,750, far above the national median of $67,521 and even more above the Missouri median of $57,290.
"The community really focuses on buying local, supporting local," Jones said.
According to O'Dell, "Maybe some of our success is that in Eureka we're out here on our own. You have to drive out to Valley Park (to shop), you have to drive to Wildwood. So we do stay within our community."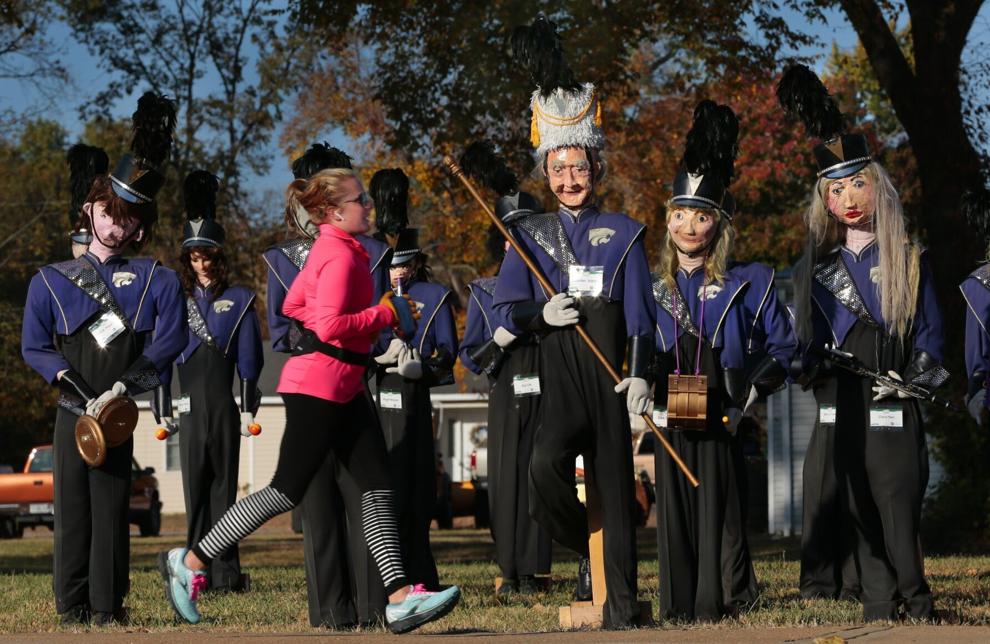 Of course, nothing brings a community together like a crisis. In 2015 and 2017, the Meramec River flooded the town and the historic district in particular.
"When we had the floods come through here, it was the most united I've ever seen a community. All the way up at the top of the road, there were 4 and 5 year-olds filling sandbags," O'Dell said.
Aerial pics of historic flooding along the Meramec River from Wednesay, Dec. 30, 2015. Floodwaters closed Interstate 44, placed Valley Park is…
The heroes of the floods, she added, was the Eureka High School football team, who worked in shifts through the night to shore up barriers that kept some of the water out of some of the businesses.
Resident Renee Streberger, who was shopping in Old Town with Jones, said "After the floods, once the businesses survived, there was a feeling that I don't have to go into Sunset Hills or Kirkwood to shop."
Paws & Boots and a Guy is a boutique with fashions and accessories for women, men and pets that opened in February. It is owned by Dawn Lease and Diane Bowler, who have been friends for 40 years.
Paws & Boots is a new store — it has been open since February — and it has been embraced by residents.
"Business has been phenomenal," said employee Lisa Wetzel. "We get things in and they fly out the door."
One reason, perhaps, is clever marketing. Lease drives a Jeep, and she has embraced the trend of "Jeep ducking." Like other Jeep owners, she places a mini rubber duck on every Jeep she sees. Attached to the duck is a business card for her store.
Wetzel said that people will come into the store for the first time because of these ducks.
Across the street is Red Door, a liquor and cigar store. Like many of the businesses in Old Town, it is more than it first seems. In one corner is a small bar at which wine tastings are held, along with bourbon tastings and classes in appreciating wine. Customers will sometimes come in and share a bottle of wine there while they wait for their table at a nearby restaurant.
Not all the alcohol they sell is expensive, but for people who want it they sell the Macallan Rare Cask scotch for $350, Johnny Walker Blue scotch for $259 and Dom Perignon champagne for $268.
"Eureka has a very unique vibe," said Madison Littlejohn, a barista who lives in Hillsboro but works at La Finca coffee house.
La Finca fits in with that vibe. Unusually good art by co-owner Alejandra Hagedorn and her father, Enrique Reyes, hangs on the wall. John Hagedorn — Alejandra's husband and co-owner, roasts the coffee in a space above the store. The pastries come from Diana's Bakery in St. Louis.
The undisputed anchor of the Old Town district is Joe Boccardi's, an Italian restaurant and pizza spot that has stood on Central Avenue for 51 years.
"We've been here so long we have a ginormous following of regulars who come in twice a week," said owner Mario Boccardi, a son of the original owners. Other Joe Boccardi's restaurants, run by members of the family, are now in Webster Groves, Fenton and Columbia.
Gift shop the Robyn's Nest specializes in holiday decorations, baby items and kitchenware. One wall displays socks with funny sayings ("I became a teacher for the money and fame") and political messages ("Trump 2024"). A selection of soaps and bath products is displayed in an old claw-foot tub.
Down the street is another gift shop, the Rose & Hook, which also sells jewelry and home décor items. The block can support two gift shops because their inventories complement each other, said owner Cheryl Parrish.
The Rose & Hook opened last year, and according to Parrish, "It's going very well. The community as a whole has been very supportive."
Which is what Eureka is all about — and the support goes both ways.
The day after Tara O'Dell's brother went into the hospital last year for what turned out to be the last time, a couple knocked on the door of O'Dell's pub. They had 52 cents in their pockets, they said, and they desperately needed jobs.
O'Dell gave them work. In just one year, they worked their way up from learning about the jobs to being managers and an indispensable part of the business.
"It's a pay-it-forward community," she said.