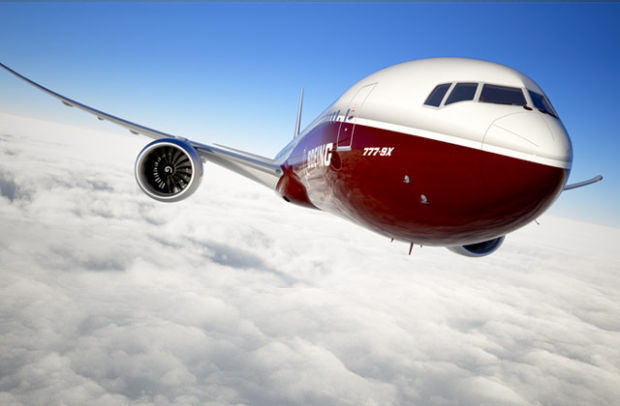 A long runway. Enough land to build a 4.2 million-square-foot factory, ideally for free. Roads and rail lines. A good workforce. Lots of tax breaks.
And a deep-sea port would be nice, though not necessarily a must-have.
That's what Boeing Co. is looking for as it mulls up to 15 locations to build its new 777X jet, according to a request for proposals obtained by the Post-Dispatch. The until-now-unreleased document — which is stamped "Boeing Proprietary" — details the company's criteria, proposed investment and job creation and desired incentives for the much-sought-after airplane plant.
The 11-page document outlines Boeing's needs for the facilities, and describes what it plans to build under two different potential scenarios.
One is a single 4.2 million-square-foot factory that would build the entire airplane, costing $7 billion to $10 billion to construct and equip and start production in 2016. The other splits the work into two sites: A $2 billion to $4 billion factory that would build 777X's 114-foot-long carbon wing, and a $4 billion to $6 billion plant that would handle the fuselage and final assembly.
Winning even a portion of the work would be a huge victory for St. Louis' aerospace industry, which is built on a few, relatively short-lived Boeing-made fighter jets, and would create thousands of jobs here. Missouri lawmakers are meeting in special session this week to approve $150 million a year in new tax credits to help land the plant, with a final vote in the House expected today.
But competition is fierce. Boeing reportedly sent the criteria to 12 to 15 states and made each sign nondisclosure agreements to keep the document private. The Post-Dispatch obtained a copy from a third party not associated with Missouri's 777X campaign. The company declined to comment on it.
Bids are due Tuesday, and Boeing is expected to choose a site for the plant in early 2014. Wherever it goes, according to the document, transportation will be "one of the most critical" factors, with good air, road and rail links "required."
"The ideal site would be located immediately adjacent to a major international airport" with a 9,000-foot runway — which Lambert-St. Louis International Airport meets. Boeing also wants "easy access to a major highway" and a direct rail spur into the site for parts delivery.
Listed as "Desired": A seaport with the ability to handle container ships, presumably to deliver parts from overseas suppliers. That's a hurdle for landlocked St. Louis, though Boeing is reportedly considering several other inland sites, and it is possible that Boeing could transport a wing by air to a final assembly site.
Then there's the list of "desired incentives," which include:
• Site at no cost, or very low cost, to project.
• Facilities at no cost, or significantly reduced cost.
• Infrastructure improvements provided by the location.
• Full support in worker training.
• "Entire applicable tax structure including corporate income tax, franchise tax, property tax, sales/use tax, business license/gross receipts tax and excise taxes to be significantly reduced."
Incentives have been the focus so far in Jefferson City, where Gov. Jay Nixon is quickly pushing a $150 million-per-year boost to several tax credit programs through the Legislature that he says will help Missouri compete for the plant with several states with deeper pockets.
While some critics have decried the tax-break package as corporate welfare, the reality is subsidies are an increasingly expected part of the deal for big companies deciding where to locate jobs, said King White, a Dallas-based site selection consultant.
"They are a factor that has gotten more important than ever," said White, whose firm, Dallas-based Site Selection Group, is not working on the Boeing deal. "They've become center stage."
And while tax breaks certainly aren't the only issue to Boeing — all those other things from logistics to labor availability on the company's wish list matter, too, White notes — they are one thing that states have control over, unlike, say, access to the ocean. White said his firm fields a lot of calls these days from state economic development officials, looking to ramp up what they can offer.