KIRKWOOD — A pandemic was just the push Jen and Nick Trares needed to cap off their seven years of courtship with a wedding.
There was no formal proposal, no invitations and no gown — just a blue dress from Target that Jen Trares pulled out of the back of her closet.
"This coronavirus thing really spurred us on," she said. "We got our priorities in order."
Two Sundays ago, the Bellefontaine Neighbors couple met an officiant in Kirkwood's Walker Park. The daylong rain slowed enough for a mostly dry 15-minute exchange of vows, followed by celebratory coffees from Starbucks.
Elopements, and their slightly larger cousins, microweddings, make up less than 10% of nuptials in the United States, according to the Knot, a wedding-planning website. But intimate ceremonies have become more prominent over the past two months and — with continued uncertainty over crowds, fears of second-wave shutdowns and a wobbly economy — are likely to retain their appeal to engaged couples into the foreseeable future.
More than half a million weddings had been scheduled in the U.S. for April, May and June, the Knot found. Couples who wanted to keep their original date had few options except to shed their guest list and, usually, take their ceremony to parks or other outdoor locations.
"You'd be surprised at how emotional it is," said Janessa White, founder of Simply Eloped. "Your big day only happens once."
The Idaho-based company connects couples to vendors across the U.S. and has 4,000 elopements scheduled for this year, double the number they planned last year.
These events have redefined the traditional "elopement," in which a couple ran off to, say, Las Vegas, or the local courthouse. Now elopements can be lightly planned ceremonies with only the couple and maybe a witness or two; planners define microweddings as gatherings of up to 35 guests or so.
In many cases, an elopement will be followed, at some later date, with a larger event — technically, a vow renewal — or a house party, White said. Some weddings are even happening in shifts, with small groups coming and going throughout the day, or with different guests invited to different events: the rehearsal dinner, ceremony, reception or day-after brunch.
Jim Belote, who runs the Beall Mansion in Alton with his wife, Sandy, anticipates that the move toward smaller or alternative weddings will accelerate even after coronavirus safety precautions are lifted.
Their bed and breakfast had been in business a decade when the Great Recession hit in 2008. Budget-minded couples began compressing guest lists and paring down extras, such as top-shelf liquor and extravagant centerpieces.
The transformations that are happening today could be even more enduring.
"The coronavirus certainly has the potential to create bigger changes than we've experienced," Belote said. "But it doesn't have to mean a sterile, unromantic wedding."
An elopement, even one that includes an overnight stay at the Beall Mansion, costs a fraction of the average American wedding, which topped $34,000 last year.
At the Tuscany Gallery in Wentzville, packages start at $195. Owner Carol Pope had been marrying couples in parks when she bought the 2,000-square-foot office building four years ago and transformed it into an "Italian courtyard" complete with a waterfall and cobblestone floor.
The space holds 50 people; since March, weddings with 10 or more have had to be rescheduled, but elopements have helped pick up the slack. In just the first eight weeks of state-mandated crowd limits, Tuscany Gallery held 20 elopements, half of what typically would be scheduled over an entire year.
"I feel like I'm running in circles," said Pope, who also organizes bridal shows. "Our income would have suffered if we didn't do elopements."
Pope sees the trend toward smaller weddings continuing, with fewer guests but more personal touches.
"You get away from all the frills and get into the meaning," she said.
That was the intention for Jamie Scott and Kale Warnhoff of Crestwood when they got engaged in November, on the fourth anniversary of their first date.
The couple, both in their 40s, wanted something simple and small. Warnhoff's 12-year-old son, Gavin, and the family dog, Heinz, would be the only attendees.
They called Carolyn Burke, who runs Elope in St. Louis out of her Kirkwood home. On May 17, Burke met them in Forest Park, under the World's Fair Pavilion. Scott and Warnhoff pledged their love to each other and snapped a few photos.
A house party is on hold, as is a honeymoon in Mexico, but the newlyweds are keeping their perspective.
"We're glad we didn't have a hundred people coming," Warnhoff said.
They are one of the 150 or so couples who Burke will marry this year. She started Elope in St. Louis in 2012, with the intent of attracting people from rural Missouri to come to the city to get hitched.
She found that plenty of locals were interested in the "sweet and simple ceremonies" she has performed at the top of the Gateway Arch, on the steps of the Old Courthouse and inside the Jewel Box.
Elope in St. Louis experienced a slowdown early in the virus shutdown, when marriage licenses became more difficult to obtain. By early May, though, her phone was ringing again.
"There's no cake, no champagne," she said of the streamlined ceremonies that start at $140. "Pop-up weddings are great for COVID."
Christine Dougherty and Kaustubh Kulkarni of Shrewsbury came to that conclusion after twice having to cancel the small wedding they had planned at a St. Louis restaurant.
For a while, they just gave up, ruefully toasting their aborted wedding date with frozen pizza and alcohol. Then Kulkarni stumbled on an online review for Burke's business.
They set up a Wednesday afternoon ceremony near a lake in Forest Park. Dougherty's parents drove in from Iowa, and 60 friends and relatives tuned in via Zoom.
It wasn't the wedding they imagined: no limousine, 12-course dinner, or photographer, besides Dougherty's mom.
But what matters is they are married — and already finishing each other's sentences:
"Given the circumstances ..." Kulkarni began.
"We're happy to be married," said Dougherty. "We had a beautiful day."
Expedient weddings see uptick during coronavirus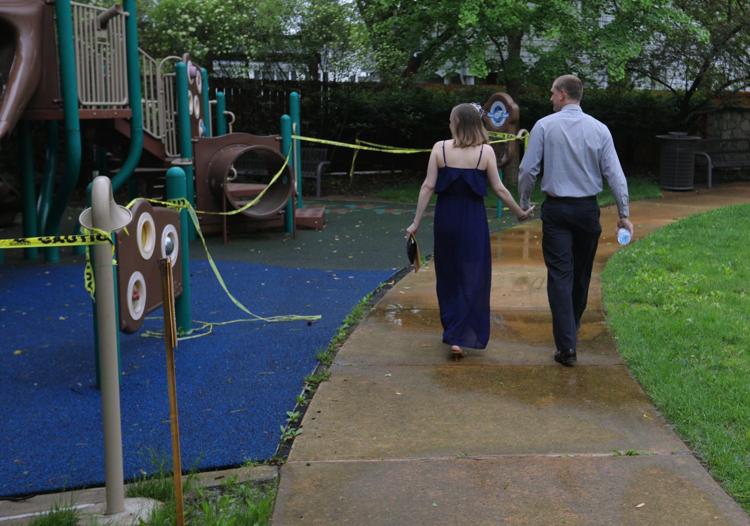 Expedient weddings see uptick during coronavirus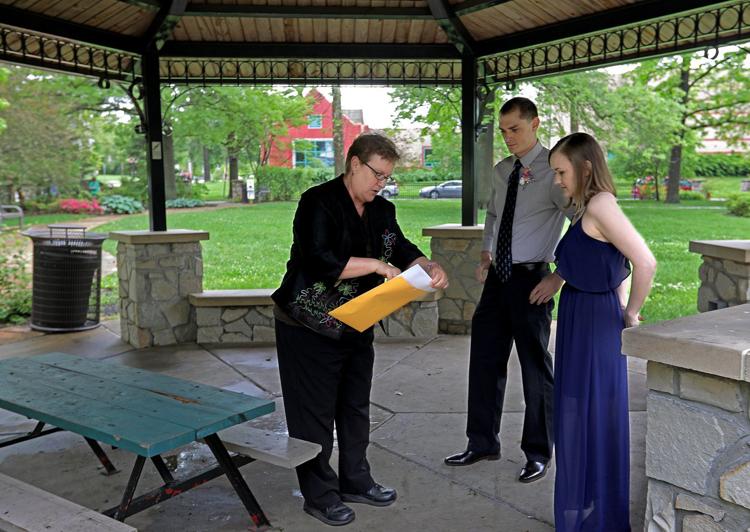 Expedient weddings see uptick during coronavirus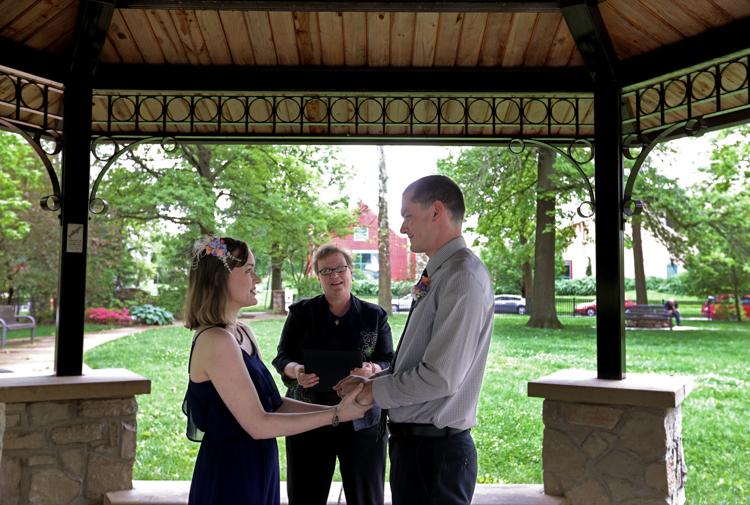 Expedient weddings see uptick during coronavirus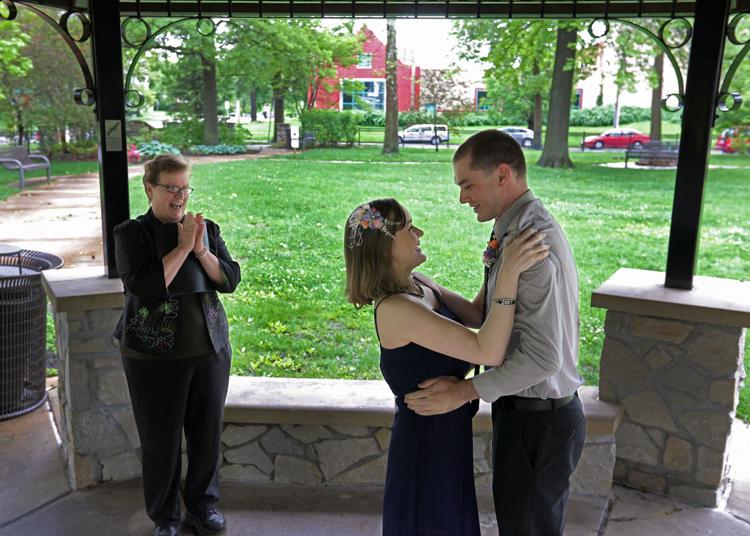 Expedient weddings see uptick during coronavirus
Expedient weddings see uptick during coronavirus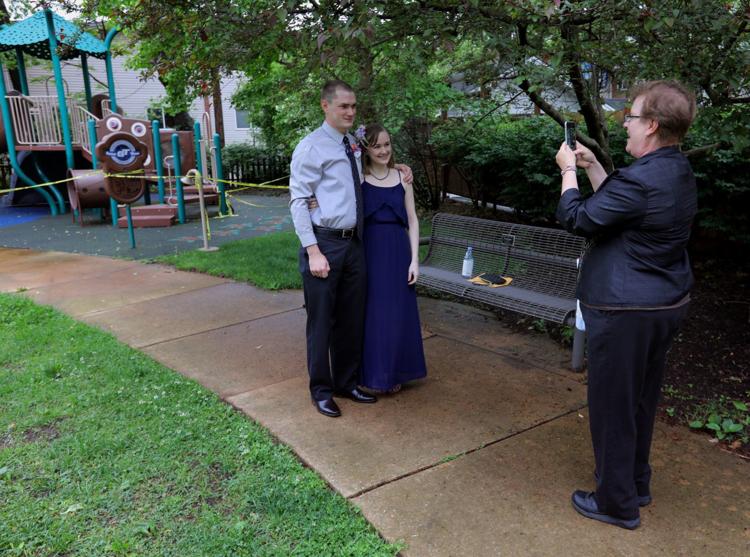 Daily updates on the latest news in the St. Louis business community.