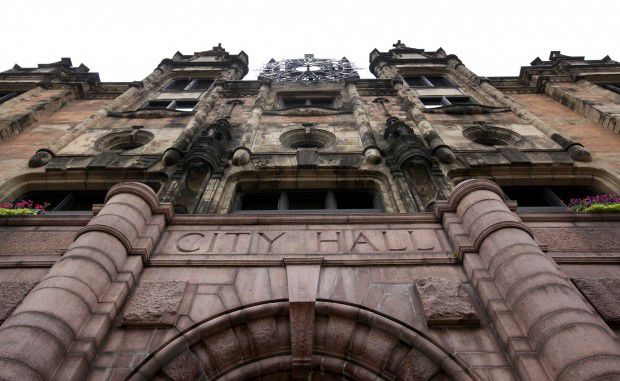 ST. LOUIS — If you've worked from home in the suburbs during the recent coronavirus shutdown instead of driving to your office in the city, don't expect a break from paying the St. Louis earnings tax.
City officials say telecommuters staying home due to the pandemic won't be eligible to file for refunds of the 1% earnings tax for days they're not at their desks inside the city limits.
Those rebates have been available for years to workers traveling outside the metro area on business trips or working certain days at other locations maintained by their company outside the city limits.
But toiling at home during the recent city-ordered business shutdown is a different animal, says Collector of Revenue Gregory F.X. Daly.
"This is a whole different set of circumstances," Daly said. "The way we view it, you and your company have agreed (to have you) work at home. You're still utilizing all the computer software that your company provides" from its base in the city.
Daly's decision has spurred pushback from Associated Industries of Missouri. Its top official says it's possible that one of its member companies will file a court challenge.
"For the city to allow it sometimes and not others, they're virtually admitting they don't have authority to tax that income," said Ray McCarty, the business group's president and CEO. "This is an issue our members really care about."
Meanwhile, Bevis Schock, a Clayton attorney who has tangled with city government on a variety of issues, including red-light cameras and stay-at-home orders, said he "very strongly expects to file a class action lawsuit" next year.
Last year, about $2.9 million in earnings tax payments were refunded to more than 4,000 people, said Deputy Collector Tom Vollmer.
Vollmer said those included some suburban-living telecommuters who arranged in advance with their employers to, for example, work a day a week from home and four at the office.
But that option will now be off the table for refunds.
Allowing pandemic telecommuters to get refunds would add further financial pressure to a city government already facing a steep decline in expected tax revenue due to layoffs, reduced business at stores and restaurants and the shutdown of pro sports and concert venues.
The earnings tax, a 1% levy on the earned income of anyone who either works or lives in the city, generated about $180 million in the fiscal year ending June 30. That funds more than a third of the city's general revenue budget.
Greg Geisler, a clinical professor of accounting at Indiana University and formerly of the University of Missouri-St. Louis, said tax authorities at all levels are concerned about much lower collections because of the pandemic-related slowdown.
"Whether it stands up in a court of law, that is consistent with the concern," he said. "Whether the city of St. Louis tax collector is overreaching or not is unclear at this time."
Henry Ordower, a St. Louis University law professor and tax law expert, also said the issue is legally unsettled. "I can't say what the outcome will be if somebody decides to litigate," he said.
Any lawsuit isn't likely to be filed until next year. The deadline for paying this year's earnings taxes is April 15, 2021. Most people affected have the tax deducted from their paychecks.
David Luce, an attorney for the collector's office, said the new rule for pandemic telecommuters is a reaction to the city stay-at-home order from Mayor Lyda Krewson's administration that went into effect March 23. The city began lifting the order in mid-May.
Many businesses were required to shut down their offices in the city, he noted, but some of the others exempted as essential did so anyway.
And he said while in many cases employees began working from home outside the city as a result of the order, their employers weren't specifically required by the order to allow that.
"In the big scheme of things, it just made sense to apply the tax pursuant … to if people's jobs are still centered in St. Louis city," Luce said.
Kansas City, which also has an earnings tax and a stay-at-home order, took the opposite tack, allowing pandemic telecommuters outside the city to file for refunds.
"We're using exactly the same process we've always used," said city spokesman Chris Hernandez.
Vollmer said the St. Louis collector's office hasn't run any data in recent years to see what portion of the city's earnings tax take is paid by suburbanites who work in St. Louis.
But a survey taken a decade ago of the city's 20 top employers provides a hint. At that time, he said, about three-fourths of their workers in the city commuted from outside the city limits.
The earnings tax has been a hot political topic for years, with critics complaining that it's a detriment to attracting and keeping businesses. But over the years city leaders have concluded there's no way to make ends meet without it.
One critic with deep pockets, retired investor Rex Sinquefield, went as far as spending more than $11 million on a successful campaign in 2010 to get voters statewide to require elections in St. Louis every five years on whether to keep the earnings tax. The measure also applies to Kansas City.
Voters in both cities in 2011 and 2016 retained the tax; the next such election is set for April.