ST. LOUIS — From the outside, the balconies that have sprouted from the old Mercantile Library site at Locust and Broadway seem like just another downtown apartment project.
But inside the building — which is really the shell of the Mercantile Library and four other buildings melded together — is a nearly 500-space parking garage to cater to residents of another one of the developer's buildings and the Federal Reserve Bank of St. Louis.
Ringing the exterior of the mid-rise structure are the 50-unit Gallery Villas, with entrances designed to mimic houses and each complete with a suburban-style private garage facing out into another, far larger garage.
"It really brings the county back to the city," developer Brian Hayden said. "We're hoping we get another generation of people moving to the city who might not have before because they're always thinking about their car."
There's no denying the design is unconventional, perhaps the most unusual yet from Hayden. But as developers go, Hayden and his firm, Brandonview LLC, aren't exactly conventional. Like his other downtown apartment projects, he hasn't used tax abatement, tax credits or other public financing — almost unheard of in big city developments.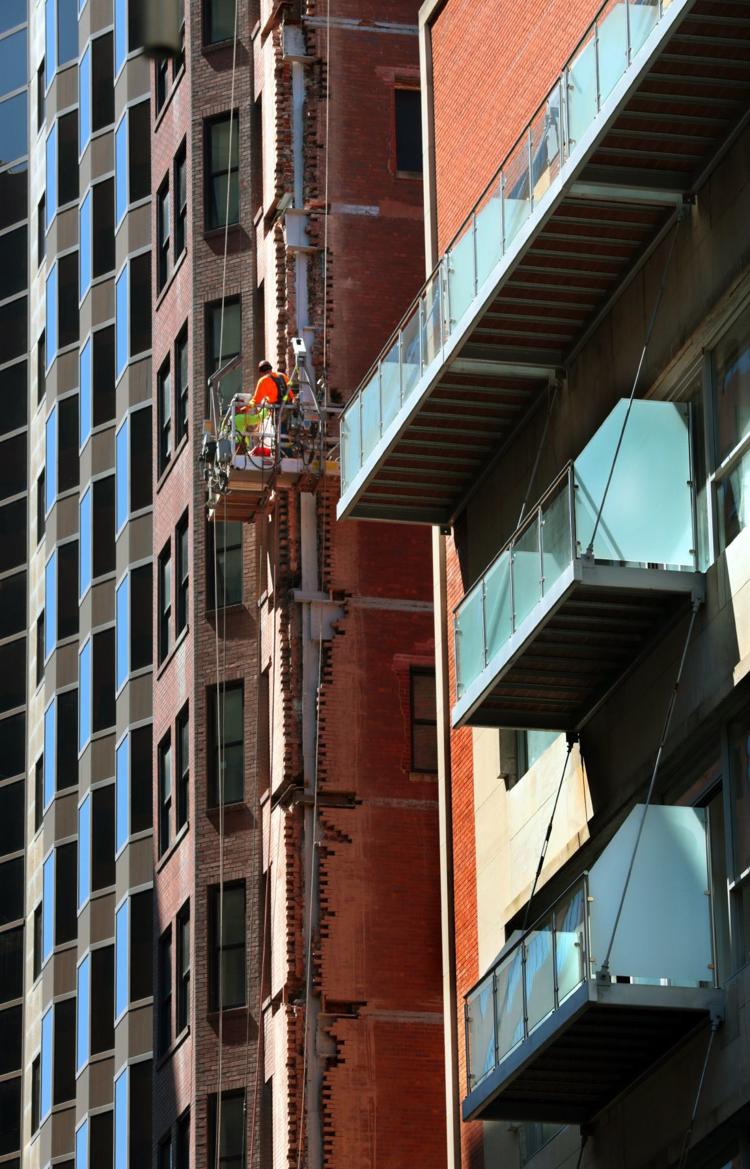 "I believe a project should fully financially support itself," Hayden said Thursday, during a tour of the Gallery Villas. "I just think the money needs to stay in the school systems."
Hayden, originally from southern Wisconsin, came to St. Louis to study engineering at St. Louis University and hasn't left. He started out rehabbing houses on the state streets of south city in the late '80s, working his way up to mid-size multifamily complexes in Affton, Maplewood and St. Louis.
The financial crash a decade ago gave Hayden "just enough" of an opening to come in and scoop up downtown properties on the cheap.
"We always wanted to come downtown," Hayden said. "It's where the big boys played."
Now he has five downtown complexes to his name, in addition to buildings in the Central West End and Compton Heights. They all feature "Gallery" in their names, and Hayden said they collectively have some 5,000 pieces of art. Some pieces are from his mother, accomplished artist Martha Hayden.
Hayden's first downtown project at 400 Washington Avenue — property acquired from Steve and Michael Roberts — totaled 78 rehabbed apartments in 2012. Next, Hayden redid the 20-story Millennium building — a 1962 structure at 515 Olive Street said to be downtown's first modern glass curtain wall facade — with about 100 apartments on the top floors. He's also redone the top floors of the former Laclede Gas building at 720 Olive Street as 111 apartments, and the Alverne building at 1014 Locust Street as about 80 apartments.
Now, except for the LaSalle building at the corner of Broadway and Olive Street, where a Tennessee developer is constructing a Hotel Indigo, Hayden owns the entire block bounded by Broadway and Sixth, Locust and Olive streets.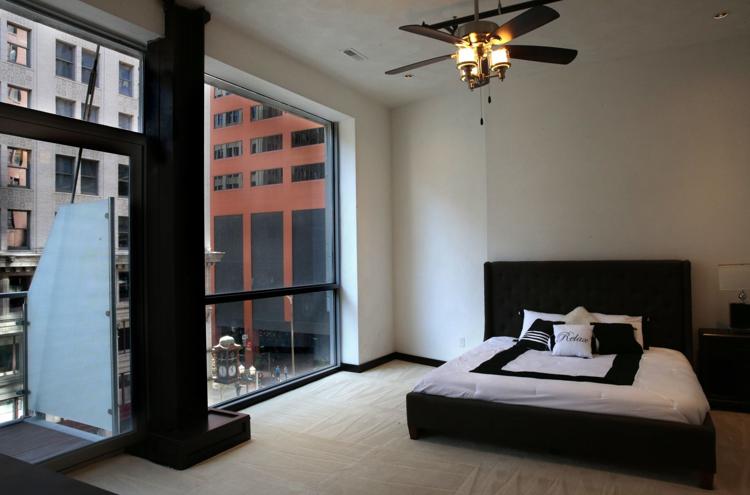 When Hayden first started working on his plan for the Gallery Villas, "people thought I was crazy," he said. It all started as an effort to provide parking for Hayden's Gallery 515 in the Millennium tower on the same block. His tenants there walk a few blocks to the nearest parking structure.
The old Mercantile Library building had been sheathed in the 1950s as part of a trend to "modernize" the ornamental facades of old buildings, and subsequent owners, including the defunct Pyramid Construction, knocked out many of the interior walls.
Even though the sheathed exterior of the buildings matched, "those buildings have five different types of design and engineering to them," Hayden said. His Brandonview LLC, which acts as its own general contractor and does much of the architectural work in house, spent the last three years leveling the different floor heights and building six levels of car ramps through the center of the buildings, an effort Brandonview foreman Fritz Hoffarth called "an endeavor."
In order to make the numbers work, and not resort to using tax incentives, Hayden said he opted to use the more valuable building exterior as apartments to subsidize the large parking area. The Federal Reserve across the street is taking about half of the spots, while the other half will be for his tenants at his Gallery 515 in the Millennium building, now attached to the garage.
As he has with his other buildings, Hayden declined to disclose the cost of the overall project. But the Gallery Villas will have monthly rents ranging from $2,300 a month for a 1,100-square-foot one-bedroom to $5,900 for the largest, 2,100-square-foot, three-bedroom units. At some point in the next year or so, he plans to add a rooftop pool to the structure. An open house is scheduled from 1 p.m. to 3 p.m. Sept. 7-8.
Hayden is bullish on downtown St. Louis, and he said his apartments have around a 96 percent occupancy rate on average. As foot traffic picks up downtown, he has commercial space in the ground floor of the Gallery Villas structure ready for build out.
"It's an exciting time downtown," Hayden said. "Almost every building has been renovated now. We're to the point where people are talking about new construction."
He may ultimately sell one of his projects to raise capital for his next endeavor: the Masonic Temple on Lindell Boulevard across from SLU. He purchased it in 2017 and this week took out a building permit to start work on apartments. He said plans are still being finalized, and it's a "huge project" that will take years.
But he thinks the massive old temple is big enough to build some private garages for the apartments he puts in.