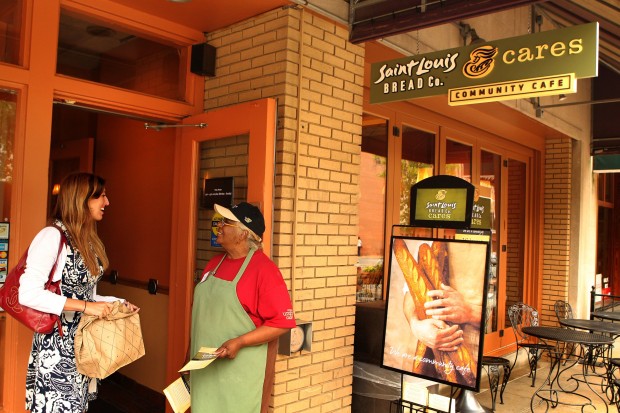 Customers who walked into the St. Louis Bread Co. in downtown Clayton on Monday did a double take when they got to the counter and were told the price of their lunch was just a suggestion.
"You can either leave that or what you think is fair," a cashier told them.
The pay-what-you-can model is part of a new experiment by Richmond Heights-based Panera Bread Co. to run the Clayton store as a nonprofit business, with the location's net proceeds going to community groups. If the store proves successful, the company plans to launch a similar concept at select locations around the country.
The store, at 10 South Central Avenue, is the company's first "St. Louis Bread Co. Cares" cafe, which is operated by Panera's charitable foundation. As first reported Monday by the Post-Dispatch on www.stltoday.com, the store began operating under the new model Sunday.
Panera's unusual social experiment, spearheaded by its former chief executive, took analysts by surprise.
Steve West, a restaurant analyst with Stifel Nicolaus, said many large restaurant chains give money to charities but not quite like this.
The concept is a "novel idea for a worthy cause," he said.
The downtown Clayton store's menu items are the same as at other Panera outlets. But instead of prices, there are 'suggested funding levels" on its menu board. After placing their orders, customers are handed a receipt with a suggested price — which doesn't include any sales tax — and they're told to pay what they think is appropriate. There are still cash registers, but they are used to provide change or to take payment with credit cards.
Customers are encouraged to pay more. And the cafe asks customers who can't pay to volunteer an hour of their time at the store at a later date, but it was unclear Monday how exactly that system would work.
"You're on your honor," a sign by the menu board said.
The proceeds will pay for the store's operations, and remaining money will go to community groups that have not yet been disclosed.
Panera, which has about 1,388 bakery-cafes around the country, has been posting impressive profit margins despite the recession. It reported a 48 percent increase in profit in the first quarter of this fiscal year compared to last year.
Ron Shaich, the company's executive chairman of the board, spent several hours Monday at the Clayton bakery-cafe, carrying trays for customers and explaining the new concept. He wore a name tag that said "Ron" and had "volunteer" written under it.
He declined to comment about the new venture, citing an exclusivity agreement the company had brokered with an unidentified national media outlet. A Panera spokeswoman also did not respond to requests for comment.
West, the analyst, was surprised to hear of Panera's nonprofit model Monday, saying he had heard no mention of it in conference calls with analysts. But he said the move goes along with Panera's charitable giving, which includes donating unsold food to local food banks and charities.
"I guess it doesn't surprise me too much in that Ron retired to pursue other interests and he had mentioned some of those interests may be philanthropic," West said.
Shaich stepped down as chief executive last week, though he remains chairman.
"I have long harbored desires to contribute to the broader world beyond Panera," he said in November when he first announced the leadership change.
Darren Tristano, executive vice president of Technomic, a Chicago-based food consultant group, said he also has not heard of other restaurant chains opening a nonprofit store. But he noted that there are a handful of small, independent cafes around the country that have a pay-what-you-can model. He pointed to some examples in Denver, Salt Lake City and Kettering, Ohio.
"This trend appears to be very European," he wrote in an e-mail.
The Clayton store is one of the original St. Louis Bread Co. locations and is just a couple of miles from Panera's headquarters.
The bakery has 1-day-old baked goods from other nearby Panera locations. There is no suggested donation amounts on these items, but the cafe asks customers to limit themselves to one baked good a day.
"No set price?" asked Ralph Cunningham of Niangua, Mo., when an employee told him he could pay what he wanted for a bagel.
"You can't beat that price," he quipped after putting cash in a donation box.
Myrna Mercer works down the street as a lab technician at the St. Louis County Department of Health. Her supervisor came back from lunch Monday and told her about the pay-what-you-want deal. So she decided to check it out herself.
"I thought I would put in less" than the suggested price, she admitted.
But by the time she got to the counter, a guilty conscience crept in, and she decided to pay almost the full price.
"It was $8.29 and I paid $8," she said as she ate a chicken panini and Fuji apple chicken salad. "I didn't have 29 cents."
But in future visits, she said, she would consider giving more than the suggested amount now that she knows the money will go to a good cause.