ST. LOUIS — Berkshire Hathaway HomeServices Select Properties once again earned first place among large-size employers in this year's Top Workplaces survey.
Employees say the real estate firm's dedication to providing resources and support make it an easy company to work for, especially as it navigated the coronavirus pandemic and a frenetic home market over the past year.
"We have more of an emphasis on culture to make sure everyone is happy," said Matt Bruns, managing broker. "I don't think you're going to find as much resources and support at other companies."
Bruns joined the company in 2014, where he worked alongside his grandmother and her business partner. He learned from them as well as other coworkers who provided help and insight over the years, including Select Properties President and CEO Maryann Vitale Alles.
"She could have told me no or pushed me off," Bruns said. "She accepted a lunch with me and she didn't know me at the time."
That meeting eventually led to Bruns joining the company's leadership program, one of the many training opportunities available for its more than 500 employees to grow in their careers.
Alles co-founded the company in 2002 when two of the region's biggest real estate firms, Gundaker Realtors and Coldwell Banker Residential Brokerage, merged. Alles wanted to provide another option for homebuyers and sellers and build a company that could help her employees and agents advance.
The company helped Bruns obtain his real estate license when he first joined. He was promoted to his current title in 2017 and now manages the south St. Louis County office for the company.
"I learned from everyone," he said.
Angie Ignatowski was one of the co-founders with Alles in 2002. She left in 2017 but came back and now serves as Select Properties' growth and development manager where she helps employees, new and experienced, grow their careers.
"The benefit of the leadership team is that each comes with different traits," Ignatowski said. "Everyone shares their own skills."
Beyond training and support, Select Properties offers 401(k), savings plans, memberships to Life Time Fitness in Frontenac, a flexible work schedule and hybrid working environment, the latter a result from the pandemic.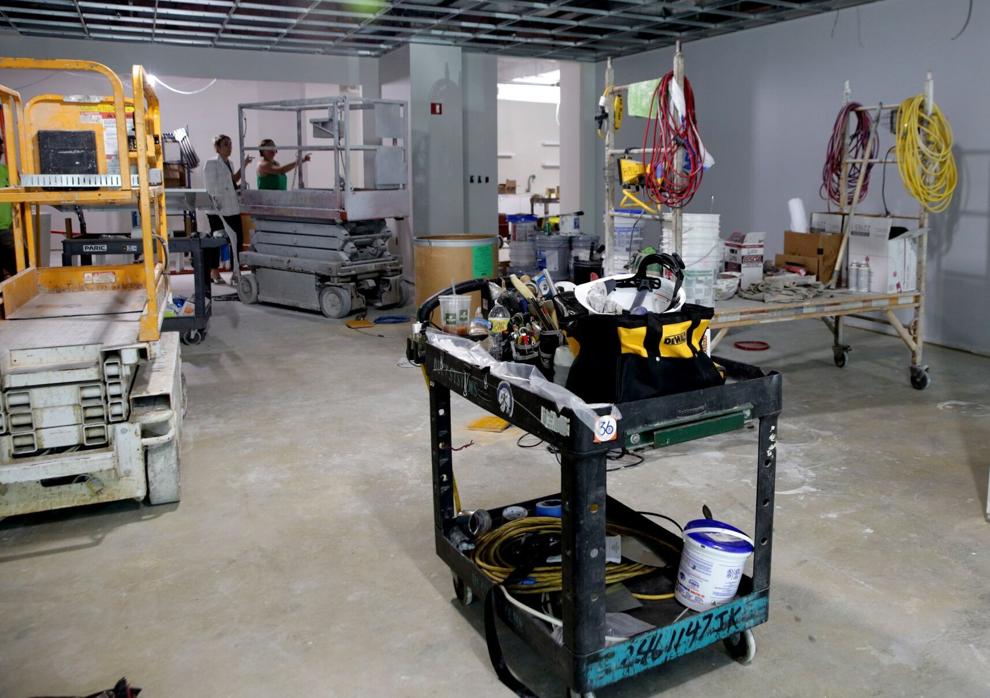 The pandemic inspired a few changes for the company's offices: Select Properties will move into a new home office and West County branch and open a new office in Benton Park in St. Louis in July. The company also recently opened its new St. Charles County office in O'Fallon, which features a lake (where Select Properties will soon hold a kids' fishing tournament) and barbecue and fire pits.
"I believe if you make it a better place for people to work, the end result is a win-win," said Alles. "If we build something cool, they'll want to come in."
Large category
| Rank | Name | Size Band | Year founded | Ownership | Primary sector | U.S. headquarters | Global employees |
| --- | --- | --- | --- | --- | --- | --- | --- |
| 1 | Berkshire Hathaway HomeServices Select Properties | Large | 2002 | Private | Real estate | St. Louis | 541 |
| 2 | Daugherty Business Solutions | Large | 1985 | Private | Management and IT consulting | St. Louis | 2,000 |
| 3 | CarShield | Large | 2005 | Private | Other | St. Peters | 978 |
| 4 | Charles Schwab | Large | 1973 | Public | Financial services | Westlake, Texas | 30,000 |
| 5 | Ameristar Casino Resort Spa St. Charles | Large | 1994 | Public | Entertainment | St. Charles | |
| 6 | St. Louis County Library | Large | 1946 | Public | Public library | St. Louis | 602 |
| 7 | Edward Jones | Large | 1922 | Private | Financial services | St. Louis | 48,803 |
| 8 | National Information Solutions Cooperative | Large | 1964 | Nonprofit | IT | Lake Saint Louis | 1,242 |
| 9 | Graybar | Large | 1869 | Private | Electrical distribution | Clayton | 8,700 |
| 10 | Cushman & Wakefield | Large | 1917 | Public | Real estate | Chicago | |
| 11 | Keeley Companies | Large | 1976 | Private | Construction | St. Louis | 1,244 |
| 12 | Abstrakt Marketing Group | Large | 2009 | Private | Advertising | St. Louis | 523 |
| 13 | Pattonville School District | Large | 1930 | Government | Education | St. Ann | 971 |
| 14 | Penn National Gaming St. Louis | Argosy, Hollywood & River City Casinos | Large | 1972 | Parent company | Entertainment | Wyomissing, Pa. | 40,000 |
| 15 | Missouri Baptist University | Large | 1964 | Private | Education | St. Louis | 869 |
| 16 | MilliporeSigma | Large | 1668 | Private | Life Sciences | St. Louis | 52,000 |
| 17 | Aldi | Large | 1976 | Private | Retail | Batavia, Ill. | 160,000 |
| 18 | /Lindbergh Schools | Large | 1949 | Government | Education | St. Louis | 1,031 |
| 19 | First Community Credit Union | Large | 1934 | Nonprofit | Financial services | Chesterfield | 583 |
| 20 | School District of Clayton | Large | 1880 | Government | Education | Clayton | 542 |
| 21 | Lou Fusz Automotive Network | Large | 1952 | Private | Auto dealership | Earth City | 920 |
| 22 | ADB Companies Inc. | Large | 1995 | Cooperative/Mutual | Utilities and telecommunications | Union | 1,380 |
| 23 | SSM Health Rehabilitation Network | Large | 1996 | Public | Health care | Mechanicsburg, Pa. | 1,539 |