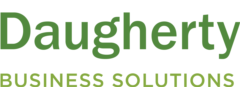 Description: Daugherty Business Solutions is a strategic management and technology consulting partner with a more than 30-year history of delivering mission critical solutions to some of the world's largest companies. Our deep industry expertise, world-class capabilities — including a talented team of over 1,000 professionals — and breakthrough methods, techniques and tools, have made us the logical choice for companies seeking innovative solutions to their business challenges. We provide management consulting, information management, software architecture and engineering, and managed services solutions. Our local delivery model and outstanding career opportunities give us the edge in the ability to attract and retain the best professionals in the consulting industry.
Sector: Management and IT consulting
Headquarters: St. Louis
Year Founded: 1985
Employees: 1,112
Local Community Support: Improving the quality of life by giving back to the communities in which we work is as important to Daugherty as delighting our customers. Our community engagement strategy centers around supporting the causes our employees care about. Our 'Engage' program helps employees showcase and marshal support from across the company for causes they are passionate about. 
Daugherty's Community Outreach looks to impact several key areas. One area is Talent Development with an emphasis on building STEAM skills for youth. In support of this area, Daugherty works directly with the leaders of world class organizations to drive impact, including: The Magic House, the Black Data Processors Association (BDPA), Women in Technology, Women in Cable Telecommunications, the CAPS program, and the "Sea Perch" Underwater Robotics program. We have partnered to bring these programs and other resources to school districts across the region including Pattonville, Parkway and Jennings. Our goal is to help organizations improve their impact and build capacity to do even more. 
Team Daugherty is very proud of the difference we are making in the St. Louis community.
Interesting Facts: • Recently supported the Girl Scouts of Eastern Missouri helping over 1,000 Daisies earn the Daugherty Cyber Security patch
• Using blockchain technology we enabled families to know which farm their turkey came from on Thanksgiving by building a Turkey Tracking Program for a giant agribusiness
• We built a data analytics roadmap for the city of St. Louis 
• We bring Startups with relevant ideas and technologies into our offices for a day of Innovation Startup Review Sessions
• We host several capability Summits each year as part of our internal Professional Development program
• We host a Teammate Innovation Day and the Daugherty Innovation Showcase is a good way for clients and employees to share creative ideas
• Daugherty Hackathons focus on addressing issues confronting our communities, our clients and our consultants in their everyday lives 
• These events pull in Agile practitioners, Data Scientists, Software Engineers, client teams, and employees from all our business units. It's been a great way for employees to network with each other, expand their own capabilities, enjoy some friendly competition and earn recognition while building solutions that solve real world problems
Purpose: To make a positive difference for our clients, our employees, and the communities in which we live.
Vision:  Continuously innovate, expand, and invest in our company's capabilities to make an even greater positive difference
Mission: To help our clients achieve their business objectives through the effective use of leading information technology
Additional Culture Details: Great Corporate Culture: We foster personal initiative, reward employee contributions, and encourage open communication. We care about our employees and our community. Our employee engagement campaigns include charitable, wellness, and social initiatives that benefit both our employees and communities.
Voice of Employees: Daugherty ensures all employees are valued by making it a priority to have every voice heard. Through continued collaboration and transparency, we ensure our employees' involvement in shaping and setting the strategy for our business and their careers. Our employees can see their personal connection with, and the meaningful work they do, and how that creates value for our clients – constantly reinforcing and acknowledging that our employees are our most important assets.
For example, Employees team with our CEO in podcasts to present topics of interest to teammates company-wide. Topics have ranged from Agile Development to Community Outreach to Training and Development. During these frequent updates, Ron and leadership share important client initiatives, recognize employees for great work, and celebrate work anniversaries. 
Facebook • Twitter • LinkedIn Website: daugherty.com