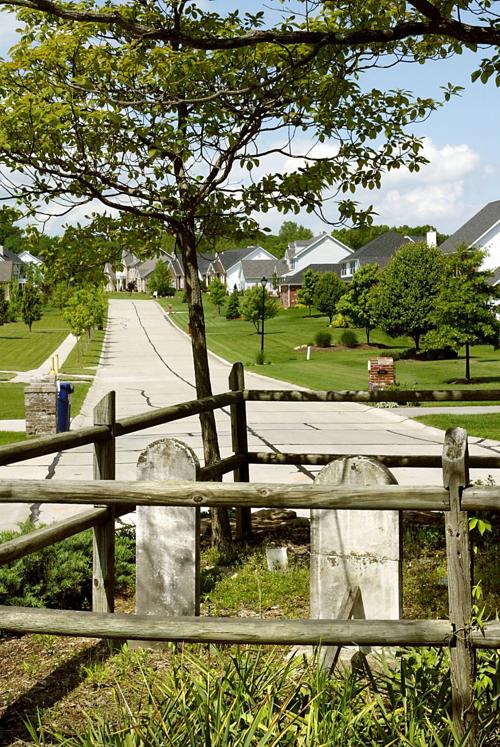 This story was published in the May 21, 2003 edition of the St. Louis Post-Dispatch.  
Among St. Charles County office developments, along highways, next to day-care centers and even in the middle of a subdivision cul-de-sac, tombstones rise from a nearly forgotten time. They were among the first settlers of the area, German and French immigrants as well as American Indians who lived here hundreds of years ago. Now, streets intersect next to their final resting spots. Houses and golf courses sprout around old cemeteries -- both marked and unmarked.
Developers are increasingly coming face-to-face with those first settlers of now fast-growing St. Charles County. If a cemetery happens to be on a just-purchased piece of property, the developer has to figure out how to deal with it.
A struggle is brewing between residents and a developer over an old family cemetery in woods near the intersection of Highway 40/61 and Highway DD. THF Realty had planned to build a Wal-Mart on the site, but the bid fell through and new plans are in limbo.
The site is still expected to be developed and at the end of March, an archeologist and workers from Baue Funeral Home dug up remains -- some bones, casket handles, even the tombstones -- and reinterred them in St. Charles Memorial Gardens.
Some neighbors and historians believe more people, including slaves, are buried there, but their grave markers have long since disappeared.
According to records and the remaining headstones, they know at least 13 members of the Baldridge family were buried at the site, the last one in 1846. But according to records of people who owned the land, they believe the Frayser and Wilson families are buried there, too, as well as the Baldridges' 10 slaves.
Robert Frayser was a circuit court judge and represented St. Charles County at the Missouri State Convention in 1861. He and other representatives debated whether Missouri should join the Union or the Confederacy.
"These are our pioneers," said Kim Reva, who lives near the site and is campaigning for its preservation.
To move the cemetery, THF Realty had to try to locate Baldridge family descendants. They published notices in a local paper, but no one came forward. In January, a St. Charles County judge gave the go-ahead to move the graves. Residents said when they learned about the plan it was too late to appeal.
The deed for the land from 1853 shows that 2 acres were to be set aside for the cemetery.
Jim Lewis, THF's project manager for the site, said a researcher spent months investigating the cemetery and poring over old records, and that they had no reason to believe more people were buried there.
"We don't like doing this," Lewis said. "If I had a choice, I would rather not buy a piece of property that had any issues or problems or impediments. We still want to preserve the integrity of the descendants, and I feel like we did that."
Ida Gerdiman, co-chairwoman of the cemetery preservation committee for the Boone-Duden Historical Society, said that even if it is too late to save the Baldridge cemetery, they haven't completely lost.
"We have learned a lot from this cemetery," she said. "We do know that we have countless other cemeteries that will be in situations like this one."
Other cemeteries, solutions
Local historians aren't sure how many small cemeteries dot the landscape in St. Charles County. Most of them are family plots marked with headstones, rough rocks or nothing at all.
The county now has about 235 cemeteries, but others have been lost through the years. Vandals have stolen headstones, or developers have built on top of them, says Lucille Wiechens, a local historian who has recorded names of those buried in all the known cemeteries in St. Charles County.
Plowing through a cemetery can lead to a fine of up to $500, and moving a cemetery is costly. Sometimes, developers learn to work around cemeteries rather than move them. State law allows a developer to build around a cemetery, and doing so sometimes results in an unusual juxtaposition of neighbors.
At least 10 members of the Kessler family lay between the ABC Daycare and the Weldon Spring Executive Park on Highway 94 at O'Fallon Road. The builder there surrounded their cemetery with a white plastic picket fence.
Fences also surround two cemeteries in two golf course developments. The Golf Club of Wentzville has a cemetery next to the clubhouse, overlooking the 18th hole. The Missouri Bluffs Golf Club has one roped-off tombstone under a tree, near a tee box. In the Camelot subdivision in Weldon Spring, where the homes start at $300,000 and the streets have names like "Gueneviere" and "Lancelot," a cemetery can be found on a cul-de-sac.
When Whittaker Homes laid out Perceval Drive, the company had to work around the Roth family, four of whom lie underneath three headstones smack in the middle of the street's cul-de-sac.
The surreal sight sometimes alarms deliverymen and dinner guests, but the cul-de-sac's residents don't seem to mind. When John and Sara Settlemeyer and their three children moved here from Indiana a few years ago, they wanted their house on a cul-de-sac and weren't concerned about the cemetery, John Settlemeyer said. And the kids think it's neat, he said.
"They don't get scared on Halloween a bit," he said.
Several members of the Gillette family are buried in the middle of a business park near the intersection of Kisker Road and Old Highway 94. Dorothy Gillette, whose husband, Leland, is in the 10th generation of the first Gillettes to settle the area, said her family had to watch the builder closely when grading first began on the business park about 12 years ago. Several cemetery trees were knocked down, and one worker drove his tractor a little too close to the headstones, she said.
Family members have since built a wooden fence around the cemetery and placed a large headstone in the center. It lists the names of each family member buried there.
"It was once on a family farm, laid out on a hillside," Gillette said. "Now, it's in the middle of a business park. But that happens, you know. I'm sure it happens everywhere."