Failure or target?
Gardner blames politics, but critics say she has so far floundered in office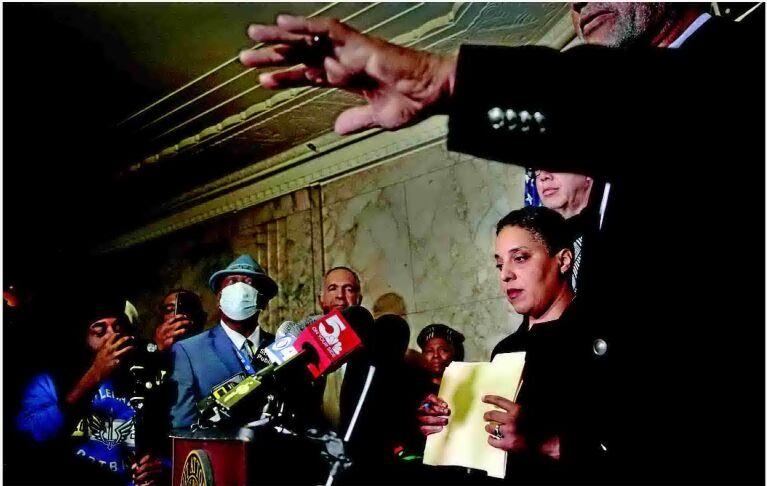 ST.LOUIS—Circuit Attorney Kimberly M. Gardner spurned calls to resign on Thursday and fired back at critics for waging what she described as a "political stunt" intended to remove her from office.
Her future now appears to hinge on a legal case that will try to portray her as a failure at her job and could take months to decide.
Gardner has faced criticism for years over dysfunction and understaffing in her office, but it reached a new peak this week over the handling of a robbery case and a downtown St. Louis crash that critically injured a teen.
Thursday brought the biggest threat to Gardner's tenure as circuit attorney: Missouri Attorney General Andrew Bailey filed a lawsuit that seeks to remove her from office, citing "negligence" and mishandling of multiple cases.
Bailey, a Republican, had issued an ultimatum for the Democrat prosecutor in St. Louis: resign by noon Thursday or face removal from office.
Noon came and went, and Gardner remained as the city's top prosecutor. Bailey filed his suit at 12:01 p.m.
"This is about the rule of law and about justice," Bailey said at a press conference in Jefferson City. "Instead of protecting victims, which is her obligation, she's creating more victims by neglect in office."
About two hours later,Gardner held her own press conference to defend her employees and push back against her detractors. The press conference was held in a packed mezzanine outside Gardner's office, with a crowd often applauding and shouting its support.
"The buck stops with my office and we did our job,"Gardner said. "Could we do more? We could. But did we do nothing? That is not true."
When a reporter asked Gardner about Mayor Tishaura O. Jones' comments that Gardner had"lost the trust of the people," the supporters jumped to her defense.
"She never lost it!" one woman shouted from the crowd.
"We'll answer the question for her: We're here to support her, and we stand behind her 100%," another man said to applause.
Gardner said she intends to push forward.
"We're going to fight very hard for justice in spite of the vitriol, the hate, the racist attacks, the known manipulation of the court procedures to make sure our office fails," she said.
Meanwhile, a spat continued between Gardner's office and the city court system over how the robbery suspect's case was handled.
Gardner blames judges The suspect, Daniel Riley, 21, was out of jail despite at least 51 bond violations for a pending 2020 robbery charge that was initially dismissed.
Gardner's office has said Riley's robbery case was initially dropped because prosecutors thought the victim died before trial, throwing a wrench into prosecution. But they were wrong about the victim. A judge's order from the day the case was dropped shows the victim was alive and present for the hearing, and that prosecutors weren't ready to proceed. The case was refiled in July 2022 and is pending.
Riley is now accused of speeding through downtown St. Louis this past weekend and causing a crash that injured a pedestrian from Tennessee, Janae Edmondson, 17. She was in town for a volleyball tournament. Her legs were amputated after the crash.
On the issue of Riley's bond, Gardner blames St. Louis judges, saying they did not accept oral requests from prosecutors to revoke the bond. But a spokesman for St.Louis courts has said prosecutors failed to inform judges of the bond violations.
Court records show no record of prosecutors filing in writing to revoke Riley's bond. But Gardner says that fails to capture the full picture of the case, claiming prosecutors made verbal requests in recent months to judges to keep Riley in jail or strengthen the terms of his bond.
"My office cannot make a judge revoke bond for a defendant," Gardner said during her press conference. "It is particularly frustrating that the willful ignorance has empowered the ongoing harassment of the hardworking men and women in my office."
Joel Currier, spokesperson for St. Louis courts, said Thursday he could not discuss the 2020 robbery case by law because it was a closed case.
Terry Niehoff, who defended Riley in the robbery case, confirmed in a blog post Thursday that Gardner's office did in fact "bring to the Court's attention Riley's numerous bond violations" and that a judge denied Gardner's request to postpone the trial last year.
Niehoff added in an interview later that the judge was right to deny Gardner's bond revocation request. Rileywas living at home and going to school and his violations were minor, Niehoff said.
"In this particular case, when people are saying her office should have filed motions to have the bond revoked—her office did bring that up to the judge," Niehoff said. "I know because I was the lawyer on the case."
Still, Niehoff called Gardner "incompetent" and said she should not have been reelected in 2020.
Attorney general's lawsuit
Broader questions about Gardner's tenure will be at the heart of the attorney general's lawsuit, which accuses her of "neglect in office" and launches an effort to remove her.
The lawsuit focuses on claims that Gardner's office failed to keep victims updated on their cases, bungled existing prosecutions and accrued a backlog of more than 3,000 cases by St. Louis police that have yet to be reviewed. It also places blame on Gardner for Riley's case.
"Daniel Riley never should have been driving that car," the suit says, calling the teen's injuries "the direct result of years of willful neglect" from Gardner.
The suit also highlights other cases, including Brandon Campbell, a murder suspect who was released after his case was dis missed in July 2021. Gardner's office had assigned the case to a prosecutor on maternity leave who failed to attend multiple court hearings. The family of the victim, Randy Moore, told the Post-Dispatch that no one from Gardner's office notified them of the dismissal or Campbell's release.
Campbell was eventually arrested again and pleaded guilty to manslaughter. He was sentenced to 15 years in prison this month.
Bailey said he would seek an expedited hearing process for his lawsuit,but the case will be heard in St. Louis courts, which will control the timeline. Similar cases in Missouri have taken months.
Bailey's lawsuit features a "quo warranto" maneuver, which has rarely been used to challenge elected officials in Missouri. The legal action centers around whether a person has forfeited the legal right to hold public office.
In 1989, a "quo warranto" case led to removal of St. Louis License Collector Billie Boykins for failing to collect $3.7million in business taxes. In 2009, the attorney general's office filed a similar action to remove Dent County prosecutor Jessica Sparks for failing to file cases during a political dispute. Sparks resigned before the case concluded.
Peter Joy, the head of Washington University's Criminal Justice Clinic, said the case against Gardner could be difficult because the attorney general alleges neglect— something harder to prove than a crime.
"Even if you demonstrate that, in fact, the person has been doing a bad job, the question is, does it rise to the level of an extraordinary intervention to remove an elected official?" he said.
Missouri Gov. Mike Parson said Thursday that if Gardner is eventually removed, he would work with St. Louis officials to find"the most qualified candidate and try to put him in that position."
"I will tell you it's not a St.Louis issue," he said. "Thousands upon thousands of Missourians go to that city every day. It affects all of us." Nassim Bencha a bane and Kurt Erickson of the Post-Dispatch contributed to this story.
Jack Suntrup • 573-556-6186 @JackSuntrup on Twitter jsuntrup@post-dispatch.com