Govt-and-politics
Cool Valley's mayor promised Bitcoin for every resident. Now he faces impeachment.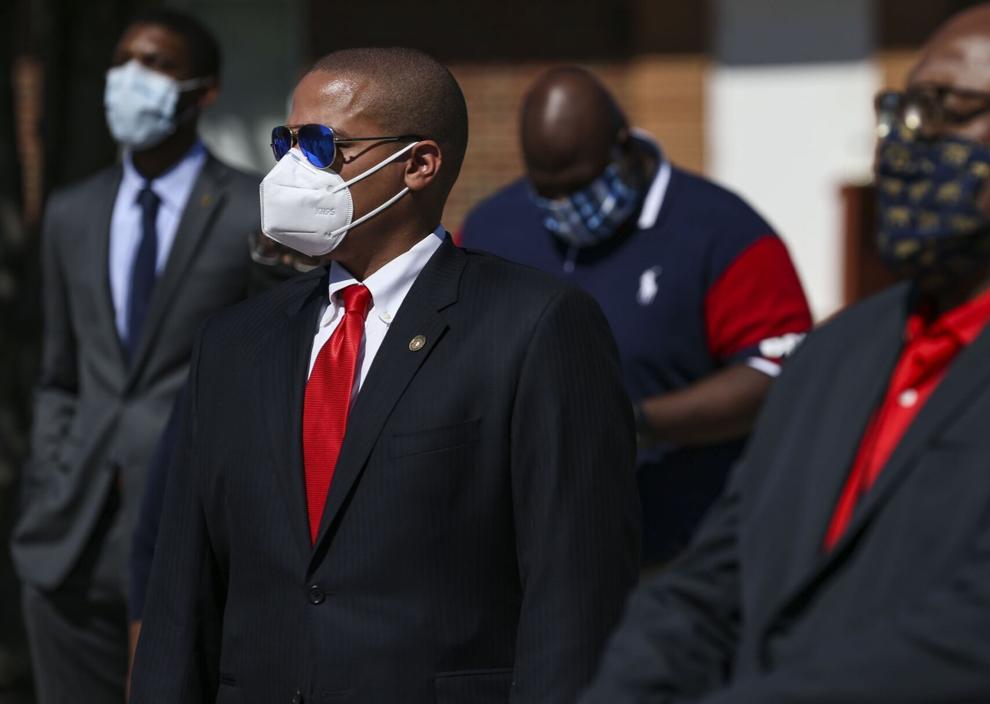 COOL VALLEY — Three years ago, Mayor Jayson Stewart made a campaign promise to give $1,000 in Bitcoin to every resident in this small North St. Louis County municipality.
Now, promise unfilled, he also faces impeachment.
• Update: Cool Valley mayor announces he's 'retiring from politics,' still gets impeached
Aldermen are trying to remove him from office, saying he misuses his city vehicle and gas card, has failed to produce a city budget or fulfill his job duties.
"Personally, I like the guy. He's just not a good leader," said Cool Valley Alderman Jermaine Matthew. "My focus and interest is to see Cool Valley residents be taken care of."
Stewart told the Post-Dispatch the hearing and investigation are a sham and an attempted power grab in this North County city of 1,000 people bordered by Berkeley, Normandy, Ferguson and a stretch of Interstate 70.
"Their political agenda is hurting the city," said Stewart. "If you want to get rid of me, beat me fair and square. Beat me in an election. Find something that I actually did that's wrong."
The impeachment hearing is scheduled for 6 p.m. Wednesday; current and former city employees are expected to testify before the Board of Aldermen, whose members both brought the impeachment charges in a 3-1 vote and who will hear the case.
The fight pits an attention-getting first-time mayor against established elected officials who contend he's not fit for the job. Stewart says he's a "workhorse" who likes to get things done in the background.
Stewart was elected in 2020 in an election that drew twice the typical voter turnout, winning 60% of the vote against former Alderman Alvin Robinson and former Mayor — now Alderman — Floyd Blackwell. If Stewart is impeached, Blackwell, the board president, will become mayor until the next election.
Stewart told the Post-Dispatch the Bitcoin project is still in progress and fully funded by a wealthy business partner who does not want to be identified. Stewart says Cool Valley residents could receive the money as soon as this quarter — if he's still mayor.
"If I'm not in office they're not going to come out and study what I'm doing," Stewart said. "They're not just studying Bitcoin, I think they're also studying me a little bit."
When asked for verification, Stewart sent the Post-Dispatch copy-and-pasted emails — without the senders' information — about a partnership with a university. When contacted by the Post-Dispatch, one of the program's directors from the University of Pennsylvania research center referenced in Stewart's email said they were not currently engaged in any project with Stewart or the city of Cool Valley.
The mayor did not respond when informed by the Post-Dispatch.
However, the city's aldermen say Bitcoin is the least of their worries.
In July the board voted to compel Stewart to return his city vehicle, a high-mileage old police car they allege he's been using for personal reasons, saying he hasn't shown what city business he's been conducting while using the vehicle.
The aldermen also voted to terminate the mayor's gas card, specifying city leaders were not to park vehicles at their homes overnight.
Stewart said he has yet to give up the vehicle because he believes it's "unconstitutional" and in violation of other city ordinances. He also says he only used the vehicle for city matters. He did not specify which ordinance.
Matthew says that Stewart has failed to make sure the city clerk fulfilled her obligation to submit an official city budget for the past two years. Typically, an annual budget is voted on following a discussion between the mayor and the board.
Stewart says the aldermen won't meet with him.
State law requires a city to submit a budget showing the city's annual plan for projected revenues and expenditures, to several state entities, including the state auditor.
Records show the state auditor's office received a financial report from the city of Cool Valley in June for the fiscal year ending in 2021. The document includes actual revenue and expenditures for the 2021 fiscal year and proposals for 2022 fiscal year. However, Matthew says the board has not been presented with a budget to discuss for the past two years.
Stewart did not provide any of the city's bank statements to the Post-Dispatch, but sent an Excel spreadsheet showing the city having a balance of more than $500,000.
Public records requests for budget documents to the Cool Valley city clerk's office remained unanswered and unacknowledged. The previous city clerk "abruptly resigned her position" in November and, according to the impeachment document, failed to share account passwords, office keys and financial records.
The aldermen contend that Stewart, designated as the chief law enforcement officer of the city, failed to make sure the clerk adhered to her duties and that the city is in compliance with state law.
Stewart grew up in North St. Louis County, attending John Burroughs School, and later graduating from the University of Miami. He told the Post-Dispatch he worked for a Grammy award-winning music production company, for a crypto-based software company in California and helped start a company based in Cool Valley he says helps clean up the oceans. Stewart said the company made millions.
The company, PL28, dissolved in 2021 and state records show at the time the company filed its LLC paperwork in 2017, it was worth less than $30,000.
Now, Stewart says he is 100% dedicated to being a full-time mayor. Although he admits his critics are right in that he could be more visible in the community. But he maintains he's a good mayor. He said all of the city's bank accounts are in good standing.
"We need to take care of a lot of things, our streets, our safety, our neighborhood, but you can't take care of any business if you don't know where your money's at," said Cool Valley Alderwoman Earline Jones Collins. "I'll be so glad when we can move ahead from all of this drama."
---
A selection of photos from 2022 by Laurie Skrivan, who has covered St. Louis from nearly every angle as a Post-Dispatch staff photographer sin…
Taylor Tiamoyo Harris • 314-340-8319
@ladytiamoyo on Twitter