The 40 mummies were supposed to arrive at the St. Louis Science Center last spring, but with the pandemic, it made more sense to have them wait.
The mummified baby crocodile, German nobleman wearing tall leather boots and Hungarian family still have stories to tell.
"Mummies of the World: The Exhibition," opens Feb. 6 and runs through Sept. 6. By opening in February, it will be on view longer than a typical traveling exhibition, providing more time for visitors to see it in a reduced-capacity setting.
"If you're the type of person who only comes to the science center once a year, this would be the reason to come," says Neville Crenshaw, manager of special exhibitions. "If you come multiple times, definitely set aside a day for it. It's an incredible exhibition that will really tell you a lot about mummies, and a lot of these cultures who either accidentally or purposely participate in mummification."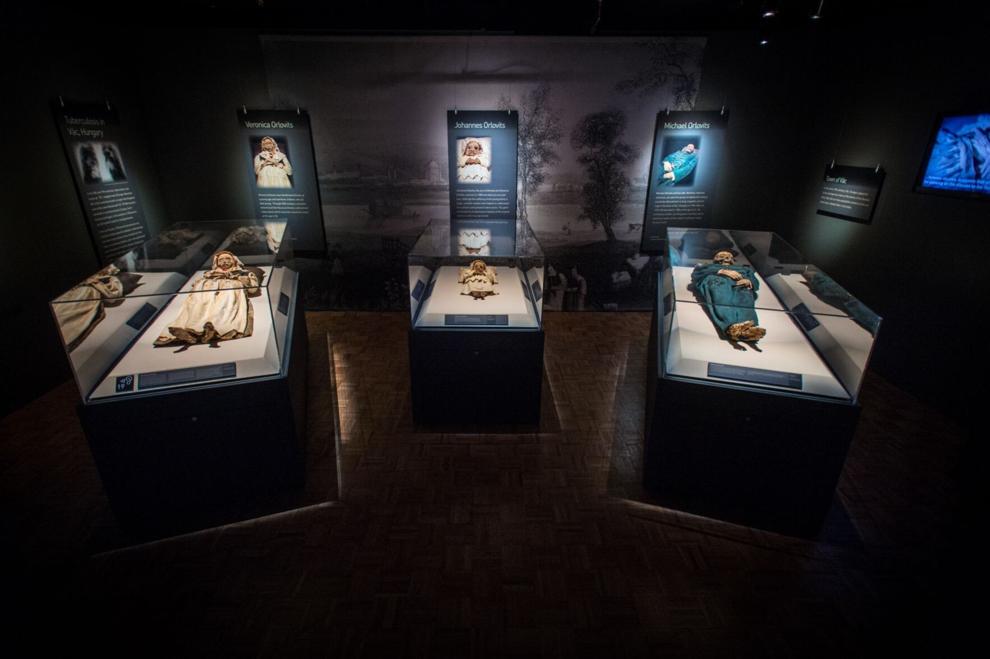 The exhibition also includes 85 artifacts and multimedia stations (no touch-screen interactives, though) to lead visitors on a 4,500-year journey to learn the mummies' stories.
"Mummies of the World" has been seen by more than 2 million people around the world. The mummies and other items are on loan from 12 museums and institutions in five countries.
Among the other mummies guests will see:
• The Vac Mummies, a mummified family from Hungary who were believed to have died from tuberculosis.
• An Egyptian priest named Nes-Hor, who suffered from arthritis and a broken left hip.
• The Burns Collection, a group of medical mummies that were used to teach anatomy in the early 1800s.
• MUMAB, the first modern-day replication of Egyptian mummification done on a body in 2,800 years.
The menagerie of mummified animals from Egypt, which were to accompany royals in the afterlife, includes a cat, a falcon, a snow rabbit, a lizard, a weasel, a dog and a fish.
The exhibition also describes the mummification process and the techniques used to study mummies, including computed technology, DNA analysis and radiocarbon dating.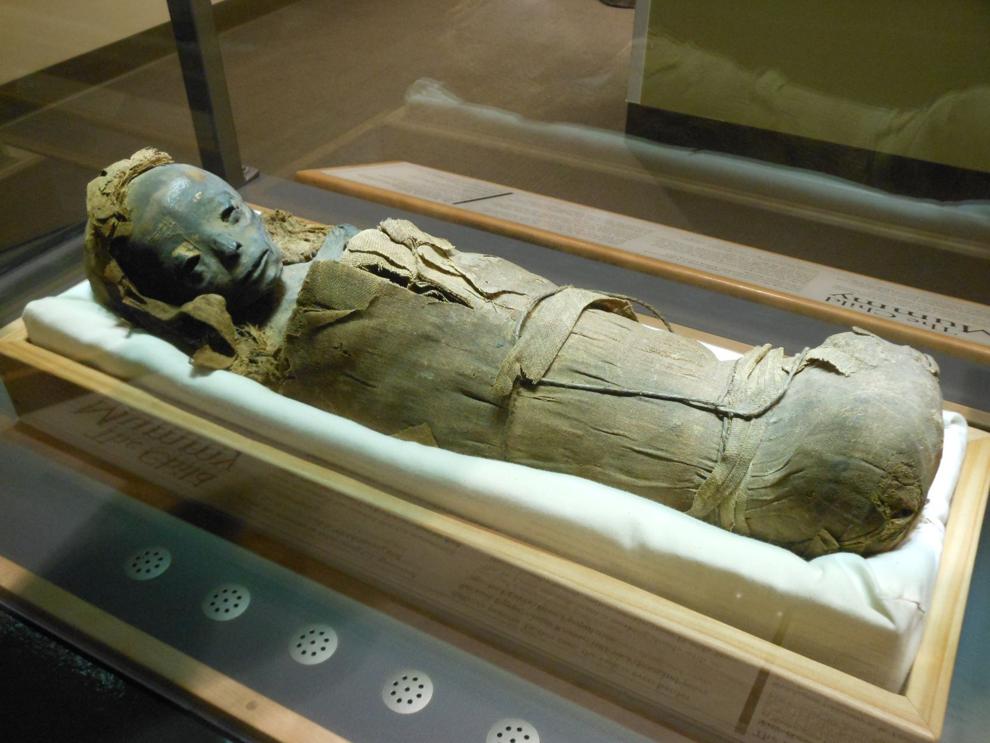 At the entrance of the exhibition, visitors will see a mummified baby boy. The mummy once belonged to a dentist in Hermann, Missouri, but has been in the science center's collection since 1985. It was donated by a family whose ancestor acquired it on a trip to the Middle East, a common practice at the turn of the 20th century. The Egyptian baby died around 7 or 8 months of age, between 40 B.C. and 138 A.D.
The mummy was last on display in 2018 and is a visitor favorite, says Kristina Hampton, the museum's manager of collections.
"He's been taking a nap in collections for a while," she says.
The child exhibit will include newer CT scans done with the help of Washington University School of Medicine. More amulets were revealed inside the child's wrappings that had not been visible in previous scans, in particular a heart scarab in the chest cavity.
"That was super exciting," Hampton says. A video of the mummy shows the new scans.
Crenshaw says the main exhibition will educate visitors about things that people might not think of as mummification, including shrunken heads from South America and mummies found in the dry conditions of a crypt, such as the Vac mummies from Hungary. The three Vac mummies on display — a mother, father and 1-year-old boy — still wear ornate clothing and were found with more than 260 other intact mummies.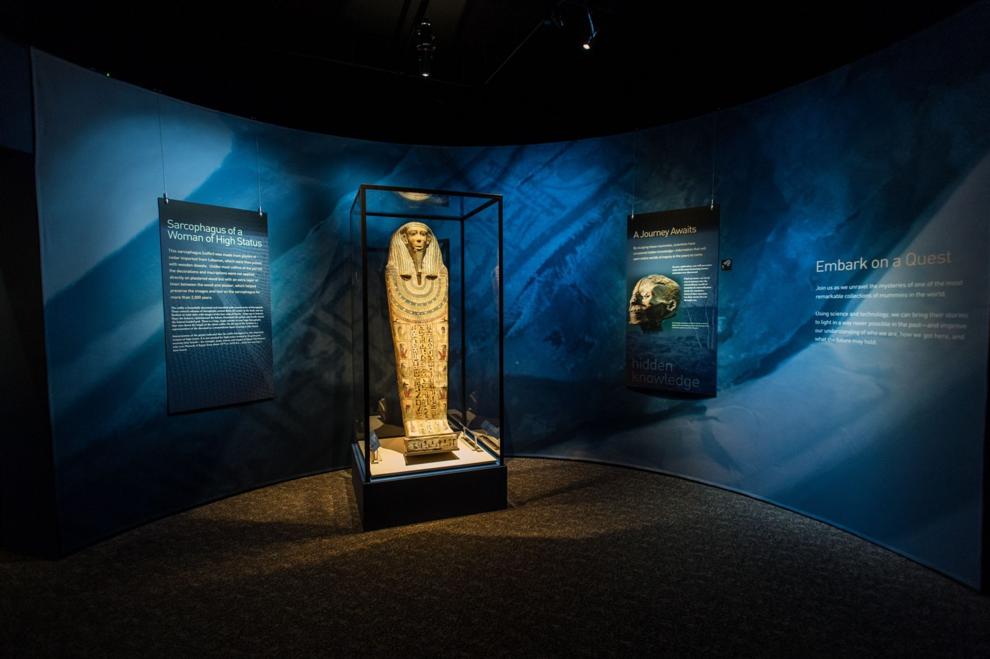 Crenshaw, who saw the exhibition in Pittsburgh early last year, says one of the most interesting galleries contains the Burns medical mummies from the early 1800s — more body parts than intact bodies.
"They have these interesting, almost slightly terrifying mummies in here that look like nothing else you've ever seen," he says. "It's almost a historical, graphic approach to how they studied in those days."
The mummies are displayed respectfully, and the St. Louis Science Center encourages parents to talk to their children to decide whether it's appropriate to see the exhibition.
"It's a little dark, but it's reverent, and I think it's something important to remember, that these are real people that we're seeing here," Crenshaw says. "We're explaining things about people and processes and cultures that are very important — and a lot of the cultural minutiae about processes of mummification. I think we can see a lot of ourselves in it."
What "Mummies of the World: The Exhibition" • When Feb. 6-Sept. 6; hours are 9:30 a.m.-4:30 p.m. Monday and Thursday-Saturday; 11 a.m.-4:30 p.m. Sunday (closed Tuesday-Wednesday) • Where St. Louis Science Center, 5050 Oakland Avenue • How much $14.95-$19.95; reservations suggested but not required • More info 314-289-4424; slsc.org