Airport, post office, Ty-D-Bol factory: You never know where you'll find art
If we said you were looking for art in all the wrong places, we'd be implying there's something wrong with museums.
But when it comes to art, you can find it in unlikely — or even hidden — places. The back halls of the airport. On a restaurant ceiling. On the walls of a factory that makes toilet bowl cleaner.
Art for art's sake can mean it doesn't need a museum wall or pedestal to shine. Take an artistic journey with us and learn about art in some unlikely St. Louis places.
By Go! Magazine staff
Cafe Piazza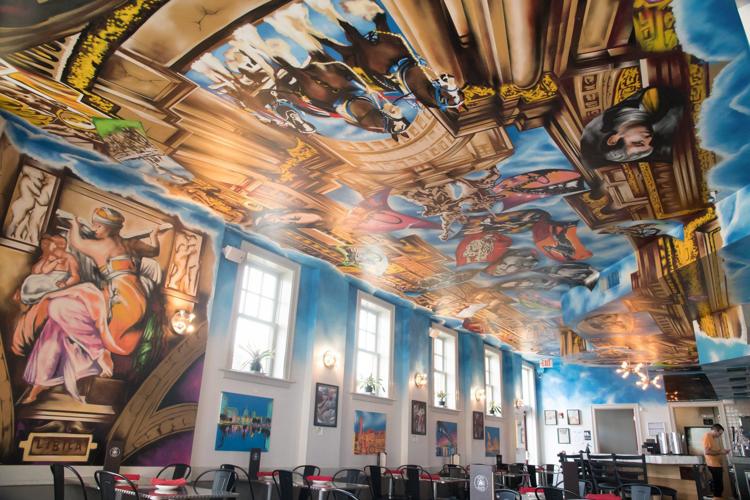 There is nothing hidden about the art at Cafe Piazza — that is, once you are inside this Benton Park restaurant. The spray-painted mural of St. Louis history by Paco Rosic stretches over the walls and ceiling, a street-art Sistine Chapel. The effect is hyperreal. You might not think those Budweiser Clydesdales are going to gallop off the ceiling, but they just might show up later in your dreams. So the trick is knowing to visit Cafe Piazza in the first place, no small matter in a town rife with pizzerias and opinions about the same. So know that, even without Rosic's spray-paint art, Cafe Piazza would be a charming neighborhood restaurant, with fine thin and thicker, Sicilian-style pizzas. By Ian Froeb
Where 1900 Arsenal Street • More info 314-343-0294; cafepiazza.com
St. Louis Lambert International Airport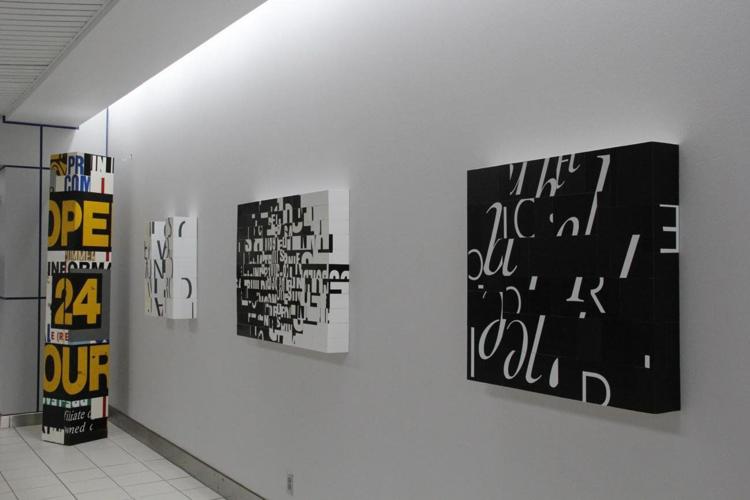 You probably rush through Lambert, hurrying to catch a flight or exhausted and eager to get home. But next time you're there, stop and take in the art. It's almost a museum itself. For a more unlikely find, head to Terminal 2 in an area between gates E33 and E34 to see "Wayfinding" by St. Louis artist Cheryl Wassenaar.
Wassenaar, an associate professor of art in the Sam Fox School of Design & Visual Arts at Washington University, combines fragments of signage from former local businesses and repurposes them in works that seem to have a meaning all their own. The seven pieces just went up two weeks ago and are on display through March 20, 2020.
Go to artoftravelstl.com to learn what else is on display at the airport. By Amy Bertrand
Where 10701 Lambert International Boulevard • More info 314-890-1333; artoftravelstl.com
Subterranean Books
Locally owned restaurants and stores can also be good places to happen upon local artists' works. At Subterranean Books, there are books, of course, but for the past few weeks there have also been photographs.
The University City store always has a rotating art exhibition on its walls, says owner Kelly von Plonski. It's unusual that the current photographs are by an employee, Gena Brady.
Brady says on the store's website that her photography has been a way for her to "explore, connect and understand communities and the world."
She also likes to collaborate with artists who "practice poetry, music and other forms of visual art, and (she looks) forward to more of these projects."
She's certainly in a good place for it. By Jane Henderson
Where 6275 Delmar Boulevard • More info 314-862-6100; store.subbooks.com
Ellen S. Clark Hope Plaza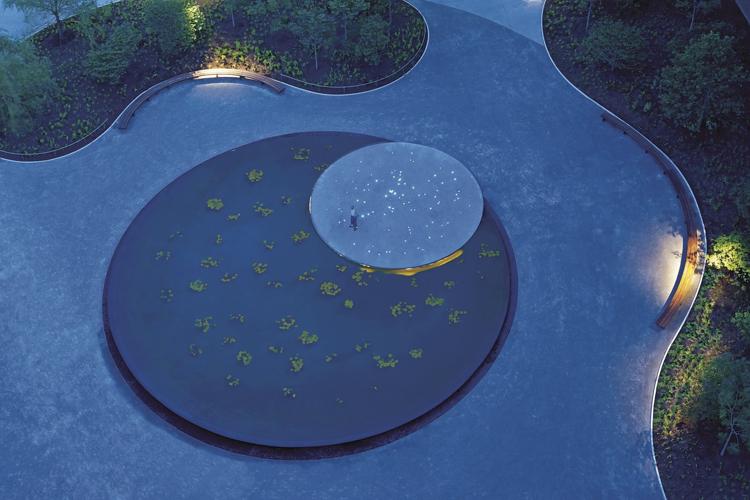 The Ellen S. Clark Hope Plaza is a relaxing place to enjoy lunch, bask in the sun, take a little breather. But unless you work at the Washington University medical campus or regularly get off the Metro at the Central West End stop, you might not know it exists.
The stark, moon-shaped basin was designed by artist Maya Lin, best known for designing the Vietnam Veterans Memorial in Washington, D.C. She came to St. Louis in 2010 for the plaza's dedication. The words of the Emily Dickinson poem "Hope Is the Thing With Feathers" circle the rim, meant to give inspiration to people there for medical reasons.
The plaza is named for Ellen S. Clark, who died at age 50, just a few months before the dedication, of a rare disease that affects blood vessels in the brain.
In the spring and summer, the plaza comes alive with 40,000 or so native trees, plants and grasses. On Thursdays, employees and pedestrians shop at a market set up just off the plaza. At night, the 80-foot basin glows with fiber optic lights, arranged in a star pattern of the day Clark was born. By Valerie Schremp Hahn
Where Washington University School of Medicine • More info hopeplaza.wustl.edu
Willert Home Products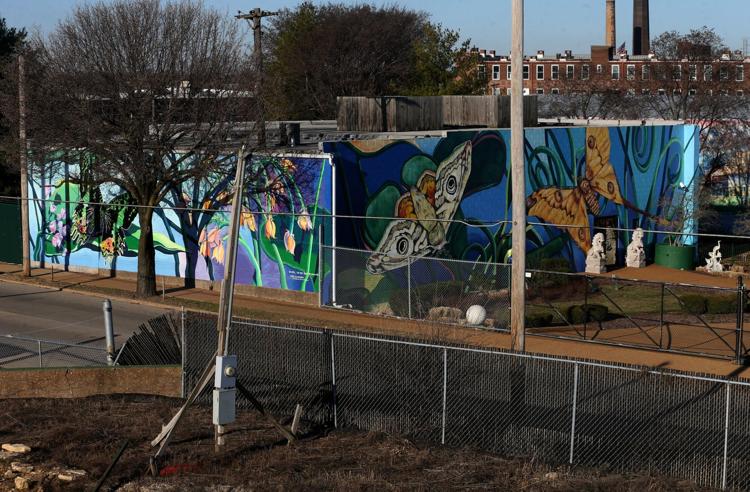 Willert Home Products in St. Louis' Botanical Heights neighborhood makes Ty-D-Bol toilet bowl cleaner, moth balls and a number of other household products. So it's an unlikely home for a series of murals that decorate the building's facade, outside walls and inside the building.
In 1996, when the neighborhood was considered blighted, company president William Willert spotted a downtown mural of a butterfly emerging from a cocoon and decided he wanted to beautify his own building. So he reached out to Sarah Linquist and Robert Fishbone, the husband-and-wife artists behind the butterfly mural, to see what they could do.
The vibrant, colorful paintings of flowers and animals, easily seen by driving along 39th Street, are inspired by Willert's childhood travels in the Caribbean and his time spent serving in Vietnam. Moths hide among the foliage, a tribute to the company's first product, a moth repellent.
Linquist died in 2010, and Fishbone and their daughter, Liza, and other artists have been restoring the faded murals. The property also contains a military tribute park, a driving range, stone sculptures of animals, and benches and tables where workers can enjoy breaks and meals.
The company is active with neighborhood associations and serves as a hub and distribution point for Toys for Tots, says Shelley Cade, Willert's vice president of marketing. The company wants to be a good neighbor.
"In all of these years of this artwork being out there, we've never, ever been vandalized. Ever," she says. By Valerie Schremp Hahn
Where 4044 Park Avenue • More info 314-772-2822; willert.com
Chesterfield City Hall
Every three months, new art exhibitions provide visitors to Chesterfield City Hall something to think about besides taxes.
In April, work by three artists replaces the current work by Laura Lloyd. "All feature bright colors, which I was looking for for spring," says Dana Degnan, arts and entertainment specialist for the city.
She usually seeks two two-dimensional artists (paintings, etc.) and one 3D (sculptures and the like). Next month the city features Gabriela Toujàs, Jessie Cargas and Justin King.
Chesterfield wants to give the artists plenty of exposure, Degnan says. "When you walk in, you see art right away."
Sometimes, a visitor will contact the artist and become a buyer. The city accepts applications from interested artists on its website. It also participates in the Creative Communities Alliance, which provides art on loan. Chesterfield has borrowed sculptures in several parks, including 11 in its Central Park. The artist usually receives $500 a year for the work.
Every year, the alliance holds a "draft," and participating communities pick their favorite sculpture when their name is pulled. Fourteen Missouri communities are listed as members. By Jane Henderson
Where 690 Chesterfield Parkway, Chesterfield • More info 636-537-4000; chesterfield.mo.us
St. Louis Children's Hospital
If you are walking along Kingshighway and look up into the second-floor windows of St. Louis Children's Hospital, a shock of color in the form of a butterfly sculpture is sure to grab your attention. Its shapes and colors are signature Charles Houska, the popular St. Louis pop artist. You can see "Doodle Wings" up close; it's on the second-floor lobby area of the hospital.
Houska says that a few years ago area artists were asked by the charitable organization Wings in the City to paint a supplied fiberglass butterfly sculpture in their own artistic style. After they were painted, the organization auctioned them off as a fundraiser.
The anonymous bidder who won Houska's piece donated it to Children's Hospital.
"Sculptures by Charles Houska are a great addition to the hospital environment because his work relates to both kids and adults through his bold shapes and attention to detail," says Laura Haller, senior design manager with BJC HealthCare Planning & Design.
Other pieces of his work can be found at the main hospital entrance and the Emergency Department parking lot. By Amy Bertrand
Where 1 Children's Place • More info stlouischildrens.org
Main post office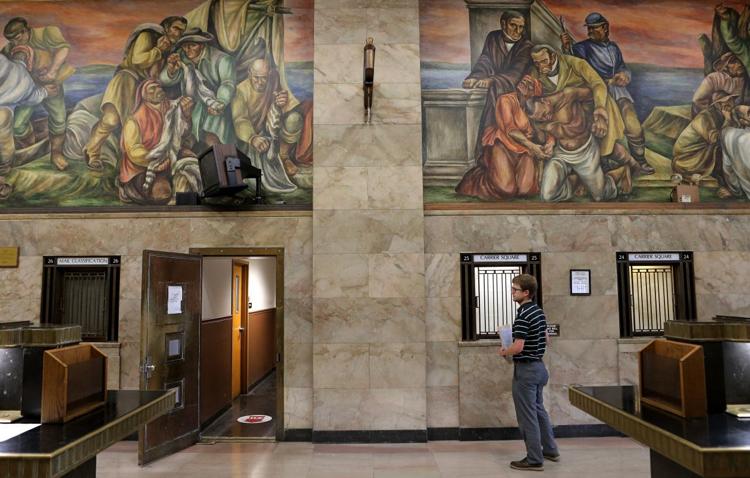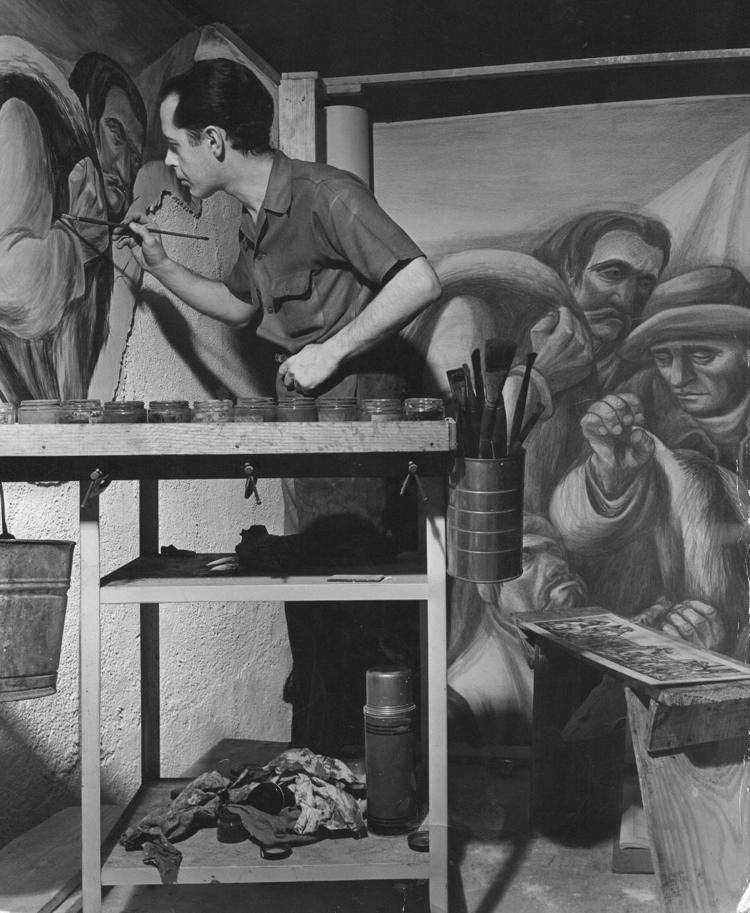 Next time you need to buy stamps or ship a package, spend a little time enjoying the beauty of downtown's main post office. The imposing classical structure has a striking exterior — gray Missouri limestone, embellished bronze doors, fluted columns and "stone carvings depicting postal services in heroic fashion," the Post-Dispatch wrote when the building opened in 1937.
Inside, things are more colorful. In the ornate marble lobby, above service windows that are no longer used, there's a series of nine murals, each measuring 29 feet by 9 feet. Additional murals brighten up vestibules at each end of the long lobby.
Chicago muralists Edward Millman and Mitchell Siporin won a national competition in 1939 to tell the story of early St. Louis in fresco, a technique using watercolors on moist plaster. They were paid $29,000, the most for a federal mural project at the time. The artists worked — with Millman's wife, Norma, and plasterer Peter Heskes — from fall 1941 to June 1942.
"The story sweeps across the first century of St. Louis and Missouri in images that tell of colonial origins, bounding expansion, violent conflict and the art distilled from it all," the Post-Dispatch's Tim O'Neil wrote in 2013. "Their figures, with the oversize muscular features of Depression-era painting, include famous men, slaves, Native Americans, women and children." By Gabe Hartwig
Where 1720 Market Street • More info 1-800-275-8777; usps.com
Iñigo Manglano-Ovalle's Weather Field No. 2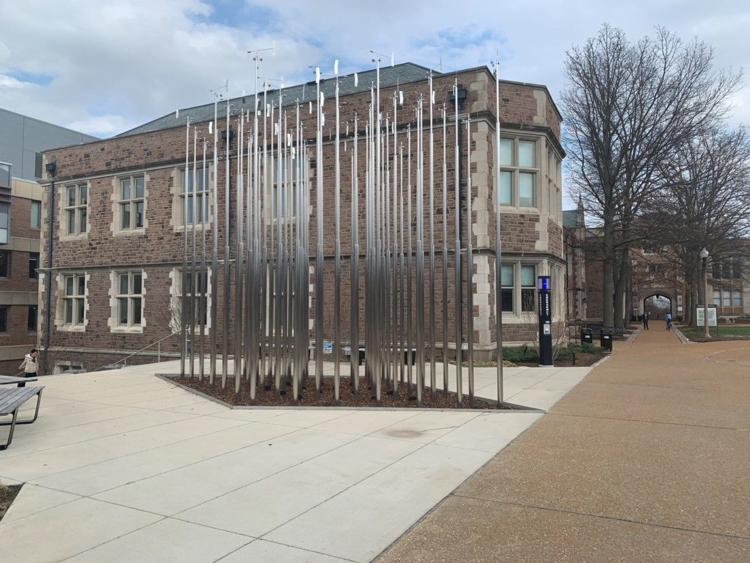 Make your way to Washington University to take in the hustle and bustle of a college campus, and stop to take in a variety of sculpture installations supported by the Art on Campus program, which started in 2010.
"Weather Field No. 2," a piece that was added as part of the program, is made up of 49 poles, each with an anemometer and weather vane. Both functional and beautiful, the installation stands out as an artistic marvel. By Elena Quinones
Traffic balls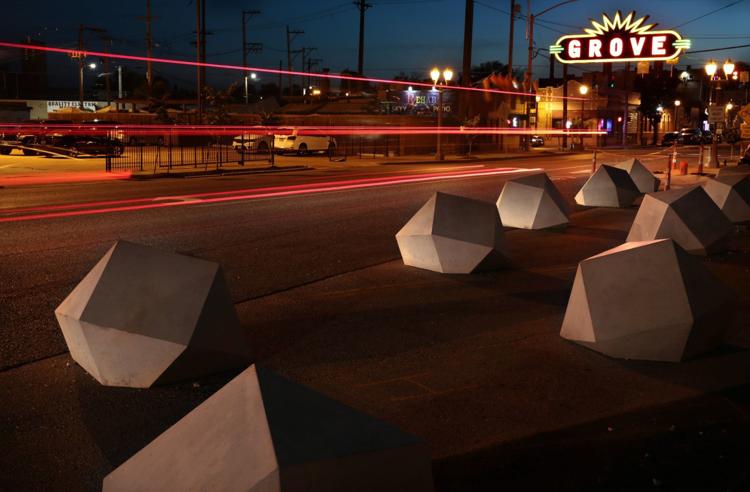 Annoyance or art?
By now you have heard of the concrete balls intended to slow down traffic along Compton Avenue in south St. Louis. Far from having the desired calming effect, the balls have angered drivers who fear getting their vehicles scuffed up, especially during rush hour.
Yet there's something oddly charming about these spheres in the street. A case could be made that they have a certain kinship with the oversized shuttlecocks on the grounds of the Nelson-Atkins Museum of Art in Kansas City. That their very incongruity and unexpectedness make them kind of cool.
Does that make them art? If Andy Warhol could secure that status for Campbell's Soup cans, why not? By Calvin Wilson
'Building Blocks of Life'
Sculpture in the City puts art installations across Belleville at spots like city hall, schools, parks and more. The program started in 2007, and since then, more than 50 sculptures have been placed across Belleville, integrating art into the cityscape.
One such piece, "Building Blocks of Life" by Guilloume, is on display at city hall. The sculpture is small-scale and abstract, with unusual spaces stacked on top of one another. By Elena Quinones
More info artonthesquare.com/sculpture-in-the-city
Turn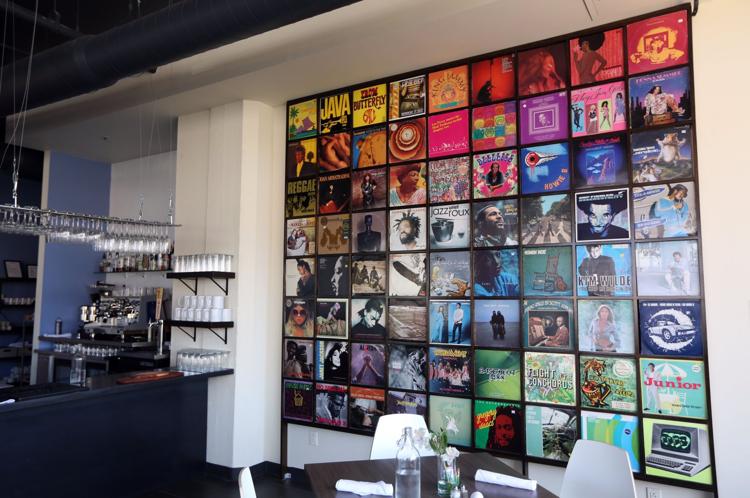 When chef David Kirkland opened Turn in 2017 in the .ZACK building in Grand Center, he had to find a way of camouflaging an "ugly old garage door" that occupied most of one wall. His remedy: He covered it with colorful album covers.
The wall holds 72 covers, and the albums change monthly. Kirkland chose the current selection — Prince, Soul II Soul, Solange, Amp Fiddler, Bee Gees, Marvin Gaye, the Family, Common, Talib Kweli, Club Nouveau, SZA, Smino, Basement Jaxx, Kevin Aviance and more — from the former DJ's personal collection. The corresponding vinyl, which patrons can play, is in a rack nearby.
"It's a good talking point for parents and their kids," Kirkland says. "Some people have created Spotify lists from this wall. People do so much with it, and that makes me happy."
Next month, the wall will be turned over to DJ Agile One, who fronts the new Soulful Turn event at 5 p.m. April 5 at Turn. By Kevin C. Johnson
Where 3224 Locust Street • More info 314-240-5157; davidkirklandcatering.com/turn