Nick Offerman — the humorist, actor, writer and woodworker — does not want to build a chair onstage.
He says fans suggest that to him all the time. In an episode of "Parks and Recreation," his character, Ron Swanson, is honored for his chair-making achievements. "That information is presented to you in two or three minutes," Offerman says. "I have to keep you engaged."
The slow-talking, thoughtful Offerman, 49, instead will present "All Rise," a 90-minute show that includes comedy, music and soft-shoe dance. He wants to make his audience laugh, think and engage in the world when they leave.
Offerman and his wife, Megan Mullally ("Will & Grace") visited St. Louis in 2015 for a quirky touring show about their marriage. He spoke about "All Rise," and his other projects, from his home city, Los Angeles.
Q • You grew up in Minooka, Ill., outside Chicago, and attended the University of Illinois-Champaign. Did you have any connection to St. Louis when you were younger?
A • My most prominent memory is when I decided to pack all my belongings into a crappy little Subaru wagon and drive to Los Angeles from Chicago. I'm sort of a clumsy romantic; I decided to make this move on Christmas Eve. I mean, what a jerk — I left my mother crying in the driveway. She said, "Please don't change your name when you get to Hollywood."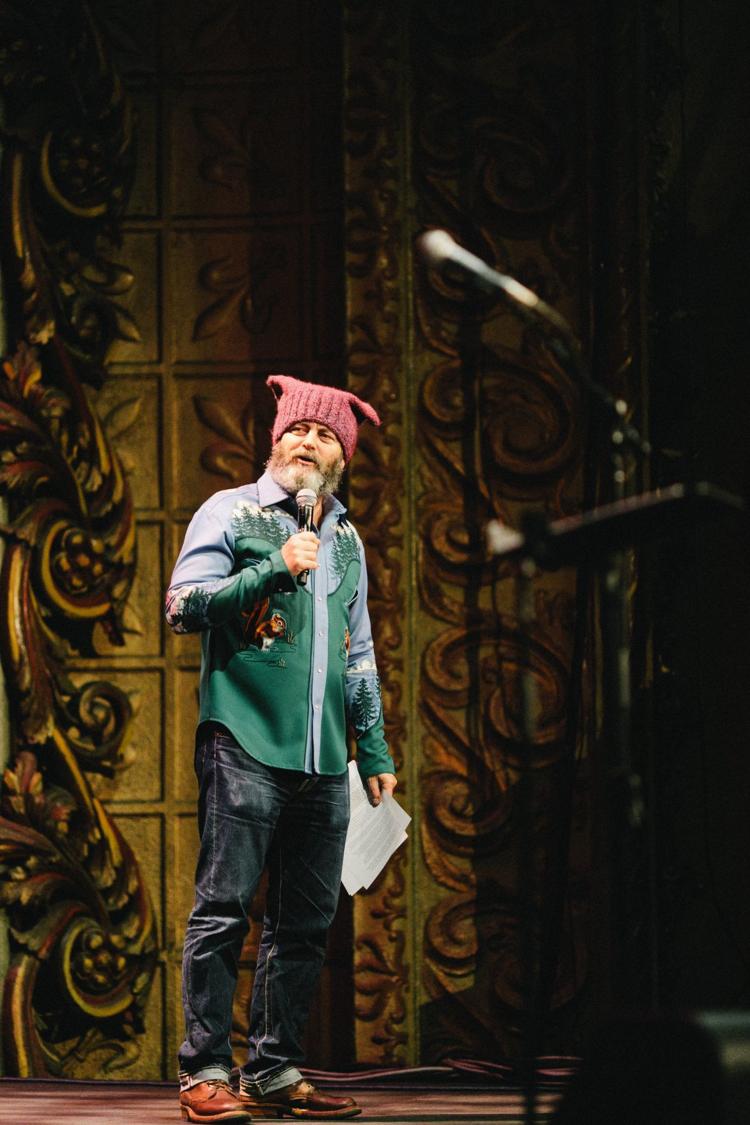 I was approaching the Mississippi River in my crappy wagon, and the electrical system shorted out. People don't generally send you to East St. Louis to have any services performed. Somehow I found a garage attached to a gas station, where a guy at 11 p.m. on Christmas Eve fixed my electrical system and sent me on my way. It's a great lesson that there are good people everywhere.
Other than that, we visited St. Louis as a kid. My parents were great at throwing all of us in the back of a Suburban and driving wherever. I've been up in the Arch and felt the terrifying sway of the architecture in the breeze.
Q • What kind of evening should people expect with your show? It's not traditional stand-up comedy.
A • I really sit down and work hard on my writing. This particular piece is my favorite so far, based on all the rancor thrown around in the country these days. I thought the easier thing would be to stand on the stage and read a newspaper — every day there's a story to be made fun of. I start off my show saying that's the lowest-hanging fruit. We know all of that already. Instead, I take a step back as best I can to make fun of all of us.
Q • Tell me about "Making It," the craft-making reality show you co-host with Amy Poehler. It's returning in December for a second season. Were you surprised it did so well?
A • Anything I do, whether it's an independent film or network series or anything across the board, I do my best to work with people I think have their hearts in the right place. And it's a pleasant surprise when something does well. I'm glad that it's on a show that is so positive, and I think that goes hand in hand with everything I'm trying to put across in my content.
One way or another, I'm encouraging people to be self-sufficient, rely on their own creativity and band together in their community to make objects out of raw materials and to bolster relationships.
Q • I think there's a lot of people who think if they try to make something, they'll stink at it. Any sort of pep talk you want to offer?
A • People will say all the time, "Oh, I tried weaving a basket once, and it was terrible." But you absolutely should make mistakes. Michael Jordan didn't put on his first pair of shoes and dunk a basketball. You only become a master of any craft or skill by screwing up many times. Even now, when I make a beautiful dining table in my woodshop, part of the process is that I buy cheap, crappy wood to try out measurements and my joinery. I assume I am going to screw up.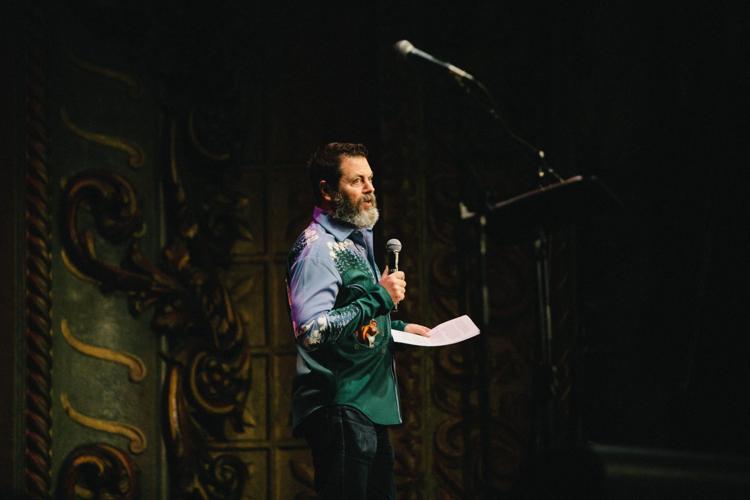 Q • When you go on tour, do you try to meet with people? You recently met up with a shepherd friend in England.
A • I'm a curious person who is constantly generating content. I'm working on my next book that has to do with a relationship with nature. I found him on Twitter of all places. He wrote a great book called "The Shepherd's Life." His name is James Tebanks. I read his book, and we became friends. When I was in Australia, I met with a wonderful chairmaker named Bern Chandley. I went to his shop; he went to my show. This weird embroidery that my life has become with woodworking, crafting and public speaking, and it's all part of my trip. When a couple of years have gone by, I can say, "Oh, I can take all these ingredients and mix them into a stand-up show and a book or a Windsor chair."
Q • Anything else you want to add about touring and the show?
A • The incredibly universal humanity is not limited to our country. I traveled to Australia, New Zealand, the British Isles, and in the English-speaking parts they have thankfully consumed "Parks and Recreation." I could feel all of us yearning together to keep moving forward — to keep getting better as a species. I'm just grateful if I can help that effort rather than hinder it and making us laugh while we do it.
What Nick Offerman • When 7:30 p.m. Thursday • Where Stifel Theatre, 1400 Market Street • How much $36.50-$56.50 • More info ticketmaster.com