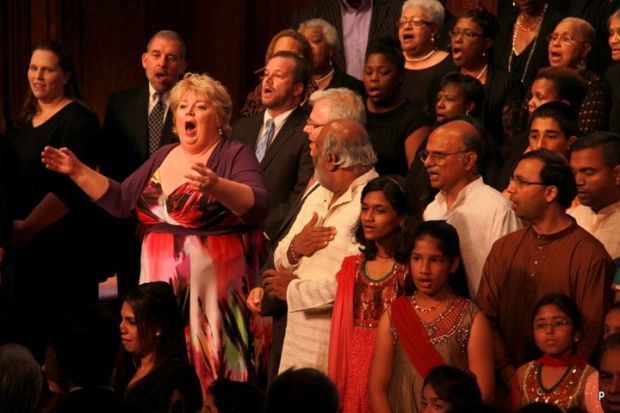 In 2011, on the 10th anniversary of 9/11, Arts & Faith St. Louis held an interfaith concert at the Sheldon Concert Hall to commemorate that watershed event in the life of the nation.
Originally planned as a stand-alone event, it turned into an annual occasion, with choirs and soloists from many different traditions and backgrounds. Soprano Christine Brewer arranges her schedule every year so that she can be a part of it, and it always ends with all the participants onstage singing "God Bless America."
Plans were already set for the fourth edition when the Michael Brown shooting took place, but those plans were quickly adjusted in light of the events of Ferguson. Nothing was subtracted; some meaningful things were added.
"It has remained an opportunity for reflection," said Batya Abramson-Goldstein of the Jewish Community Relations Council of St. Louis. "It's a range of diversity coming together, sharing this powerful experience, sharing the language of music. You feel it in the audience; you also see it on the stage."
This year, the planned focus was on the 250th anniversary of the founding of St. Louis and on immigrants and their contributions. The concert committee worked with the Mosaic Project and the International Institute. "A busload of new Americans will come from the International Institute to be at the concert," Abramson-Goldstein said.
"And then Ferguson" happened, she added. "Of course, the concert must respond to Ferguson, and, once again, through music." Noted jazz vocalist Denise Thimes will sing Paul Simon's "Bridge Over Troubled Waters," and the Normandy High School Choir will perform. The closing benediction will be given by the Rev. C. Jessel Strong, president St. Louis Metropolitan Clergy Coalition. "It will be, I believe, a very clear response, and that's the way it should be."
The musical performances will come from many different religious and ethnic groups. Scheduled will be a gospel choir and Greek Orthodox singers, a Bosnian Islamic choir and a Hindu ensemble. Other participants include Rabbi Amy Feder of Temple Israel, a Baha'i ensemble and singers and drummers from the Osage Nation.
Brewer and members of the St. Louis Symphony Orchestra will perform the premiere of a new work by jazz pianist-composer Peter Martin, commissioned for this concert. "Face to Face" takes its text from Rabindranath Tagore's "Gitanjali," and the text reflects the spirit of the occasion.
---
When • 5:30 p.m. Sept. 7 (Tickets will be available beginning at 4:30 p.m. that day, on a first-come, first-serve basis; audience members are asked to be in their seats by 5:15 p.m.)
Where • Sheldon Concert Hall, 3648 Washington Boulevard