St. Louis was named for a French king. Do you remember his history? Do you even remember the Roman numerals behind his name?
About three years ago, the city removed a Confederate statue in Forest Park. A statue of Christopher Columbus came down from its Tower Grove Park pedestal not quite two weeks ago. 
Now, some are calling to take down St. Louis' namesake, a French king and fervent Christian who lived in the Middle Ages and whose statue greeted visitors to the World's Fair in 1904. A bronze copy overlooks one of the city's greatest vistas, Art Hill in Forest Park. 
"I do believe he's going to go," says Umar Lee, a writer and podcaster who lives in north St. Louis. "That, to me, is a slam dunk."
Called "Apotheosis of St. Louis," the former symbol of the city is one of several statues, street names and other commemorations under scrutiny as the nation reassesses monuments to men (and it's almost always men) whose historic actions now repulse many Americans.
Increasing numbers of polled U.S. residents believe in removing from public places the Confederate statues of people who fought for slavery. After all, they were not only traitors to the United States, the arguments go, they supported an egregious, racist system that was abolished more than 150 years ago. 
But in California, a statue of Ulysses S. Grant, the guy who defeated the Confederates and cracked down on the KKK, was also removed. He had owned one slave and once launched an illegal war against Lakota tribes. A problematic statue of Theodore Roosevelt will be removed in New York, and other presidents who owned slaves, including founders Thomas Jefferson and George Washington, are under scrutiny. 
On Monday, protesters were stopped from taking down a statue of President Andrew Jackson in a park next to the White House. On Wednesday, the Washington Post reported that U.S. marshals had been told they should prepare to help protect federal monuments across the country.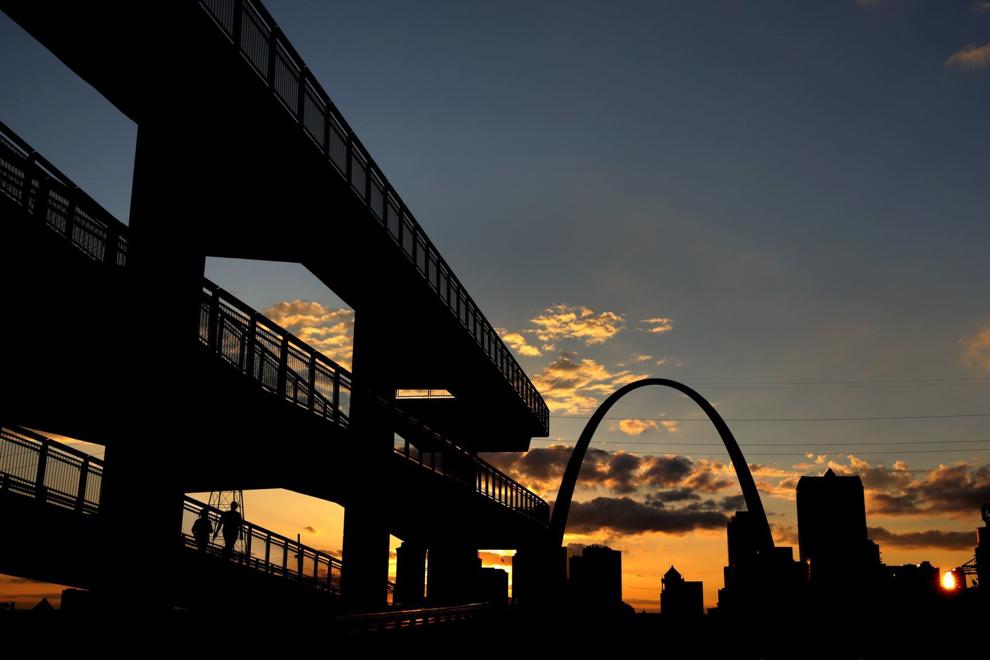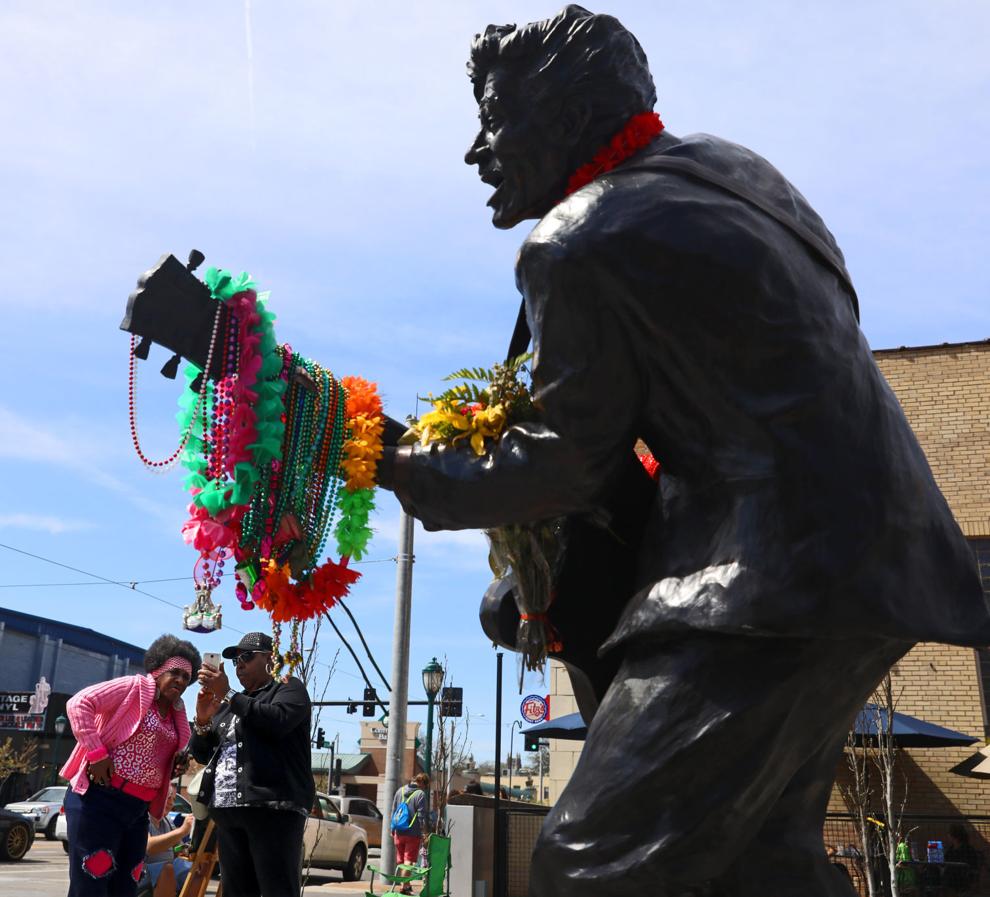 Under question in St. Louis could be memorials to former slave owners, including Jefferson, Washington, Grant and Henry Shaw. Plus there are admired figures who had tainted pasts, such as rock 'n' roll father Chuck Berry, once jailed for taking a 14-year-old girl over state lines for immoral purposes and sued for sordid videos. Even criticized is the city's most prestigious monument, the Gateway Arch: a tribute to Western expansion, aka American Indian annihilation and displacement.
For some, the answer, though, isn't to pull down the Arch or King Louis but to edit or add more commemorations.
"We have to take a breath and say that as a community, we are strong enough to grapple with our history and address issues of racism," says Geoff Ward, a professor of African and African American studies at Washington University. "We'll have to decide as a community how we resolve these concerns." 
Starting with Louis IX
Umar Lee is one of the people behind a new effort not only to remove the statue of St. Louis from Art Hill, but also to change the city's name. 
He's created a petition at change.org (it had almost 700 signatures Thursday), and he's contacted aldermen and Mayor Lyda Krewson.
In part, the petition says, "St. Louis has a large and vibrant Jewish and Muslim community and it's an outright disrespect for those who are part of these faith communities to have to live in a city named after a man committed to the murder of their co religionists."
Accusations of genocide against Jews and murderous crusades against Muslims sound alarming, but the real history is more complex, according to medieval scholars. 
In fact, King Louis' crusades more than 750 years ago were efforts to retake previous Christian holdings from Muslims, who were far more ready for battle than the French, says Thomas F. Madden, a professor at St. Louis University and author of "The Concise History of the Crusades."  
"Islamic kingdoms were the superpowers in the Mediterranean world from the seventh century onward, Madden said in a phone interview.
"In 1244, Egyptian and Turkish forces conquered Jerusalem, massacred Christians, and desecrated churches. Louis' crusade was aimed at recovering Jerusalem for the Christian kingdom there,"
Louis set out in 1248 (known as the Seventh Crusade) and landed in Damietta, Egypt. The residents fled, but a few months later the king and thousands of Franks were captured by Muslims. The king was ransomed.
The Eighth Crusade in 1270 was even more of a failure. Louis only got to Tunisia and then died of some sort of pestilence. 
Madden says the Middle Ages were not kind to Jewish people, but France was better then than some other countries. At least 5% of Paris was Jewish during Louis' time, and he never rounded up Jews and slaughtered them, as some other rulers did.
But theologians of the University of Paris judged the Talmud to be heretical and thus a danger to Christian society, Madden says.
Under instruction from a pope, the French seized cartloads of the religious writings after rabbis tried to defend the Talmud against claims of blasphemy. The copies were later burned.
"The medieval world was very different than our world," Madden says, with believers who saw little difference between the temporal and spiritual worlds.
Louis IX was considered by many a model French king, giving aid to the poor and founding hospitals. He not only invited the poor to dine with him, he washed their feet before they left, Madden says, and even washed the sores of lepers. 
He was the only French king to be made a Catholic saint; in 1764, Pierre de Laclède named the site for his new trading post "St. Louis," after the patron saint of France's then king, Louis XV.
Artistic and historic
Many local public statues are less important from an artistic viewpoint than as expressions of their historical time, says John Klein, a professor of art history at Washington University.
But removing the St. Louis IX statue, designed by Charles Henry Niehaus and executed in bronze by W.R. Hodges, would be an art loss, Klein says.
"But the bigger loss would be the historical context because he's the figure after whom the city was named," he says.
The statue belongs to the city, not the St. Louis Art Museum. Mayor Krewson said Monday during her regular Facebook Live Q&A that she is not in favor of changing St. Louis' name nor taking down the statue.
"I frankly think that it's a bit of a distraction from doing the real hard work that needs to be done in St. Louis, and around the world, frankly, to reduce the disparities between black and white. And we know there are big disparities."
(A protest at noon Saturday had been announced by the conservative website the Gateway Pundit to defend the statue.) 
Klein says it's easy to see why Confederate statues should be taken down: "That American history is still being played out. The Civil War, slavery, Reconstruction, Jim Crow … that is still very present history."
Harder to argue is removing statues of Washington and Jefferson. The history of their enslaved people should be taught, Klein says, but he questions whether that is the most important part of the early presidents' place in U.S. history:
"For most people, it is probably no."
Eugene Robinson, a columnist with the Washington Post, made a similar argument this week: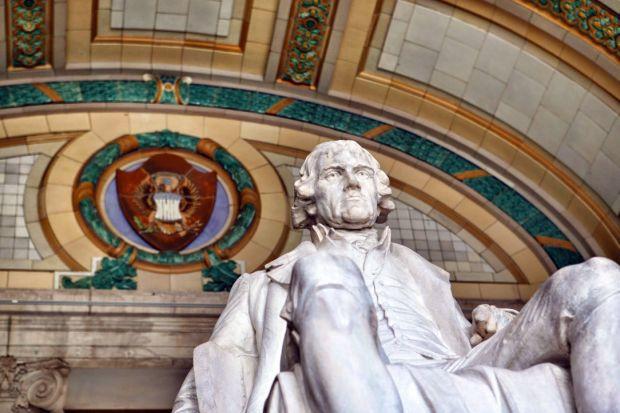 "There is an obvious difference between George Washington and Thomas Jefferson, who founded our union, and, say, Jefferson Davis and Stonewall Jackson, who tried to destroy it. The fact that Washington, Jefferson and other early presidents owned slaves should temper our admiration for them but not erase it entirely. They gave us a nation grotesquely disfigured by slavery, but they also gave us the constitutional tools, and the high-minded ideals, with which to heal that original, near-fatal flaw."
For Umar Lee, good acts by historical figures aren't usually enough to counter acts of racism, antisemitism or persecution of Muslims. 
Lee, who converted to Islam at 17, believes St. Louis' statue would be better placed, perhaps, on the grounds of the Archdiocese of St. Louis.
When the statue went up, "the only perspective that mattered at the time was the viewpoint of white Americans," he says. 
"We want to move toward an equitable society."
Now when Jews and Muslims come out of the St. Louis Art Museum, they see the crusader holding his sword with its blade pointed down and its hilt held up like a cross: "Muslim families have to look at Louis IX and feel trauma." 
Rabbi Susan Talve, founding rabbi of Central Reform Congregation in the city, remembers coming to St. Louis some 40 years ago and feeling unease that it was named after a medieval crusader. "The way that I learned it, it was not a pretty picture."
She wouldn't mind if the statue were removed. But, she says, if conversations "bring us to a place where we can redeem the past by dismantling the structures of racist oppression, then St. Louis will redeem himself."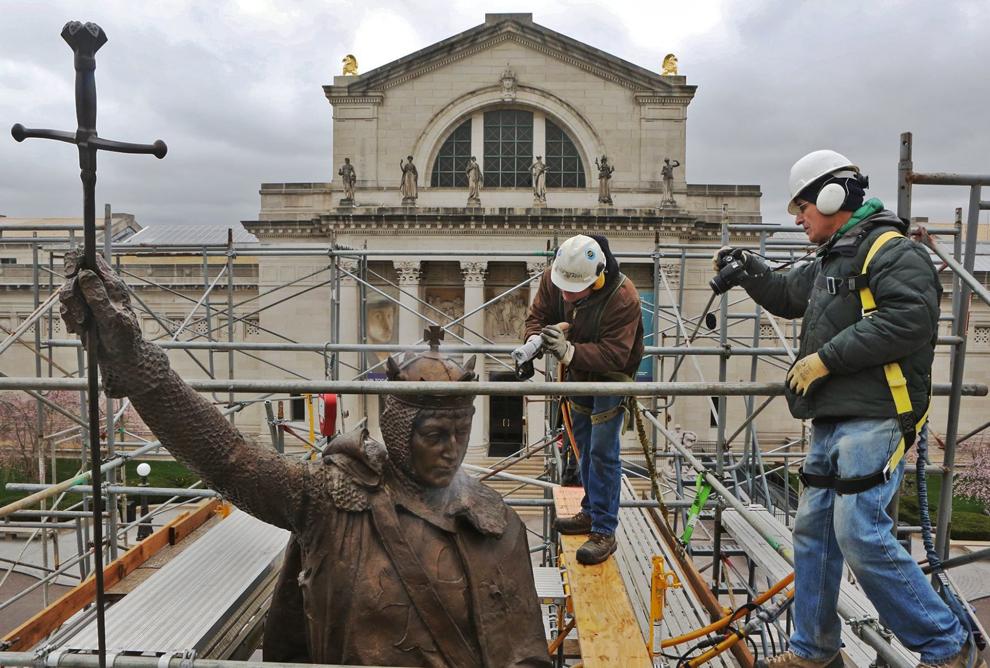 Reparative justice
Ward, the professor of African American studies, says "there has been a new understanding or acceptance of what's at stake" in the last month during the Black Lives Matter and other protests following the police killing of George Floyd in Minneapolis.
But he emphasizes that before the surge of antiracist protests, there were already efforts to address the "commemorative landscape" in the city.
He stresses that protesters are pulling down statues themselves because public officials have neglected to act. "If public officials and other civic leaders are more responsive to these concerns, and create inclusive processes for evaluating and addressing these concerns, our communities are likely to benefit from both that process and its results," he says.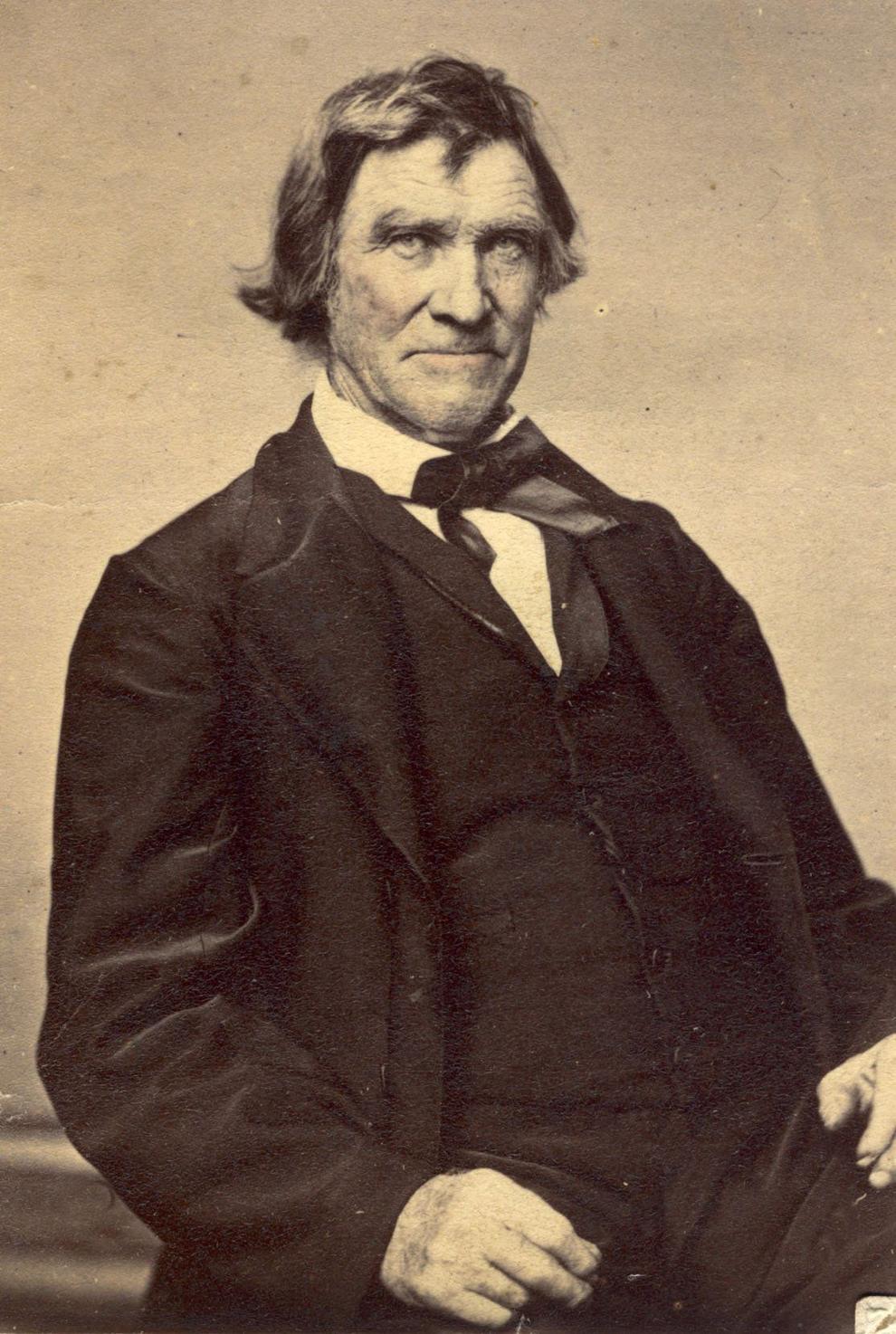 "Our landscape is riddled with the names of people who were perpetrators of crimes against humanity," he says. Former slave owners memorialized by street and city names include Ralph Clayton, Martin Hanley, Walter Dorsett, Thomas Skinker and Henry Shaw.
"This uncritical commemoration suggests that Black Lives do not matter, and Black Histories do not matter here," he wrote by email. "To its credit, Missouri Botanical Garden is taking initiative to grapple with how it represents and interprets the legacy of Henry Shaw in contemporary St. Louis. This is exactly what we must do in this moment of commemorative reckoning."
Ward moved from California to Clayton after taking a position at Washington University two years ago. Recently, he sent the city's Equity Commission a note about a 1955 marker near the St. Louis County Police Department on Forsyth Boulevard. 
"The St. Louis County historical marker is carefully worded to memorialize white settler colonialism," Ward wrote, in part, saying it suggests the city is a "white place." He asks that it be removed or amended.
He, like others, suggests that reparative justice for a racist history would include more commemorations that highlight parts of St. Louis history that have been largely overlooked. Possibilities include recognizing the history of Mill Creek Valley, the East St. Louis racial massacre, and the death of Francis L. McIntosh, a free man of color burned alive by a mob in an area near the current Kiener Plaza.
Interpretive plaques could be added to sites like the Louis IX statue to provide greater understanding of our complex history.
Klein would like to see not just markers, but programming instituted to help educate residents about the history.
He even wonders if the time for more monuments is past: Contemporary sculpture has changed, and we now live not in an age of machines but of information. "Digital media is the big new medium of our time," Klein says.
For Ward, changing symbols of racism and changing laws or politics are two sides of the same coin.
"Symbolic objects construct meaning and rationalize attitudes and behaviors," he says. "This is why people are fighting for monumental anti-racism."